It's definitely no secret that I'm a huge fan of Butler Soy Curls to begin with, but they seem to be especially ideal for these weeks of quarantine. They're shelf stable, protein-rich, and inexpensive, as far as vegan meats go. The pack of 6 bags that you can order online from the Butler website is a generous amount: enough to ensure many hearty vegan meals!
I've got three bags still in my pantry, and on Sunday evening, I thought it was a good time to continue using them up. I tend to make half a bag at a time, which is about four servings per the package. This is usually enough to use in a recipe, but not such a huge batch that I have more than I need (in my all-time favorite vegan chili, for example, I use half of the bag, too).
Even though the demarcations between weekday and weekend are fuzzier than ever, I've been trying to maintain some sense of distinction. I use my Saturday and Sunday time for catching up with friends, writing, and (usually) cooking something extra comforting, or a little more interesting than what I make during the week.
Two nights ago, I thought that an Italian or Italian-inspired dish would hit the spot. I've eaten plenty of simple pasta suppers in the last nine weeks, and while I wasn't opposed to having spaghetti as part of my meal, I wanted something filling and protein-rich to be the star. A perfect opportunity for soy curls, and a vegan cacciatore was my experiment of choice.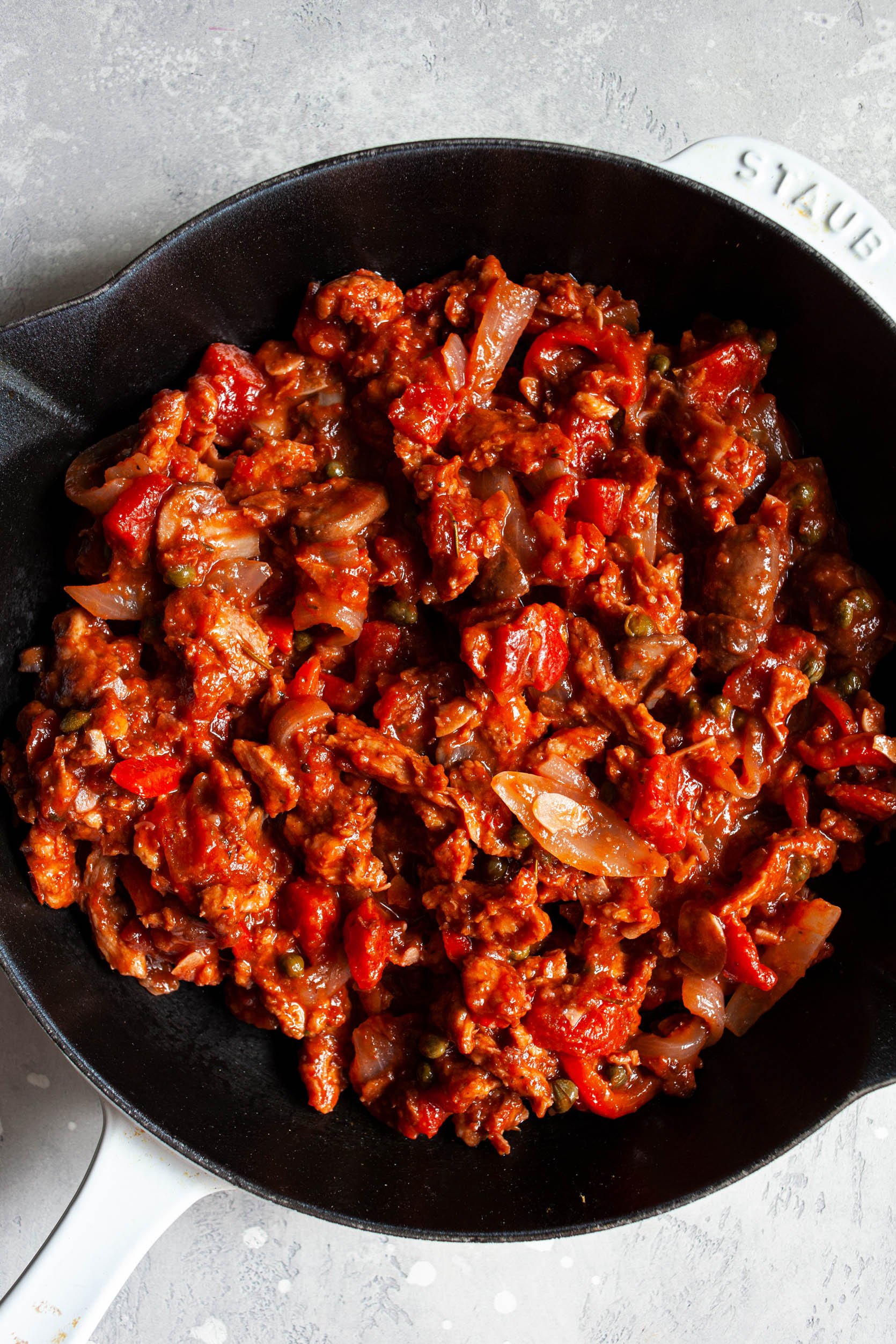 I probably ought to label these as Cacciatore-ish, as I'm reasonably sure that my version is far from traditional even aside from the fact that it's vegan. But I did my best to make it at least evocative of the original, and I think it's pretty close. Moreover, it's really yummy. And satisfying, and nutrient-dense.
As I was reading and figuring out how to make this dish, I learned that it's sometimes made with peppers and sometimes with mushrooms. I'm guessing that might be a regional difference, or even a question of family tradition. I wanted an opportunity to squeeze plenty of veggies into my dinner, so I actually used both, and was glad I did: all the more texture.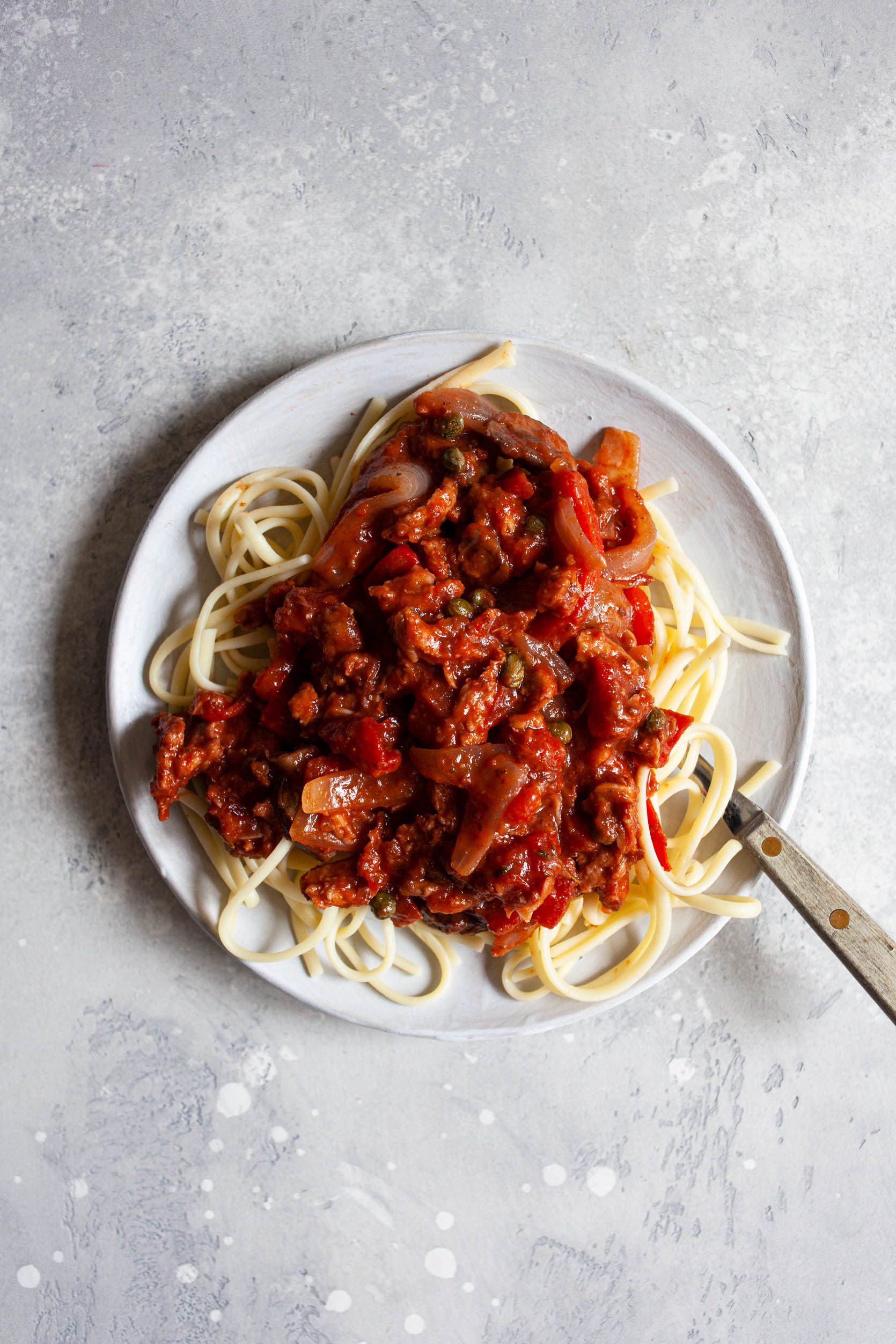 I wasn't totally sure about dredging the curls lightly before browning them, but I'm glad that I did. I liked how they acquired extra color and crispiness as a result. Deglazing with wine after you sauté your vegetables is optional, if you don't have wine or don't want to cook with it. But I do think it adds flavor. Red or white will both work fine, and if you use red, you could finish what you have with a pot of these (very beloved, at least by me) braised lentils.
Here's the recipe.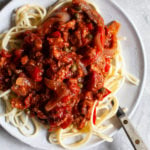 Soy Curl Cacciatore
Author – Gena Hamshaw
For the Chick'n Style Soy Curls
1

vegan chicken-style bouillon cube (substitute a regular vegetable or herb bouillon cube)

4 1/2

cups

boiling water

3

cups

dry (120 g) Butler Foods soy curls (half of an 8-oz package)
For the Cacciatore
2

tablespoons

all-purpose or gluten-free all-purpose flour

1

tablespoon

+ 2 teaspoons olive oil

1

large white or yellow onion, thinly sliced

1

large red bell pepper, thinly sliced

3

large or 4 small cloves garlic, very thinly sliced or minced

5-6

ounces

(2 1/2-3 cups) sliced white button or cremini mushrooms

1/2

cup

red or white wine (optional, see note)

1

14.5 ounce can diced tomatoes

1

8 ounce can tomato sauce

2

tablespoons

capers

1

tablespoon

fresh chopped rosemary, or 1 teaspoon dried rosemary (substitute thyme, oregano, or an Italian seasoning dried herb blend)

splash of sherry or red wine vinegar

salt and freshly ground pepper to taste

for serving (optional): pasta, a whole grain, bread
To prepare the soy curls, pour the boiling water over the bouillon cube in a mixing bowl and stir to dissolve the cube. Cover the bowl and allow the soy curls to rehydrate for 10 minutes. Drain the soy curls in a colander. Use a small bowl (or use your hands!) to press them into the colander, so as to really wring out extra moisture.

Toss the soy curls with the flour lightly. Heat 1 tablespoon of the olive oil in a large skillet over medium heat. Add the soy curls and cook them for about 4 minutes, stirring now and again, to brown them (you may need to do this in 2 batches). When the soy curls are gently browned, transfer them to a plate or bowl and set them aside.

Add the remaining 2 teaspoons of oil to the skillet, again over medium heat. Add the onion and pepper. Cook for 5 minutes, or until the onion is clear and both vegetables are getting soft, stirring every minute or so. Add the garlic and mushrooms. Cook, stirring frequently, for another 5-8 minutes, or until the mushrooms have released their juices and are tender. Add the wine to the skillet to deglaze.

When the wine has almost cooked off, add the diced tomatoes, tomato sauce, capers, and rosemary to the skillet. Then, add the prepared soy curls. Reduce the heat to low and simmer for 15 minutes, allowing the tomatoes to cook down and the flavors to all mingle. Taste the cacciatore; add a splash of vinegar and salt/pepper as desired (how much salt you add will depend on your taste and also how salty your tomatoes and tomato sauce were).

Serve the cacciatore over pasta, a whole grain, with fresh bread, or as is, with any vegetable side(s) you like!
If you don't have/don't want to use wine, just skip the step of adding it and allowing it to reduce/cook off. 
Leftovers will keep in an airtight container in the fridge for up to 5 days. They can be frozen for 6-8 weeks.
If you don't have soy curls at home, you can try using 3-4 cups of chopped seitan or a vegan chick'n of choice.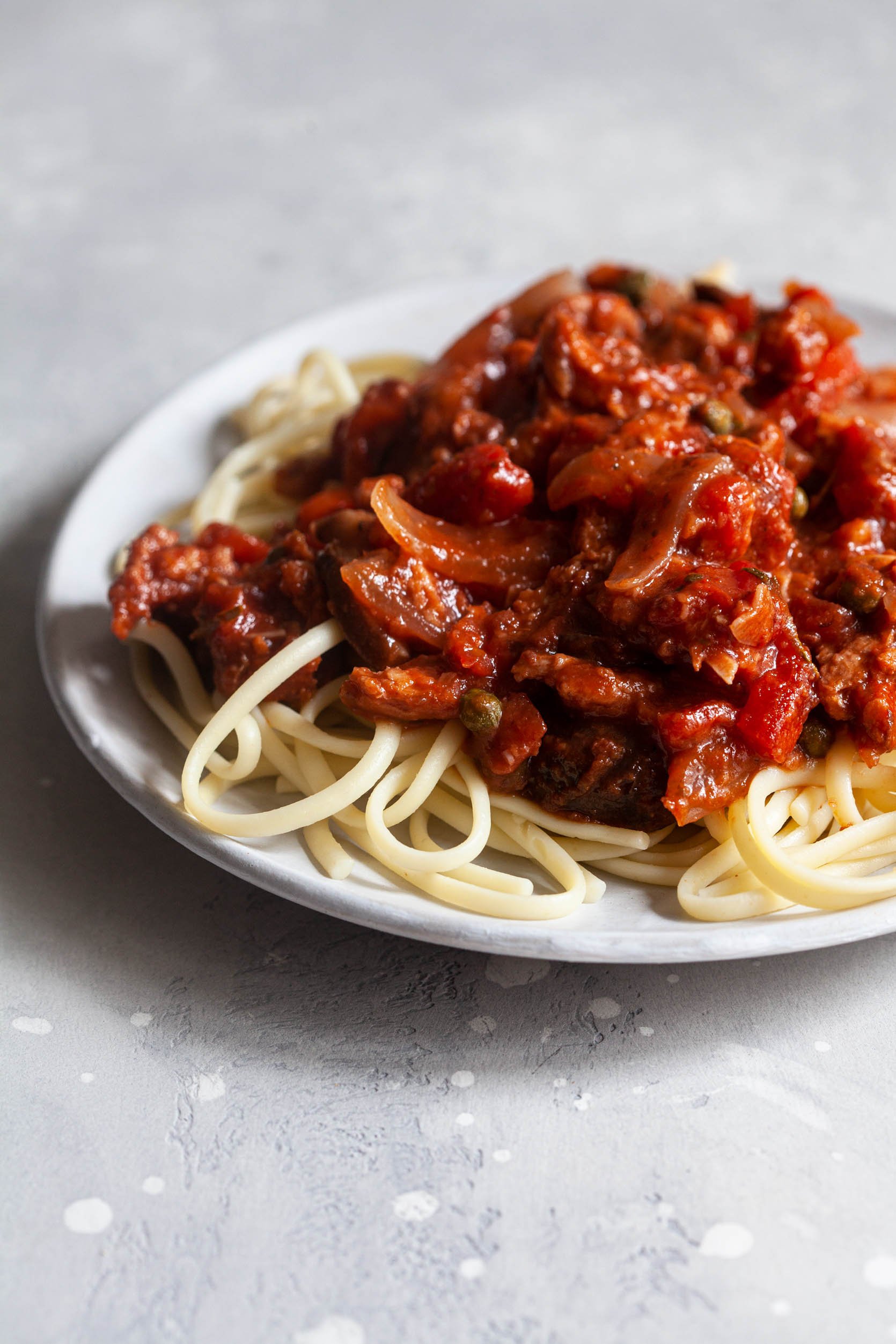 When I first threw in the capers, I wondered whether I'd added too many. Definitely not: they're a big part of what make the dish as flavorful as it is. If you don't have capers, you could try something else that's salty and briney, like olives, or maybe even a scoop of sauerkraut or fermented veggies.
And it's very worth saying that, if you don't have soy curls at home, you can substitute seitan or another vegan chick'n (there's a note in the recipe). I really liked meaty texture here, but I think that chickpeas would be another nice variation.
I've eaten this dish over pasta so far, but I've got plans to heat up leftovers and sandwich them in some ciabatta very soon. We'll see how it goes, but I'm reasonably sure I'll love it. Hope some of you will like it, too, and I'll be back soon.
xo
Credit: Source link