It's looking more and more as though I'll be indoors for quite a while, along with other New Yorkers and many around the country. As anxious as this time is, I'm trying to accept the circumstances and to find what positives I can.
I can't claim to have made much use of the extra time at home this week: so far, zero regular cleaning or spring cleaning. Minimal progress on my domestic to-do list. Keeping up with, but not getting ahead of work. It's OK. It takes me a while to adjust to change or disruption, and right now I think we're all taking it one day at a time.
I'm not exactly cooking more than I was, but a lot of people I know are, so I've been thinking about what I can provide in terms of recipes and content that would feel comforting and good! My hunch is that, no matter how inspired or motivated or compelled by necessity to cook as people are, it's a good time for simple food.
At least that's how I'm feeling: I want to clear out my pantry, stock my freezer, and have tasty things to eat. But I'm also adjusting to the new normal and struggling with distraction. The simpler the better, for now. Hence this incredibly easy skillet pasta dish, which is totally unoriginal in that it's similar to other things I've made (including the chili mac in Power Plates).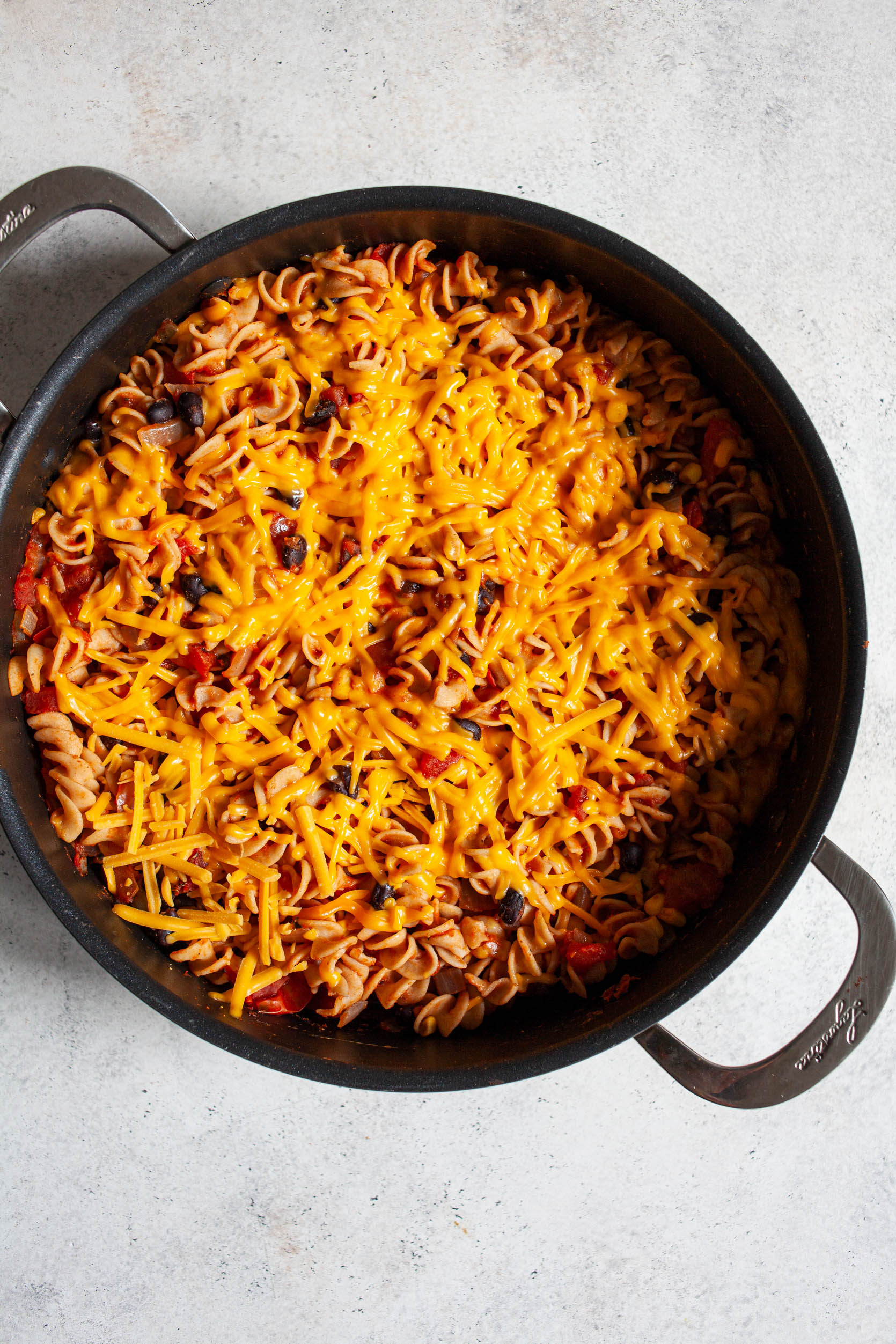 But my mind hasn't really been up to creating anything very original this week, and while I get used to the new normal, something cheesy, wholesome, and filling definitely hits the spot. Happy to have leftovers in the fridge and freezer, and happy to be sharing this quick comfort meal with you.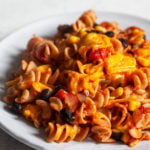 Simple Vegan Tex-Mex Skillet Pasta
Author –
8

ounces

dry pasta of choice (shells, fusilli, penne, and elbows are all great!)

1

tablespoon

olive oil (substitute a few tablespoons vegetable broth)

1

white or yellow onion, chopped

2

cloves garlic, minced

14.5

ounces

canned, diced tomatoes

8

ounces

tomato sauce (I used an 8-ounce can that I had in my pantry; you can also use a heaping cup of any marinara you have)

1 1/2

cups

cooked black beans (1 can, drained and rinsed)

1

cup

corn (frozen and defrosted or canned)

1

teaspoon

ground cumin

1/2

teaspoon

ground coriander

1/2

teaspoon

smoked paprika

pinch

crushed red pepper flakes (optional)

1

cup

(heaping) vegan cheddar cheese shreds or a generous drizzle of cashew queso (see note)
Bring a pot of salted water to a boil. When the water is boiling, add the pasta and cook according to package instructions. Drain.

Heat the oil over medium low in a large, deep skillet or wide pot. Add the onion and garlic. Cook for 4-5 minutes, stirring often, until the onion is soft and clear. Add the diced tomatoes. Cook for another 2 minutes, or until some of the liquid from the tomatoes has evaporated.

Add the cooked pasta, tomato sauce, black beans, corn, cumin, coriander, smoked paprika, and crushed red pepper if using. Heat everything through. Taste and add salt if needed (my tomatoes and sauce were salty, so I didn't have to).

If using vegan shredded cheese, sprinkle it on top of the skillet. Cover, reduce heat to low, and let the skillet simmer for 3 minutes, or until the cheese has melted. (If you're using queso, just skip the wait time; when the ingredients have heated through, drizzle the whole dish with queso as desired). Serve!
Recipe can be halved for fewer portions. Pasta can be frozen for up to 6 weeks.
Cashew queso recipe here.
I'm loving the Violife shredded cheddar right now, but my cashew queso sauce is also a favorite, and I'm excited to try this meal with that, too. I'd say the dish makes 4 generous portions and 8 small ones. I intentionally made the whole batch and froze half in individual portions, just to have them around; you can definitely cut the recipe in half, saving your half can black beans and tomatoes for another use.
I know things continue to be strange, but I've been thinking a lot about how this is a powerful moment for us to focus on taking care of ourselves: physically, mentally, emotionally. Cooking is the best way I know how to love and care for myself. I feel so grateful that I can share it with you. For those of you that are into it, I shared this recipe as a demo in Instagram stories yesterday, and I'll keep doing that with simple meals as the weeks go on. You're always welcome to join me there.
Till Sunday, you've got my love.
xo
Credit: Source link