I think I may be the only bread baker I know who hasn't been baking sourdough in quarantine! I've made a few loaves, but something about the wait times and planning hasn't been working for me. I've been much more consistent with yeasted loaves, which I can make and bake within a few hours, on a whim if need be. I shared my favorite white sandwich bread a while back, a sweet maple oat bread, and I'm following up today with an easy vegan multigrain loaf.
The multiple grains here come from King Arthur's six-grain blend, which I've enjoyed for a while now as a hot cereal that isn't oatmeal (not that I don't love oatmeal, but I crave variety sometimes!). The King Arthur website tends to be the place that I go for bread recipe inspiration: I don't always follow the recipes precisely, but I can usually rest assured that the proportions and formulas will work, and work well.
As I was poking around one day, I saw this recipe. It seemed like a perfect opportunity to create the multigrain bread that I've been dreaming of, and also to put my grain blend to good use. The KAF blend that I use has barley flakes, rolled oats, rye chops, malted wheat flakes, rye flakes, millet, and quinoa flakes—in other words, a lot of my favorite grains. But you can use another grain blend, too. There are many hot breakfast cereal blends that have some combination of wheat, barley, millet, flax, and so on. Bob's Red Mill makes a few, and Trader Joe's makes one, too.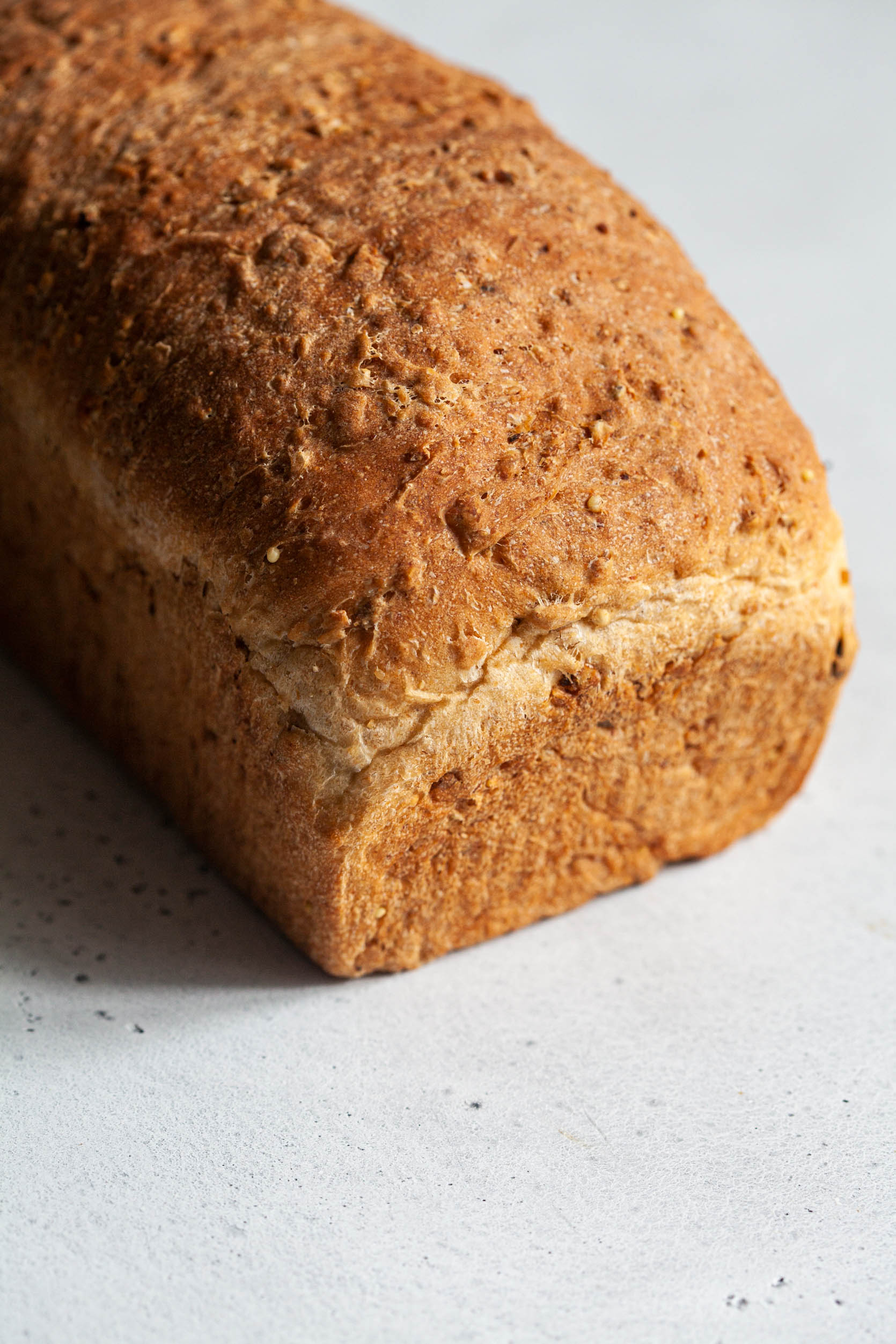 The beauty of the bread, once it's baked, is the balance. It's got texture, but it's still tender and soft. It's mildly sweet, but only mildly. It smells a little nutty as it bakes, but when you cut it open, it has that faintly buttery smell that a regular white loaf has. And it's perfect for sandwiches. I've been using it for one particular sandwich often in the last few weeks, and I'll share that recipe soon.
I use instant yeast for my yeasted breads, but regular yeast will also work. I give instructions for activating it at the end of the recipe, if needed. And while I admit to only using my stand mixer for kneading lately, you don't need one to make the recipe! I love kneading bread, and once I do it, I'm always glad I did. But my cooking all throughout the last three months has been about letting things be easier and faster when they can be.
Here's the recipe.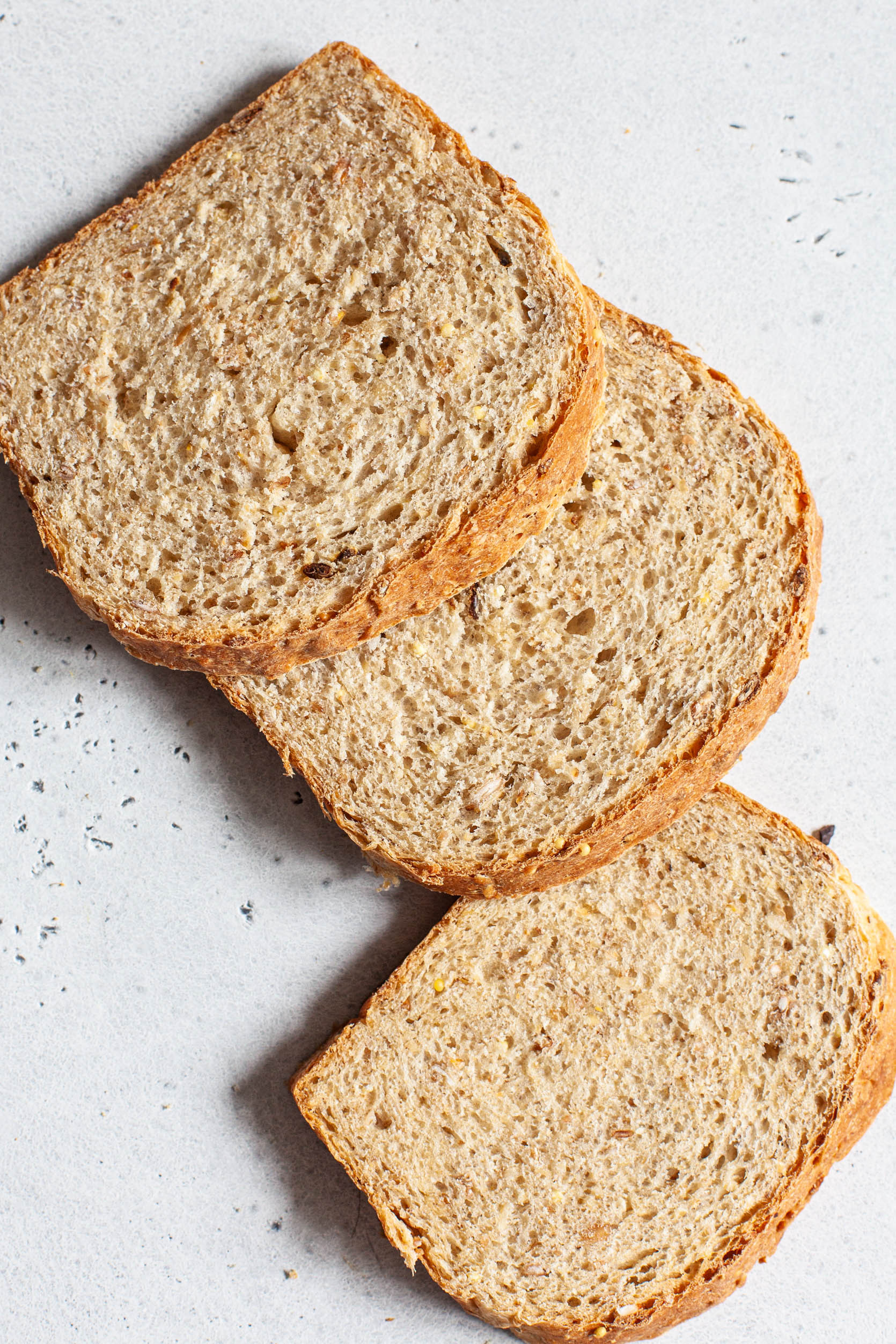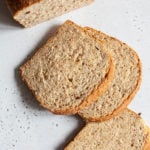 Easy Vegan Multigrain Bread
Author –
2

cups

(240 g) unbleached, all purpose flour or bread flour

1

cup

(120 g) white whole wheat flour (substitute whole wheat flour or additional all purpose/bread flour)

1

cup

(128 g) multigrain blend (such as King Arthur Flour's Six-Grain Blend or Bob's Red Mill 10 Grain Hot Cereal)

1 1/2

teaspoons

salt (I use Diamond Crystal Kosher Salt)

2

teaspoons

(7 g) instant yeast

3

tablespoons

(42 g) vegan butter

2

tablespoons

(40 g) maple syrup

1

cup

+ 2 tbsp (255 g) water
In a large mixing bowl or the bowl of a stand mixer (if using one), whisk together the flours, the multigrain blend, the salt, and the yeast.*

Melt the butter in a small or medium saucepan. Stir in the maple syrup and water. Allow the water to come to about 110F (hot to the touch, but not painful—you can use a probe thermometer or touch).

Add the liquid to the dry ingredients. Use a spatula to mix everything into a sticky dough ball. Turn the dough out onto a floured surface and knead for 10 minutes, or until the dough is becoming smooth and supple. Alternately, you can mix wet and dry ingredients in the bowl of your stand mixer, fitted with the dough hook. Knead on medium low speed (3 or 4) for 5 minutes.

Transfer the dough to an oiled bowl. Allow it to rise for 1 hour, or until doubled in size.

Use vegan butter to grease a standard loaf pan (8. 5 x 4. 5 x 2. 75 inch). Lightly oil a work surface. Transfer the dough to the work surface. Shape it into a rectangle that's about 9" x 13", with a short end facing you. Starting at the top edge, roll the dough into a log about 4" x 8". Gently tuck the ends in and make sure the seam of the bread is underneath the roll. Gently transfer the roll to your prepared loaf pan.

Allow your bread to rise, uncovered, for another 30-60 minutes, until it has risen about 1 ½" inches above the edge of your loaf pan. About 15 minutes after the bread begins this second rise, preheat your oven to 350 degrees F.

Bake the bread for 30-40 minutes, or until it's a deep golden brown on top. A probe thermometer should register at least 190F in the center of the bread, and/or the bottom should sound hollow when tapped. Remove the bread from the loaf pan and transfer it to a cooling rack. Allow the bread to cool completely before slicing and storing.
If you have regular yeast rather than instant, begin the recipe by preparing the wet ingredients and then sprinkling the yeast on top of them. Allow them to sit for 5-10 minutes, or until the wet ingredients are frothy. Then proceed with the recipe!
Bread should be stored in a bread keeper or brown paper bag, outside of the fridge. If you don't plan to eat it within a couple days, you can freeze slices for up to 1 month.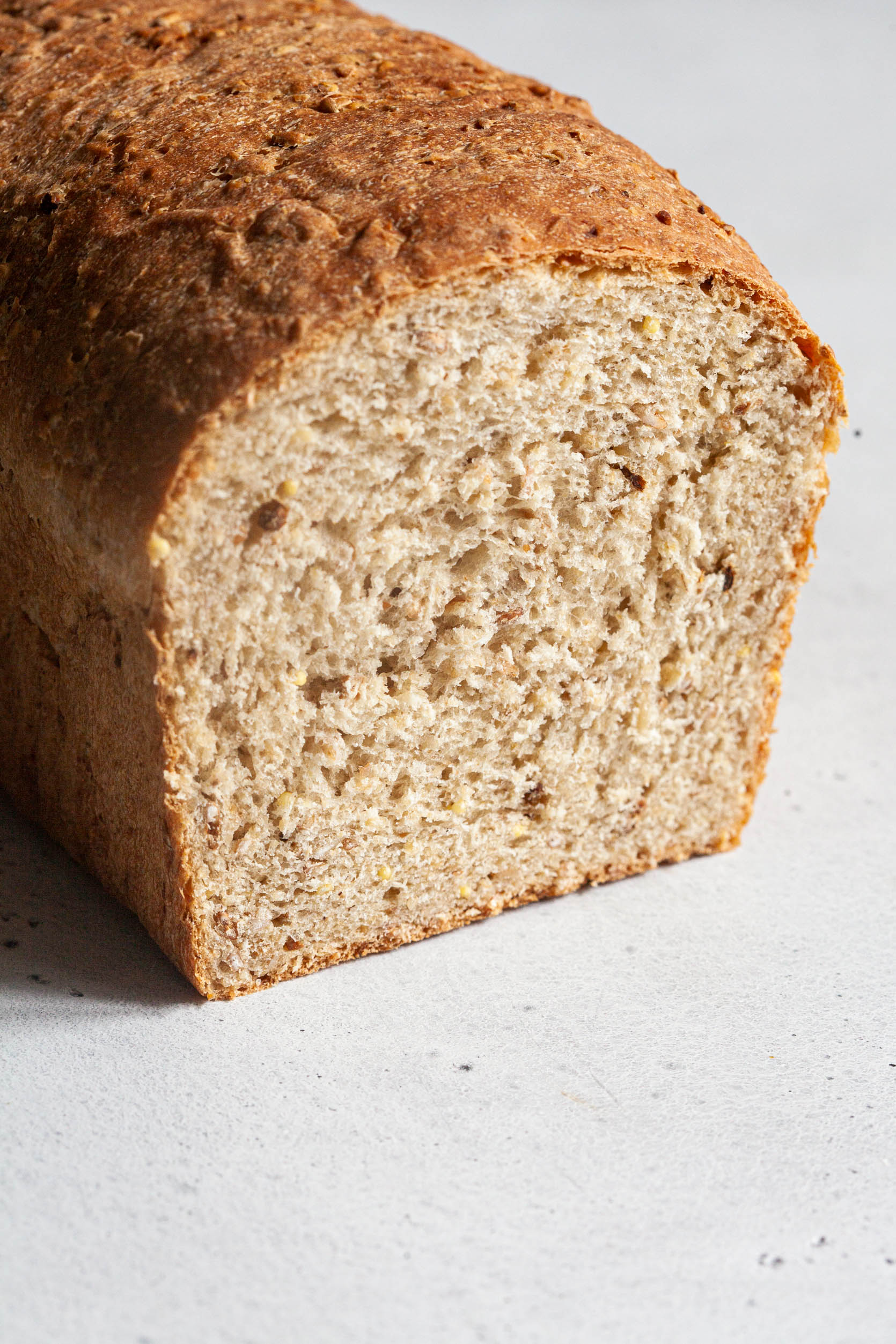 I'm always in the mood for homemade bread, and that has felt especially true during the Covid-19 crisis, and the yearning for comfort and normalcy that it creates. For me, the unrest in the world right now makes something homemade and soothing even more welcome.
And there's something symbolically appropriate about bread now, too. Much of the conversation being had about race asks white people to acknowledge our privilege, to listen, and to offer reparation. "Breaking bread" can be a literal description of a shared meal, but it also denotes a gesture of sharing. May we all find ways to do more of that: to acknowledge, to listen, and to repair.
Enjoy this lovely loaf. I'll be back later this week with a quick little lunch salad that I've been making often these days!
xo
Credit: Source link