I've been eating lots of artichoke hearts lately. The shelf-stable ones (both canned and in the jar) have been easy to find nearby, and I'm enjoying the bright, tangy, and gently acidic flavor they lend to bowls, salads (like this easy pantry concoction from last week), and pasta. I'm also looking forward to remaking this chickpea polenta dish—a favorite from the winter—very soon.
Last week, I decided to experiment with putting artichokes into a plant-based burger, because why not? They add so much flavor to everything else, and I imagined that they'd be a perfect base for a Mediterranean patty.
I was so happy with how they turned out: different from the burgers I usually make, which have a smoky or Southwestern flavor profile. They're garlicky, the lemon is assertive, and I love the addition of Italian herbs (I used a dried herb blend, but you could use oregano instead).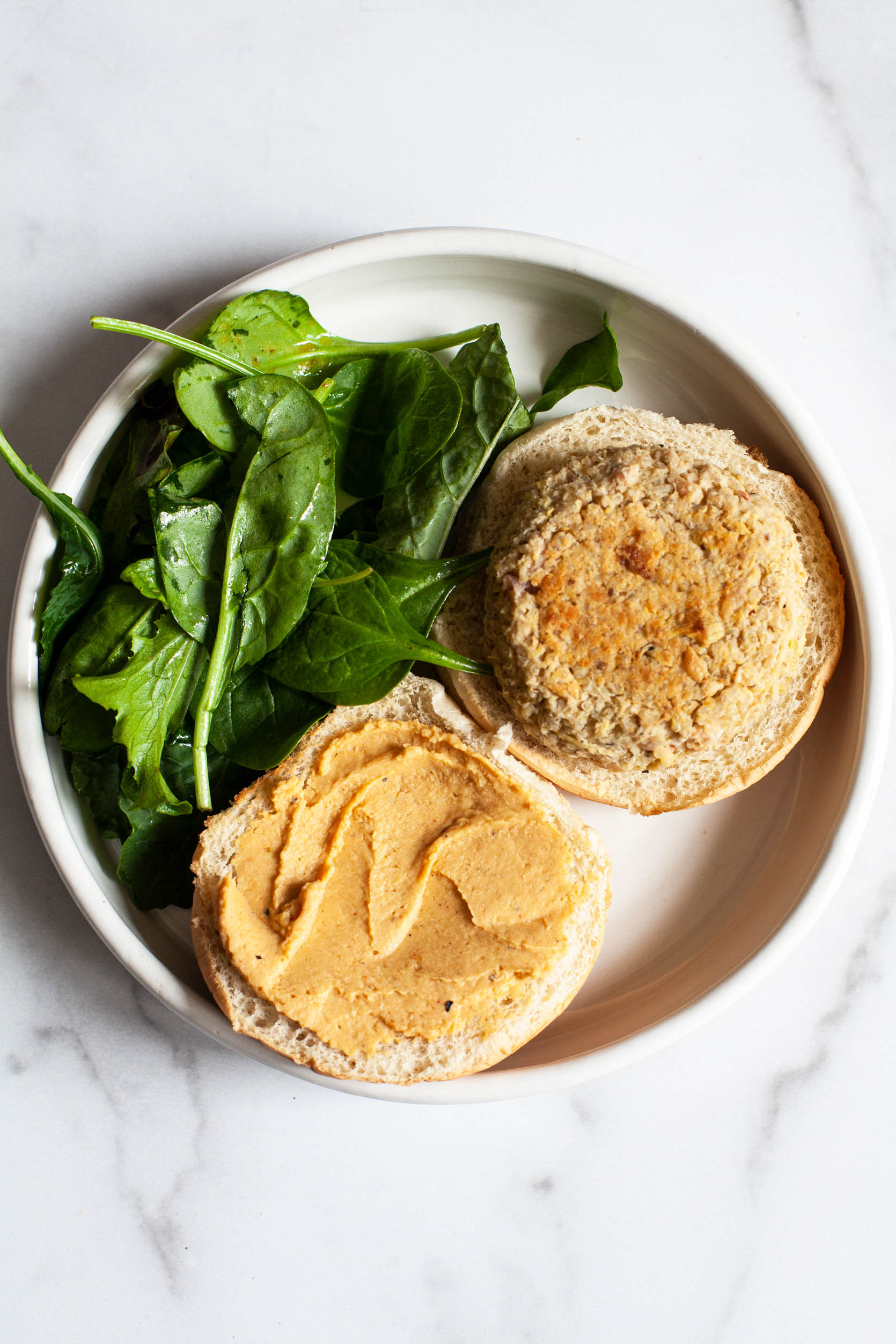 Instead of serving them as I usually serve burgers—with plenty of ketchup, sometimes lettuce and tomato—I served them with a schmear of hummus and a little spinach salad (baby spinach, olive oil, lemon, salt, pepper). The meal was refreshing yet filling, which is what I wanted it to be, and it was too good for me not to share with you today.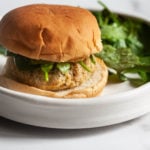 Artichoke, White Bean & Quinoa Burgers
Author – Gena Hamshaw
1

tablespoon

olive oil

2

shallots, chopped

3

cloves garlic, finely chopped

1

14.5-ounce can (or jar) halved or quartered artichoke hearts, drained

1 1/2

cups

(1 can, rinsed and drained) navy, cannellini, or Great Northern beans

1

tablespoon

freshly squeezed lemon juice

1 1/2

teaspoons

dried Italian herb blend (or any combination of oregano, thyme, and rosemary)

1/2

teaspoon

kosher salt

1/4

teaspoon

freshly ground black pepper

1 1/2

cups

cooked quinoa (substitute cooked rice)

3

tablespoons

all-purpose, oat, or gluten free all-purpose flour

For serving: burger buns of choice, dressed greens, hummus or bean dip, tapenade, Dijon mustard—it's up to you!
Preheat your oven to 375F.

Heat the olive oil in a wide skillet over medium heat. Add the shallots. Cook, stirring constantly, for 1-2 minutes, or until the shallots are clear but not yet crisping. Add the garlic and cook for one more minute, stirring as you go. Add the artichoke hearts, white beans, lemon juice, Italian seasoning, salt and pepper to the skillet. Mix the ingredients well and heat them through.

Place your cooked quinoa into a food processor fitted with the S blade. Add the warm artichoke mixture. Pulse repeatedly for a minute or so, until the mixture has broken down and no large pieces of artichoke or bean remain, but the burger mixture still has some texture.

Carefully remove the S blade from your processor, then sprinkle the flour into your burger mixture and stir/mash it all together with a fork (this incorporates the flour but prevents you from over-processing the mixture). If you like, you can also transfer everything to a mixing bowl after processing and mixing in the flour there; I think it's easier and less cleanup to do it in the bowl of the processor! Cover the bowl of the processor and let everything sit for 10 minutes, so that the flour can absorb some moisture and the burger mixture will firm up.

Shape the burger mixture into 6 patties. It'll be sticky, but you should still be able to shape it; if it's too sticky to work with, add an extra tablespoon of flour. Transfer your patties to a parchment lined baking sheet.

Bake the burgers for 15 minutes. Flip them and bake for another 10 minutes, or until golden brown on each side. Enjoy!
Leftover burgers will keep in an airtight container in the fridge for up to 5 days and can be frozen for up to 6 weeks.
I think it's sort of a pain to sauté burger ingredients (onion and garlic, etc.), only to add them to the food processor for blitzing. But when I make burgers this way, I really do think they're more flavorful than when I add raw onion/garlic to the processor, or use onion and garlic powder instead.
Even with the sautéing, these burgers come together fast, and the leftovers gave me days of good eats. After trying them traditionally, on buns, I also experimented with serving them in bowls with quinoa and dressed greens, and one or two got stuffed into pitas with hummus, falafel-style. All very tasty. Hope you might get a chance to try them soon, and that you'll enjoy them, too!
Happy Tuesday, friends, and here's to another week of staying safe and keeping as well as we can. I'll be back around here soon.
xo
Credit: Source link