I'm getting asked a lot about substitutions lately, for obvious reasons. None of us are going to stores as often as we might under normal circumstances, and availability is limited even once the trip is made.
Some substitutions work without any trouble, and some are less straightforward. With baking, even the smallest modifications can impact how the cookie, cake, or bread turns out, so I'm always wary about offering substitutions unless I've tried them myself.
Fortunately, there are so many meals that can be adapted to fit whatever is at home, and I often find that testing different combinations delivers me to new favorite meals! I'm thinking especially of grain/green/bean combos, which are a favorite of mine for weeknight suppers: my grain, green, and bean skillet is my number one, but I also love my lemon, dill, chickpea and zucchini rice and my springtime orzo pasta salad.
Salads also offer themselves up beautifully to mixing, matching, adding, subtracting, and swapping.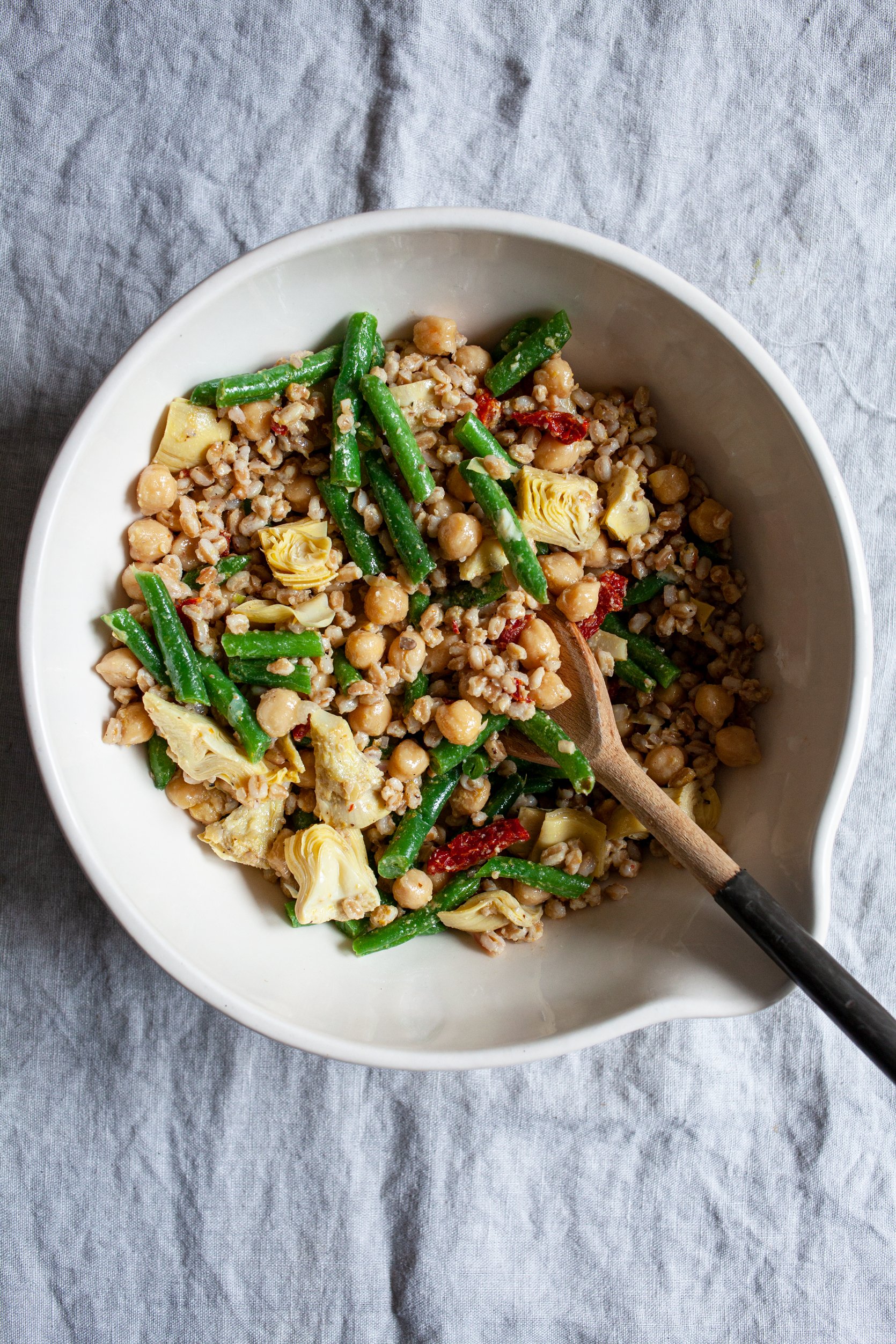 Adaptation is what I had in mind when I made this flavor-forward pantry salad today. I wanted it for myself, of course, and the leftovers for the rest of my week. But I was also thinking about something that I could offer to you that's easygoing, adaptable, and nourishing. Grains, beans, veggies, and vegan umami add up to exactly that.
The recipe is a formula. Use any cooked grain you have; I used farro, which is my favorite for grain salad because of the chewy texture. Use any cooked bean; I used chickpeas because I have two pounds dry at home and have just started to cook and freeze them. Use whatever veggies you have. Frozen produce is harder to find in NYC than fresh right now, so I used fresh, blanched green beans and a can of quartered artichoke hearts, which are getting so much love in my kitchen right now (I have another recipe featuring them on the way soon).
The salad gets extra character and tons of flavor from some sort of vegan umami source (olives, fermented veggies, sundried tomatoes, capers) and then any "vegan goodies" you might enjoy as a mix in. "Goody" is my silly name for all of the awesome vegan meats and cheeses that you might find and enjoy; I regularly have seitan or soy chick'n, Violife vegan feta, and Lousville Vegan Jerky Co. maple bacon at home, among other treats.
I know that access to goodies is limited lately, so I used the simplest vegan goody there is: homemade vegan parmesan. Plenty of extra umami there, plus a cheesy flavor that compliments the Mediterranean-inspired ingredients of the salad. I loved it the way it was, but really and truly, you do you.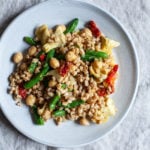 Anything Goes Vegan Pantry Salad
Author – Gena Hamshaw
Yields: 4 servings (or 6 small servings)
2

cups

cooked whole grain of choice (rice, quinoa, barley, farro, wheat berries, etc.)

1 1/2

cups

cooked legume of choice (lentils, chickpeas, black beans, navy beans, cannellini beans, etc.)

2-3

cups

cooked or raw vegetable(s) of choice: green beans, broccoli, cauliflower, tomatoes, beets, leafy greens, shredded cabbage, chopped carrot, chopped celery, etc.

1/4-1/2

cup

vegan umami source (chopped, sun-dried tomatoes, pitted olives, capers, fermented veggies, etc.)

2

tablespoons

homemade or store-bought vegan parmesan*

Any additional, fun vegan toppings you like: chopped vegan meats, vegan cheese, etc.
Pantry Vinaigrette
1/4

cup

extra-virgin olive oil

2

tablespoons

red wine vinegar, balsamic vinegar, sherry vinegar, apple cider vinegar, lemon juice, etc.

1/4

teaspoon

fine salt

1/8

teaspoon

Freshly ground black pepper

1-2

tablespoons

(to taste) finely chopped shallot or red onion, or 1 small, finely minced garlic clove
Combine all salad ingredients in a large mixing bowl.

Whisk together the vinaigrette ingredients, then pour them over the salad. Toss the salad well, adjust seasoning as you like, and enjoy.
As I was making the salad, I was reminded that "salad" doesn't have to mean a great big bowl of leafy greens. Any vegetable, grain, and bean combination can become salad with the right dressing, and salad can be something cold, cool, or even slightly warm. I love a good green salad, but I also love the variety of texture and flavor that the use of different veggies brings. Stay tuned, as I hope to make and share this same formula with different starring ingredients as quarantine goes by—and hopefully, long after it's behind us.
Sending love, friends. With any luck, a simple bread recipe later this week.
xo
Credit: Source link