If I could eat only one type of dessert for the rest of my life, it would be cake. Here are 20 irresistable vegan cake recipes for celebrations big and small. Plus, my favorite vegan carrot cake with cream cheese frosting!
There are all kinds of dessert people in the world. Me, I'm a cake person.
It's not that I don't love pie, ice cream, cheesecake, cobbler, cookies, or crisp. I'll happily eat any of those things.
But cake has a special place in my heart. This is especially true of rustic, simple cakes—the sort of cakes that can be a snack-time treat, a dessert, or maybe even breakfast.
I love cakes because I associate them with celebrations and special occasions. I love homey and simple cakes because they represent celebration as an every day practice, rather than something we do only when there's a birthday or wedding or another "big" day.
Eating cake for dessert on a random weeknight feels like a reminder that there's always something to celebrate in life. There's always room for whimsy and fun. Baking is dear to me precisely because it's impractical. We eat to live, but we don't need to bake desserts.
When I bake, I'm issuing myself a reminder to enjoy the ride. And there is no dessert that captures this more profoundly for me than cake.
As a result, I couldn't be more happy to round up these twenty irresistable vegan cake recipes. I hope that they'll help you to celebrate the big stuff, the little stuff, and everything in between.
How to make a vegan cake
There are a number of tricks to creating great vegan cake recipes. The immediate challenge, of course, is to replace some of the non-vegan ingredients that cake recipes tend to rely on: eggs, milk, butter, or a combination of all three.
I won't even pretend that vegan cake baking comes easily to me. It's easier now than it used to be, because I get a lot of practice. But I still routinely find myself with batches of cake that are too dense, too dry, sunken in at the center, or otherwise problematic.
My simplest vegan cakes follow a straightforward formula:
Mix (or sift) dry ingredients together
Mix (or whisk) wet ingredients together
Combine wet and dry to make a batter
Bake
Decorate
Of course, there are many variables that affect this process. Some cake batters should be wetter and have more liquid. Others should be more thick. There are vegan cake recipes that have short and simple ingredient lists, while others need many components to work.
Most importantly, the ingredients that I use to replace and substitute eggs and dairy in vegan cake recipes can vary from cake to cake.
Many traditional cake recipes call for creaming butter and sugar, then adding eggs. After this, dry ingredients, including flour and raising agents, are folded in. I've prepared vegan cakes this way, but I've had better luck with looser batters in which oil or melted butter is the main fat source.
There's probably no right or wrong here: it's just worth pointing this out, since most of these twenty vegan cake recipes follow the latter method.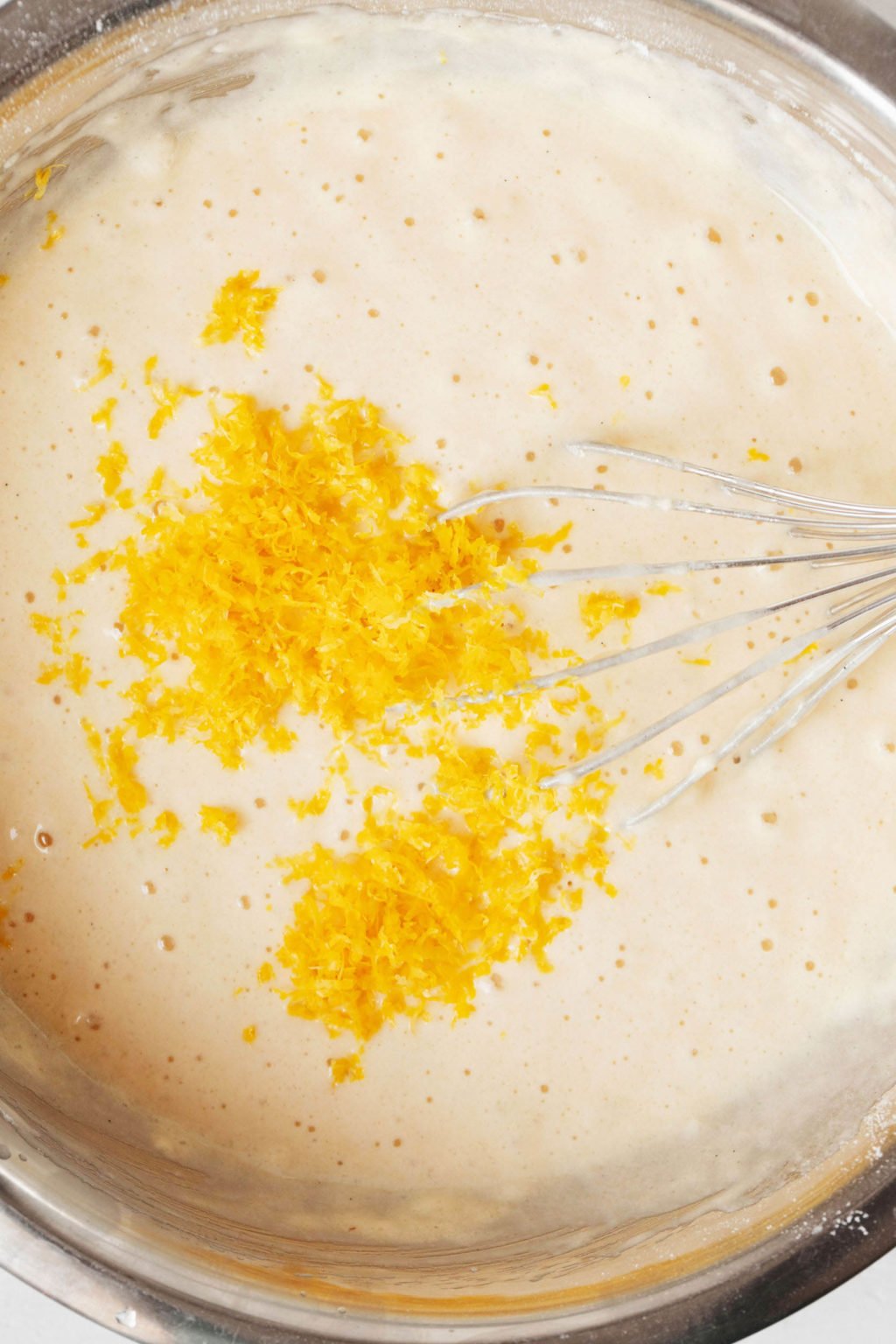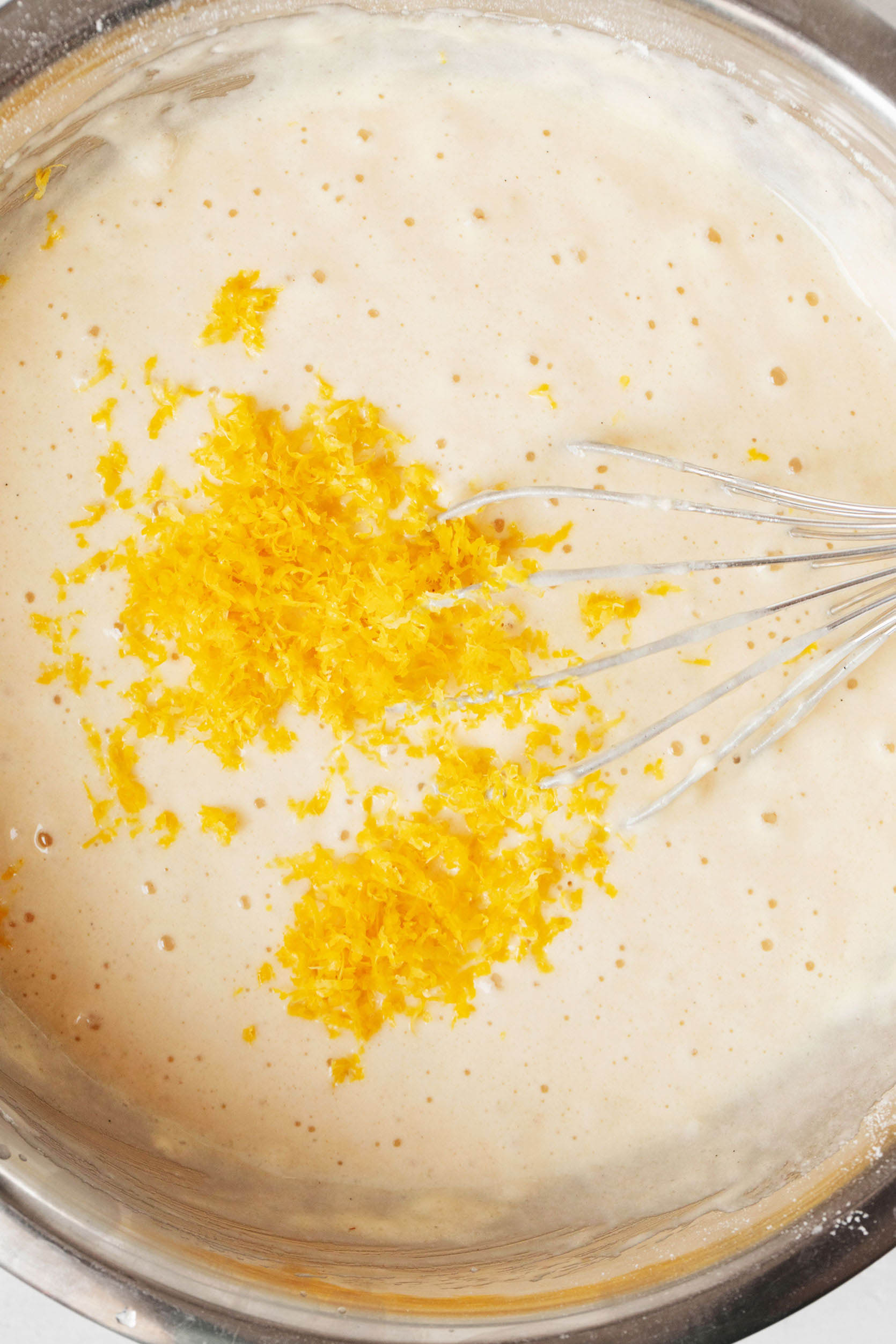 My favorite ingredient swaps for vegan cake recipes
I think it's important to disregard any strict ideas about what must or must not be substituted in vegan cake baking.
For example, eggs. Yes, there are some vegan cake recipes in which it's really important to replace eggs with a plant-based substitute. But I've found that many cakes (and quick breads and muffins) work perfectly well without either a flax egg or aquafaba.
Similarly, you don't necessarily have to replace butter in a traditional cake recipe with vegan butter. It's often the case that vegetable oil (I tend to use avocado oil) will work as well.
I sometimes make my vegan cakes slightly lower in fat than their traditional counterparts by using a combination of oil (or vegan butter) and a fruit or vegetable purée. This might be applesauce, mashed banana, pumpkin, or puréed beet.
Here's a little more on my favorite vegan ingredient substitutions for vegan cake recipes:
Eggs
My favorite egg replacers for cake baking are:
The amount of these ingredients can vary. Trust the cake recipe you're using!
Milk
Most plant-based milks will work well as substitutes for conventional milk in vegan cake recipes. Here are the ones that I use most often:
Be sure to purchase non-dairy milks that are unsweetened, or else the additional sweetening will affect the flavor of your finished recipe.
Butter
I often replace butter with avocado oil in my vegan cake recipes. I tend to use coconut oil somewhat sparingly, but it can also be a good substitute for butter, as it has a buttery flavor already.
When butter works best, I use whatever vegan butter I have at home. I like stick butter—it's easier to measure than vegan butter that comes in a tub. Earth Balance is often my go-to, as it's an economical option. I tend to save pricier and more artisanal vegan butters for toast and bread, when I can really savor their flavor.
My favorite cake sweeteners
Dry
I sweeten most of my vegan cake recipes with cane sugar. However, I use brown sugar for moisture in a number of my recipes. Coconut sugar works well as a substitute for cane sugar if you prefer to use a less refined form of sugar; it also has a nice, slightly caramel-like flavor.
Liquid
Liquid sweeteners can work well for sweetening vegan cakes. My favorites include maple syrup, agave syrup, and (if it's appropriate for the recipe) molasses.
If you add a fruit purée like applesauce or banana to a vegan cake recipe, that will also help to enhance the sweetness naturally.
Reducing sugar in vegan cake recipes
Readers sometimes ask me if the sugar in my cake recipes can be reduced. The answer is that it sometimes can be, but omitting or lessening the sugar may impact results.
Sugar doesn't only sweeten the flavor of baked goods. It also adds moisture to the crumb. As a result, reducing sugar can lead to finished cakes (or cookies, or muffins) that are drier or more dense than is intended.
I'm not a low-sugar baker, and the recipes that I'm sharing today reflect my own preferences when it comes to making dessert. If you'd like to try modifying them to be less sweet because it fits your own needs or preferences, that's totally cool! Just be aware that the finished baked good may be a little different from what I describe or what you see pictured here.
Can your vegan cake recipes be gluten-free?
Yes! Pretty much all of the vegan cake recipes that I'm sharing today can be made gluten-free. You may end up with a slightly different texture or rise than what you see in the photos. But if you have Celiac disease or avoid gluten, you'll still be able to execute the cake with good taste and texture.
For most vegan baking, and especially for cakes, I recommend using a gluten-free, all-purpose flour blend rather than a single gluten-free flour. This one from King Arthur is my favorite.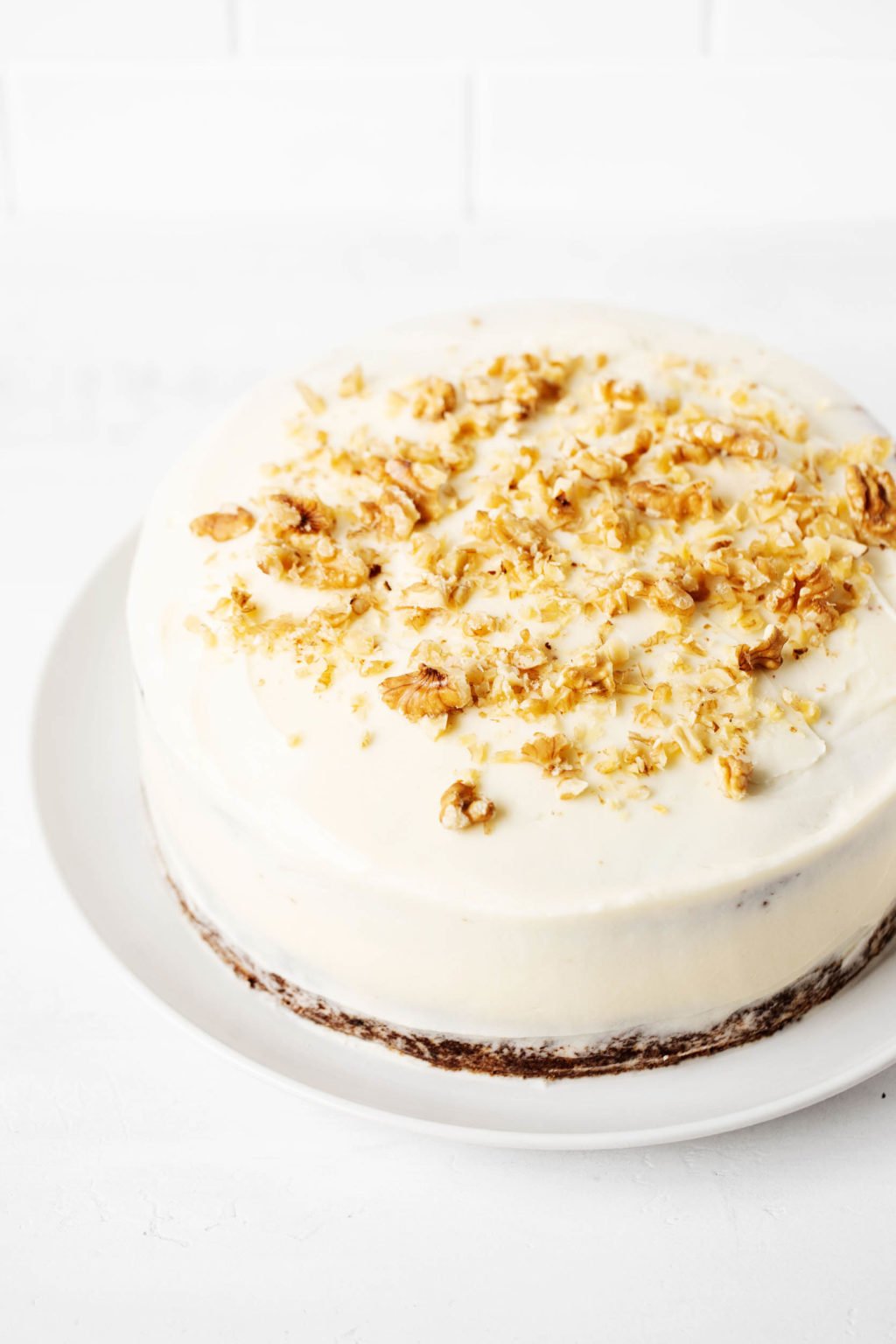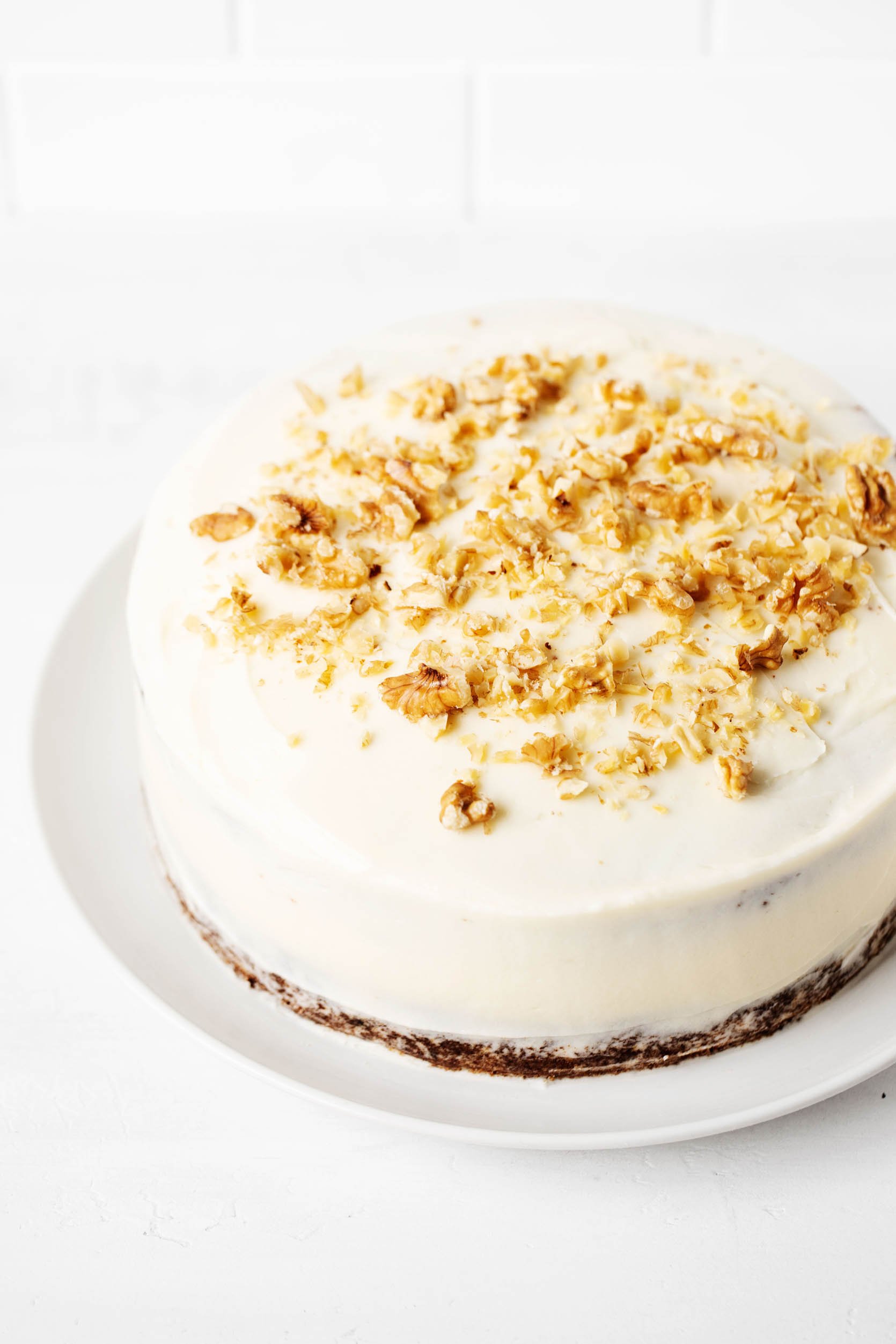 Baking tools for cake
Whenever possible, I try to make vegan cake recipes that don't demand a ton of fancy tools or specialized bakeware. Many of my favorite cakes call for a simple, 8 x 8-inch square baking pan and nothing more.
However, there are other recipes, especially layer cakes, that benefit from specific tools or baking vessels. Cake decorating can also be enhanced by items like a pastry bag and piping tips. Here are a few of the tools that I rely on for my beloved, plant-based cakes.
Square cake pans
I have both an 8-inch square and a 9-inch square baking pan. I favor nonstick coatings because it makes it easy to remove cakes from the pan even if I don't use parchment or grease/oil the pan before baking.
8-inch square is a more common size in baking. If you bake a recipe that calls for a 9-inch square pan in an 8-inch square pan, you may need to increase the baking time because your finished cake will be more thick.
Round cake pans
I don't know where I'd be without my round cake pans! They are the magical baking vessels that make vegan layer cakes (and some of my every day, simple cakes) come to life.
I have two 8-inch round and two 9-inch round cake pans for layer cakes. It's a lot! But I love cake. You can choose to use either 8 or 9-inch pans for baking. Just keep in mind, again, that swapping one for another may affect baking time.
Some round cake pans have removable bottoms. This is helpful for removing cakes from the pan; however, if you use a nonstick pan or a layer of parchment (more on that below), it's not entirely necessary.
As you'll see, the volume of cake pan you use can have a great impact on how quickly your cake bakes. I have a variety of pan sizes at home, taking up more space than is sensible in my small apartment. If you'd like to use a single pan for most of your baking, here are some handy tutorials:
Bundt pans
My 12-cup Nordic Ware bundt pan gives me so much joy.
I love bundt pans. I don't have a collection of many different shapes, but I often find myself eyeing new ones in the hopes of expanding my collection. There are so many festive and fun shapes to explore.
Bundt cakes are cool because any cake that's baked in one already looks fancy. You won't need much decoration beyond the cake's unusual shape. If you're a baker and you've been contemplating getting a bundt cake, I can almost guarantee that you'll use it more often than you think you will.
I use mine for my applesauce spice cake and my chocolate bundt cake all the time. I also like it for citrus cakes and pumpkin cake.
Springform pans
I use my springform cake pan less than my regular round cake pans at home. Even so, I'm glad to have it. It's really good for making my classic vegan cheesecake, and it also comes in handy for upside down cakes.
Parchment sheets
Pre-shaped sheets of parchment make it sooo easy to remove cakes from their bakeware. Of course you can always purchase a roll of parchment and do the cutting yourself, but I've found that the pre-cut sheets are really major time savers. Here are the ones I have:
Spatulas
Regular silicone spatulas are very helpful for getting every last drop of cake batter out of a mixing bowl and into your bakeware.
Spatulas are also key for decorating frosted cakes, including the vegan carrot cake that I'm sharing today! I have a large and a small offset spatula. The large one helps out with the tops of cakes, and the small one is good for edges and corners. A straight spatula is great for the sides of cakes.
Round cutter
This is a little next-level, but if you get into the process of making vegan layer cakes, you might find that it's helpful to trim the sides of your cake. It makes it easier to apply a crumb coat of frosting—and this, in turn, makes it easier to frost the cake.
If you do want to trim the sides of your cake, a round cutter is a really good tool. I use this 8-inch round cutter to trim 9-inch round cakes.
Frosting tools
Yay, frosting!
I don't use a frosting for all of my vegan cake recipes. For many of them, no topping or a simple dusting of powdered sugar is just fine. But I think it's really fun to frost a cake, and it certainly makes the finished dessert feel more festive.
For those of you who enjoy frosted cakes or cupcakes, a pastry bag and tip set makes decorating much more fun.
A lot of people have rotating cake stands or turntables, like this one.
These turntables make it easier and faster to frost the sides of the cake. I may break down and get one of these at some point, but right now I don't have one. I just rotate my cake stand by hand, and it works well enough. Speaking of…
Cake stands
A round dinner plate does a perfectly good job of housing cakes. If you really love making and sharing cakes, however, there may come a time when you want a dedicated serving piece for them.
There are tons of cake stands online. I have this one, and it gets plenty of use (and love) in my apartment. You can also find fun, vintage cake stands in yard sales or antique shops.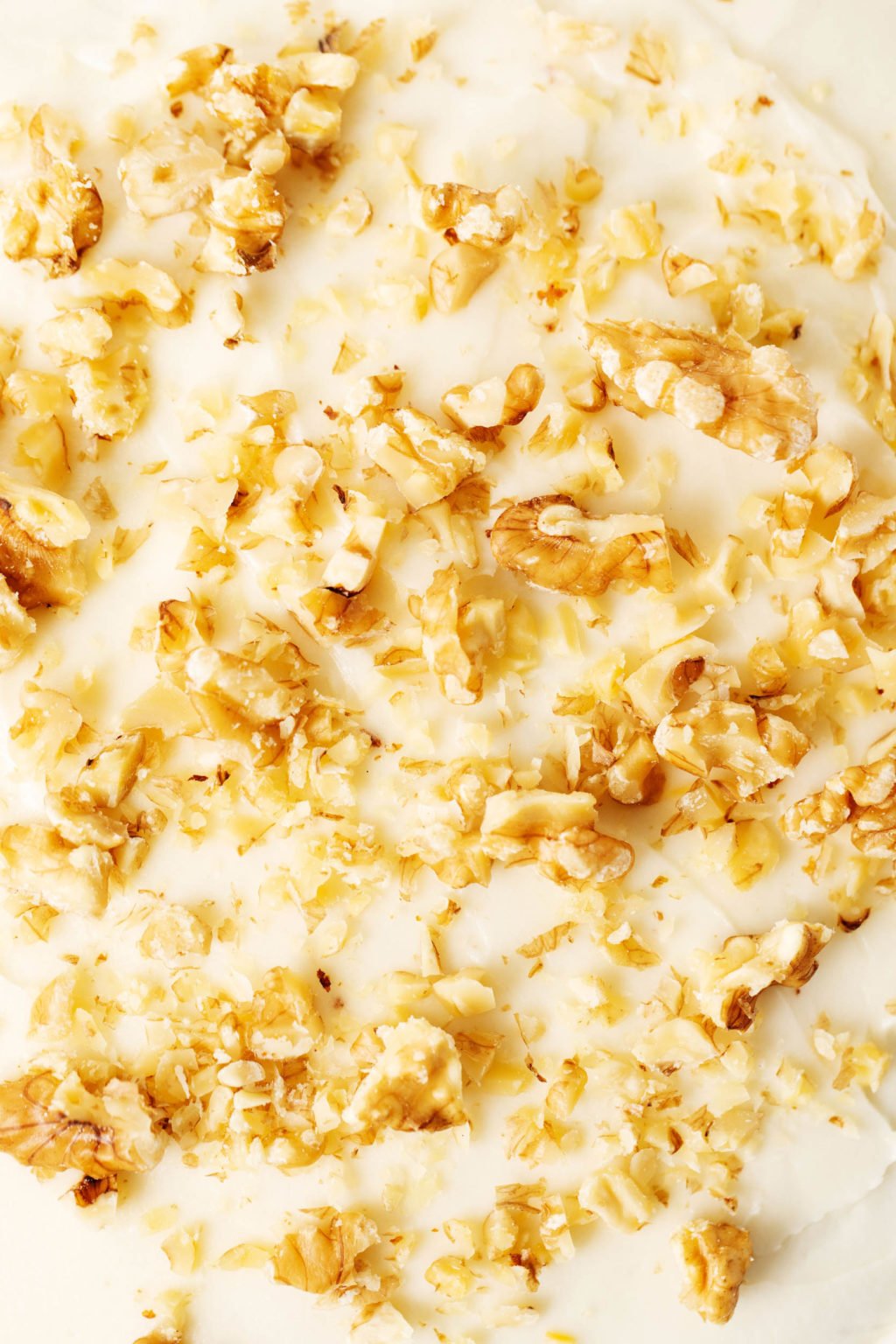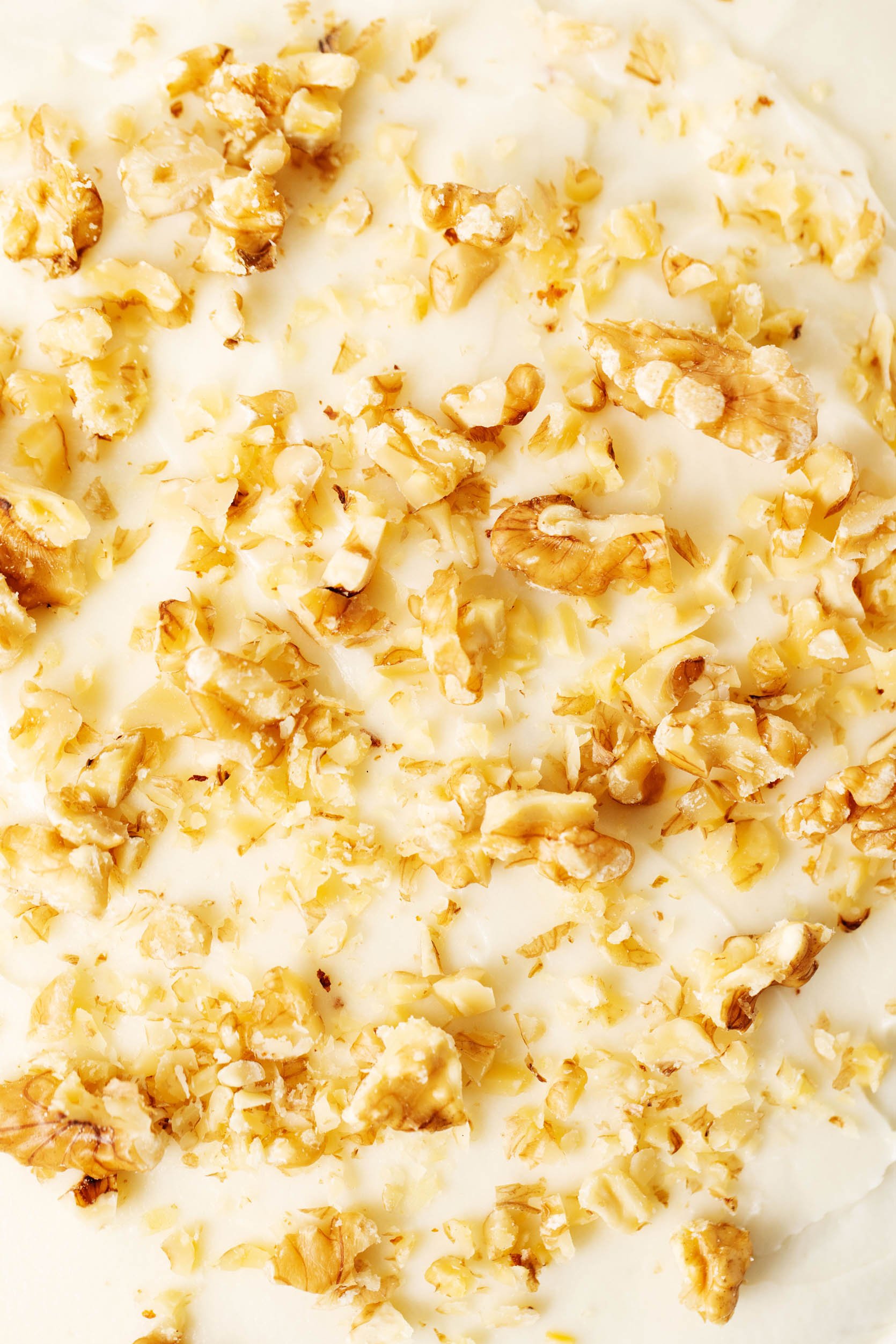 My favorite cake decorations
The very simple cakes that I tend to like best don't really demand a lot of extensive decoration. This is a good thing, since my frosting piping skills are very, very basic.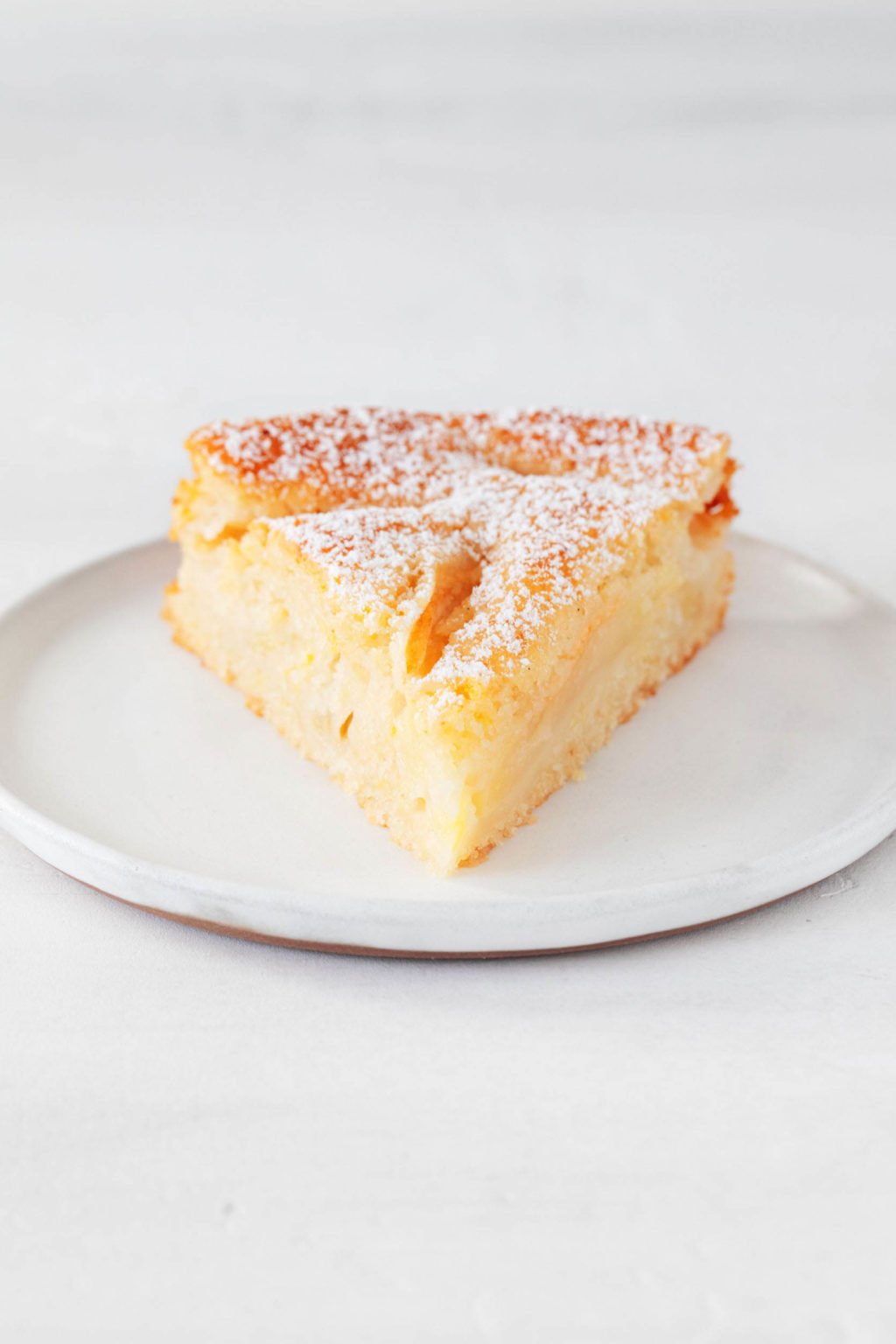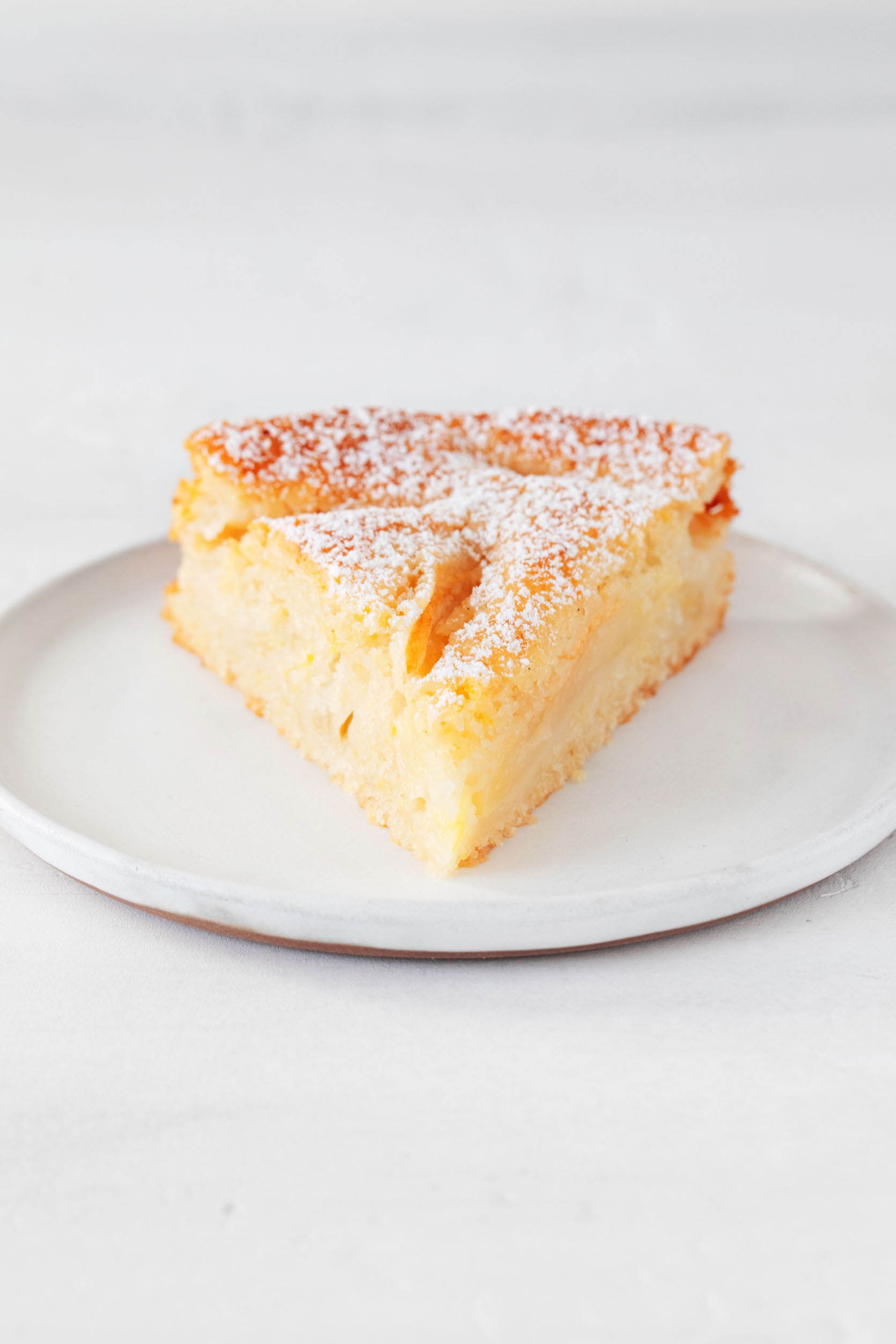 Many cakes, including my beloved vegan apple cake, look lovely with a simple dusting of powdered sugar.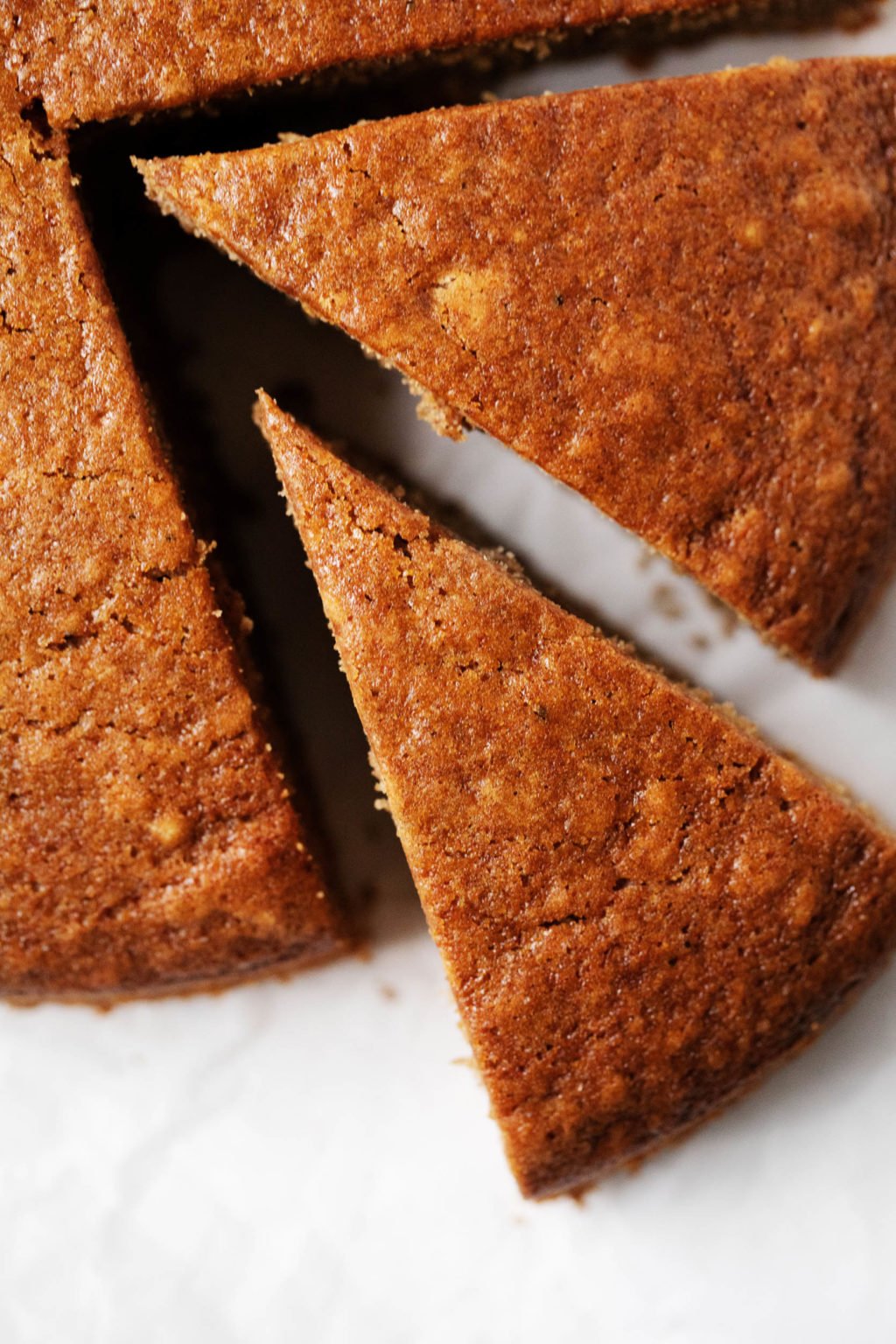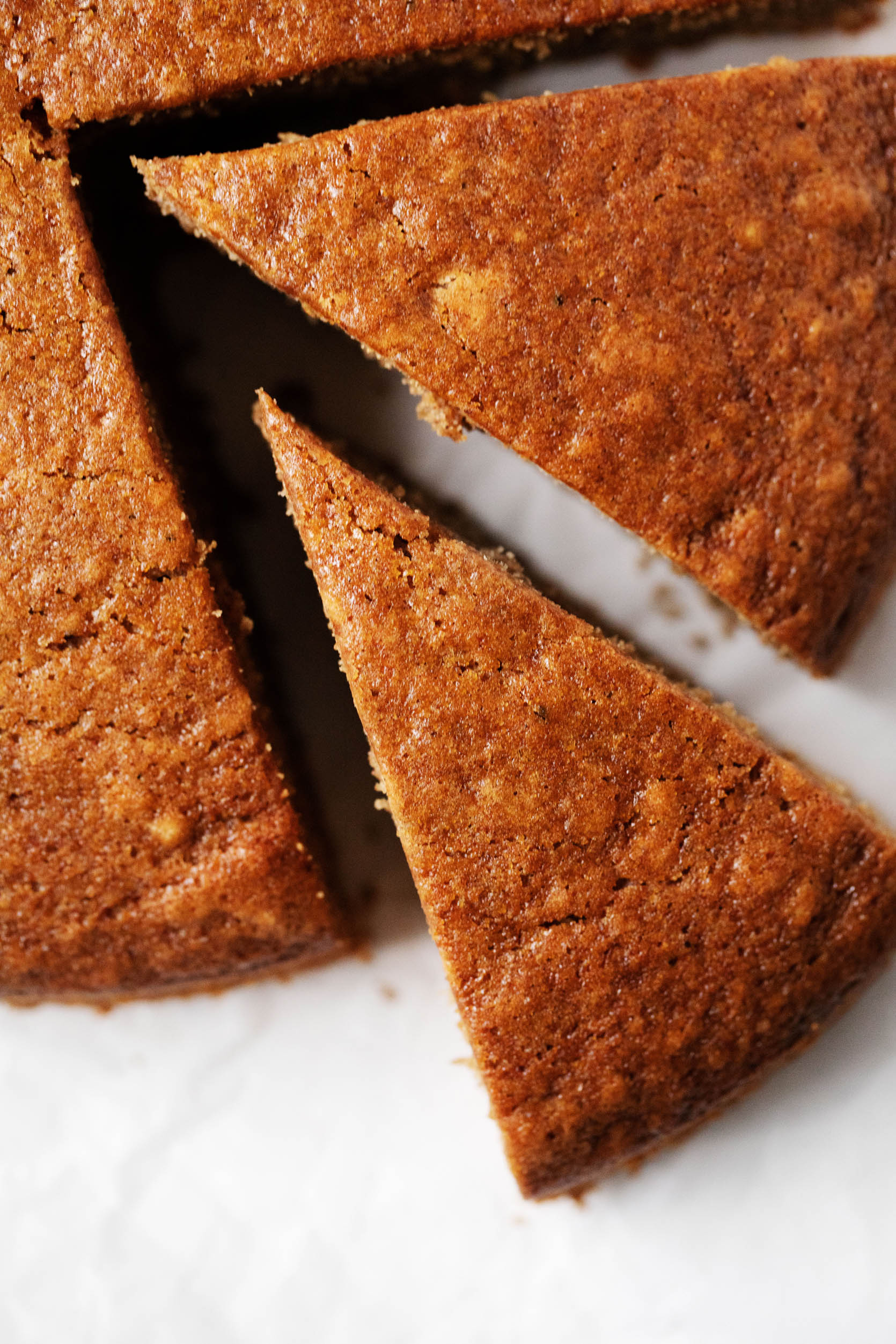 Others, like the wonderful vegan gingerbread cake that I make for Christmas, don't need decoration at all. They can be served with a little ice cream if you like, or they can be left naked.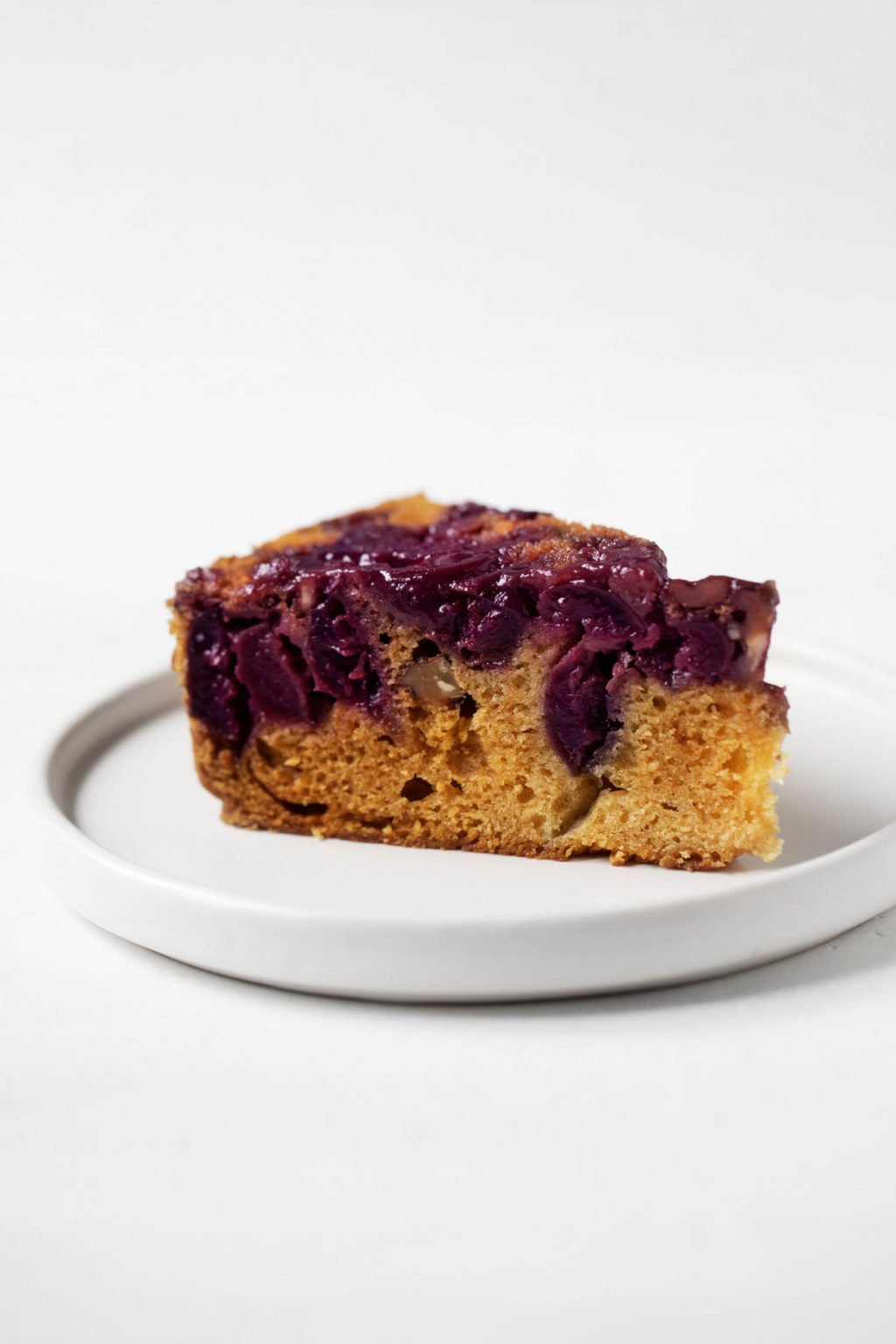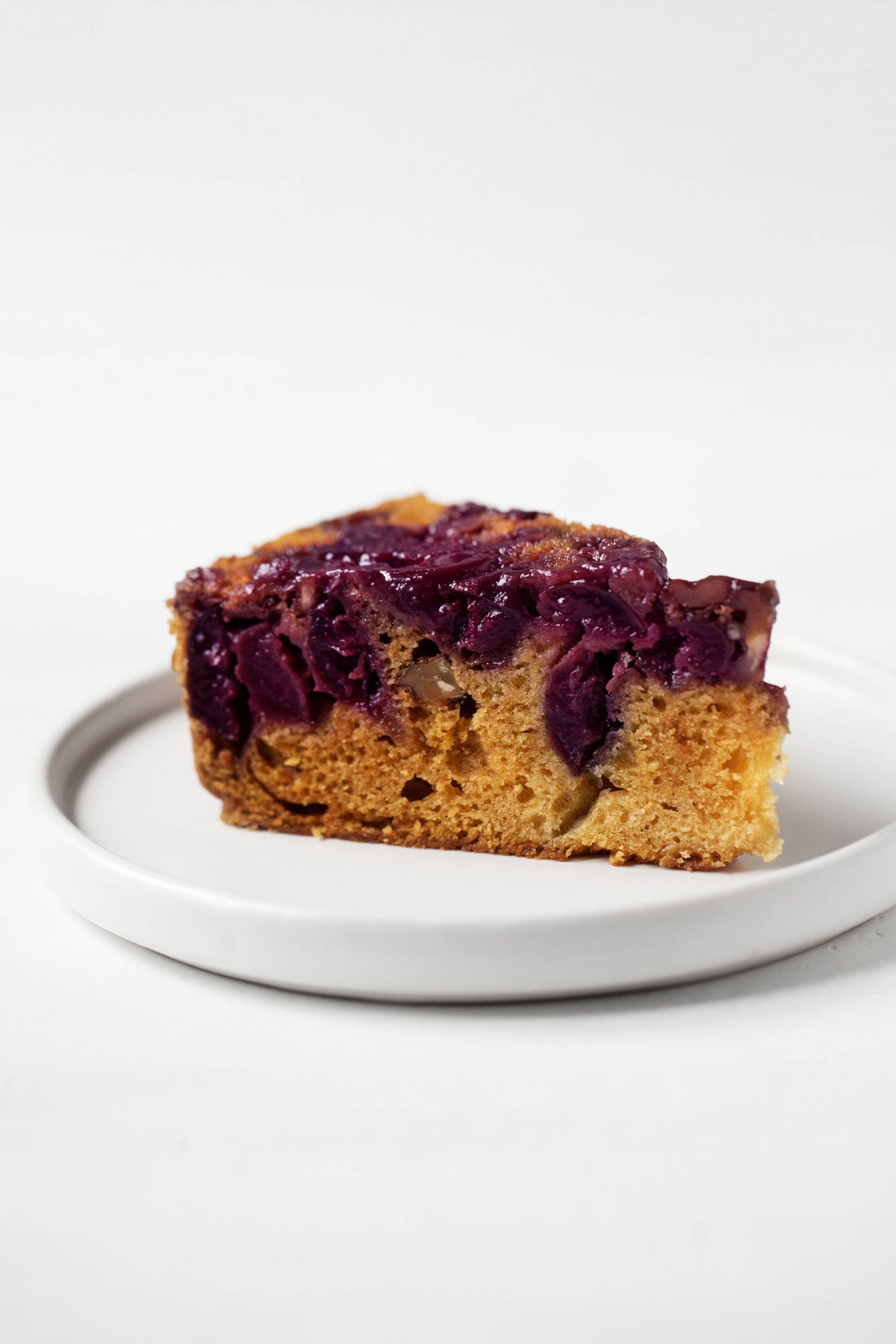 Upside down cakes with fruit, like my sweet cherry upside down cake, decorate themselves.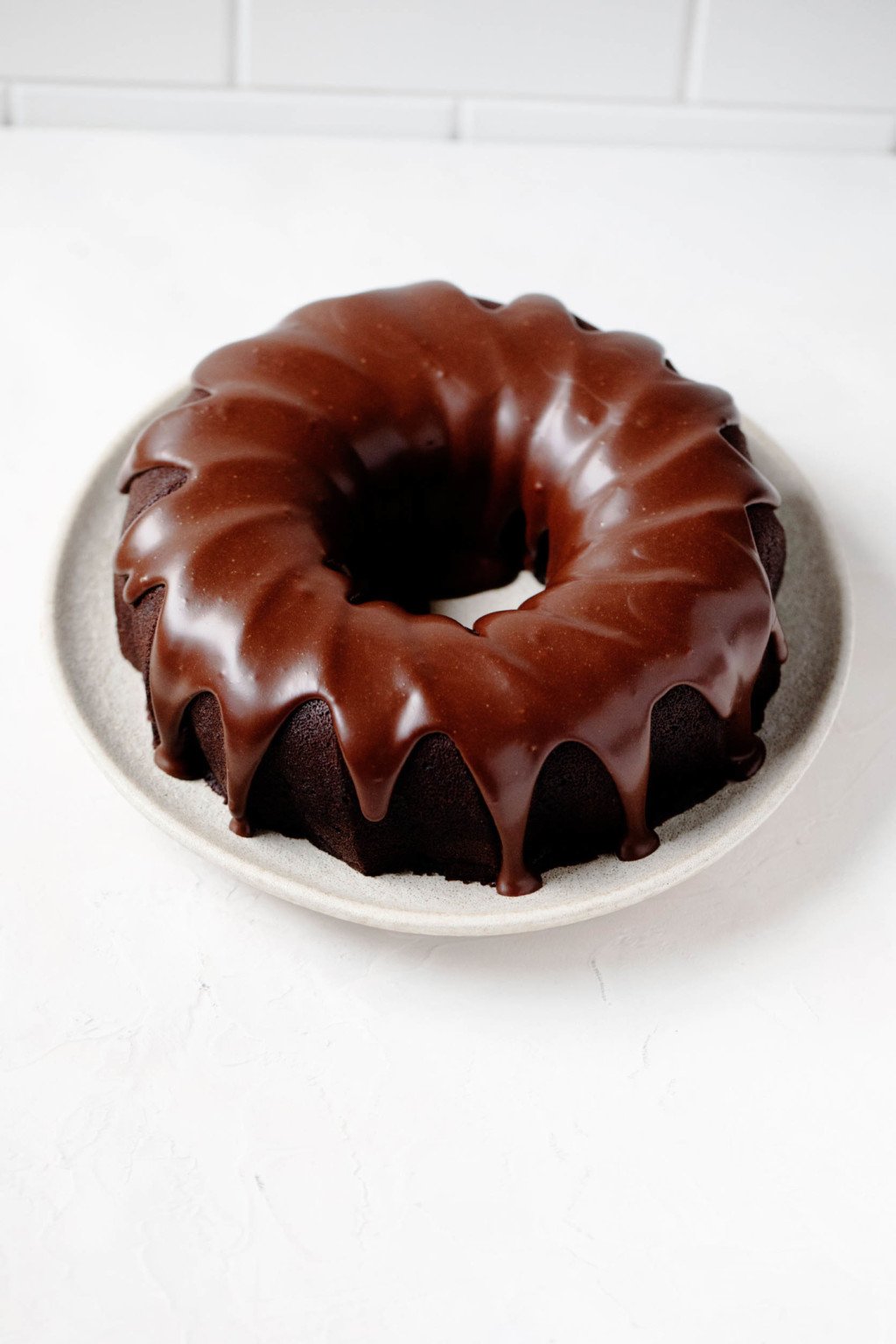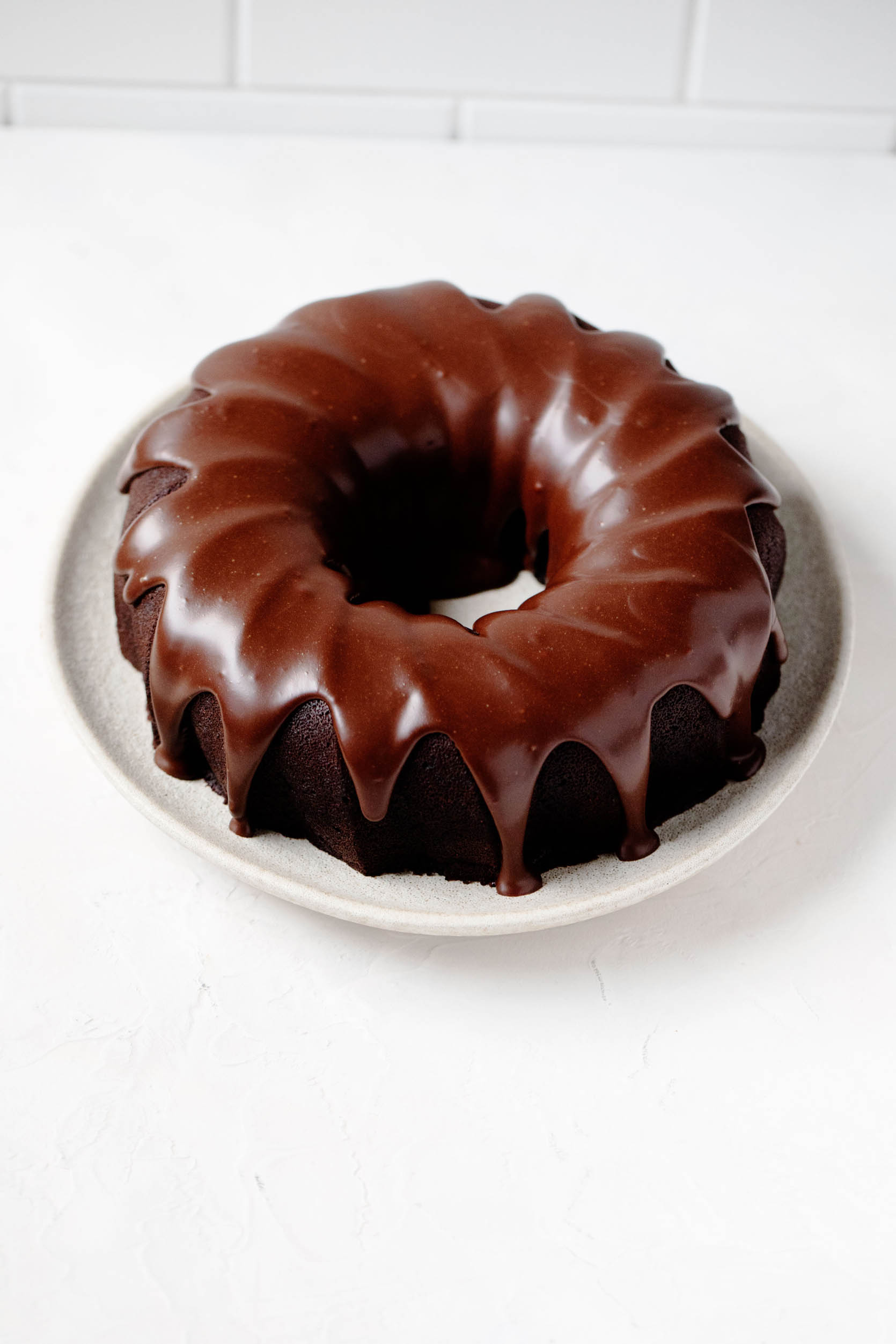 If you want to use a topping but don't have the energy for frosting, then a glaze is always a good idea. This chocolate bundt cake has the most delicious, rich, glossy glaze.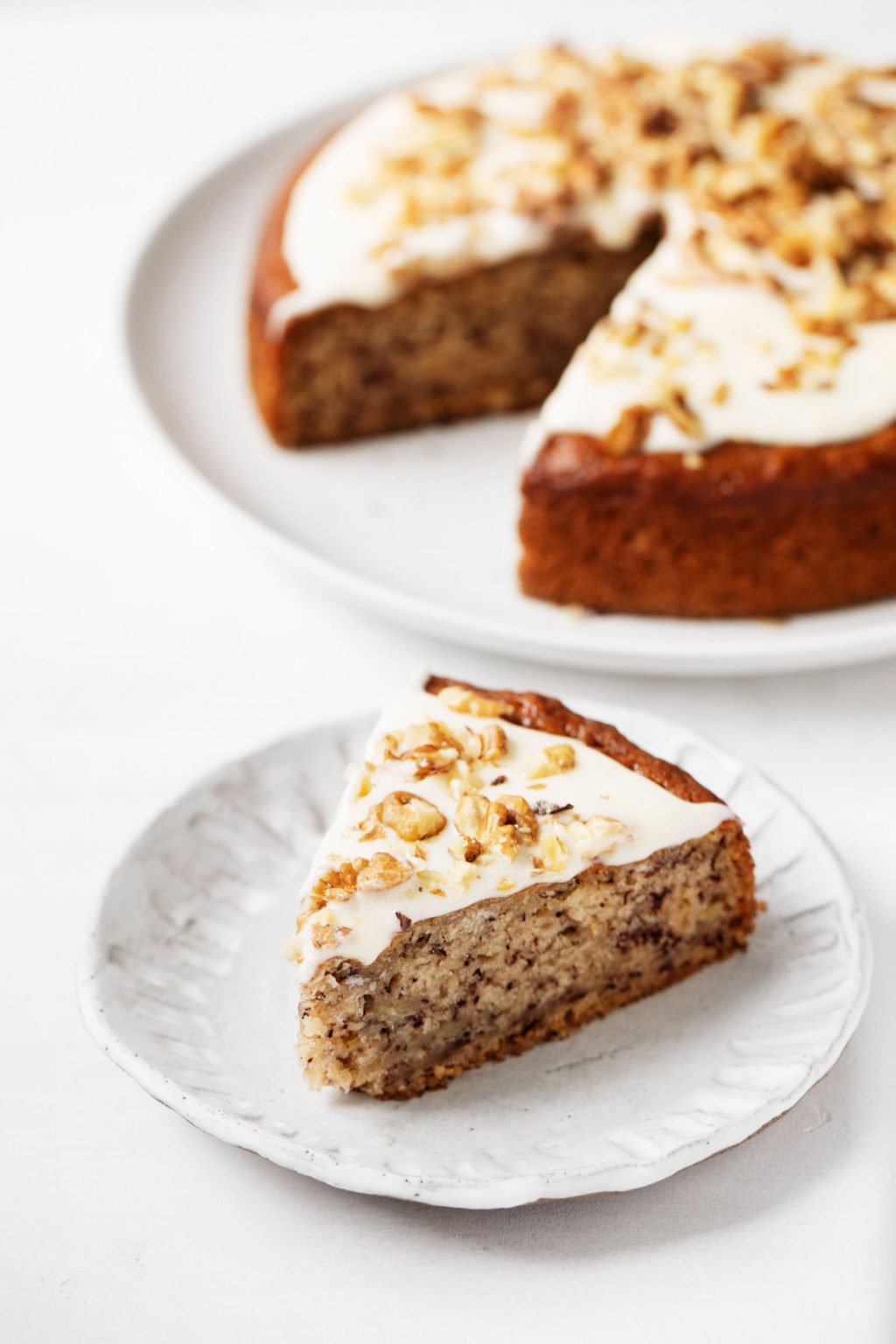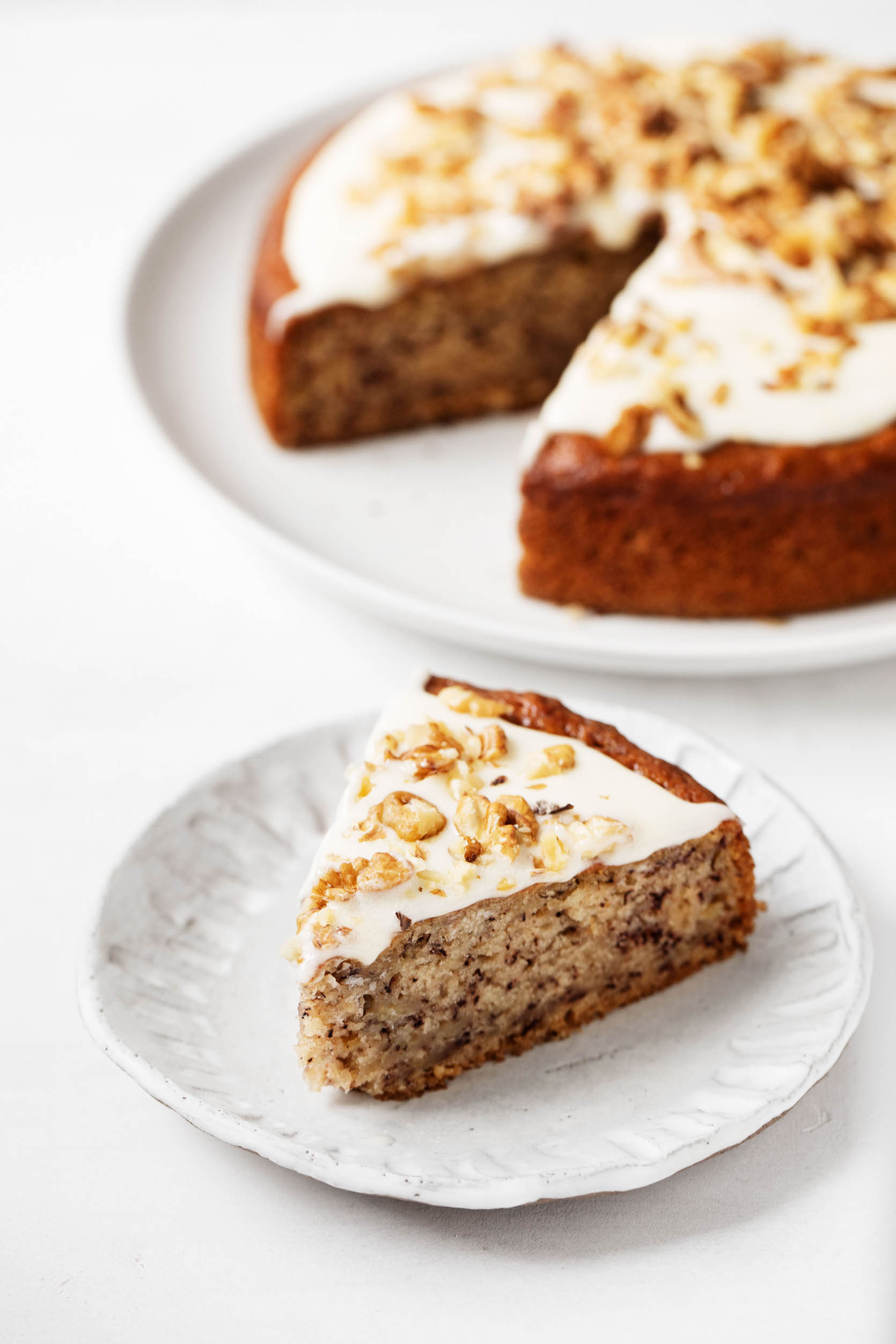 If you do make frosting for a cake, there are different ways to apply it. Some are low maintenance, while others are a little more involved. For my banana cake with cashew frosting, I only frost the top of the cake. Some chopped walnuts create the rest of the decoration.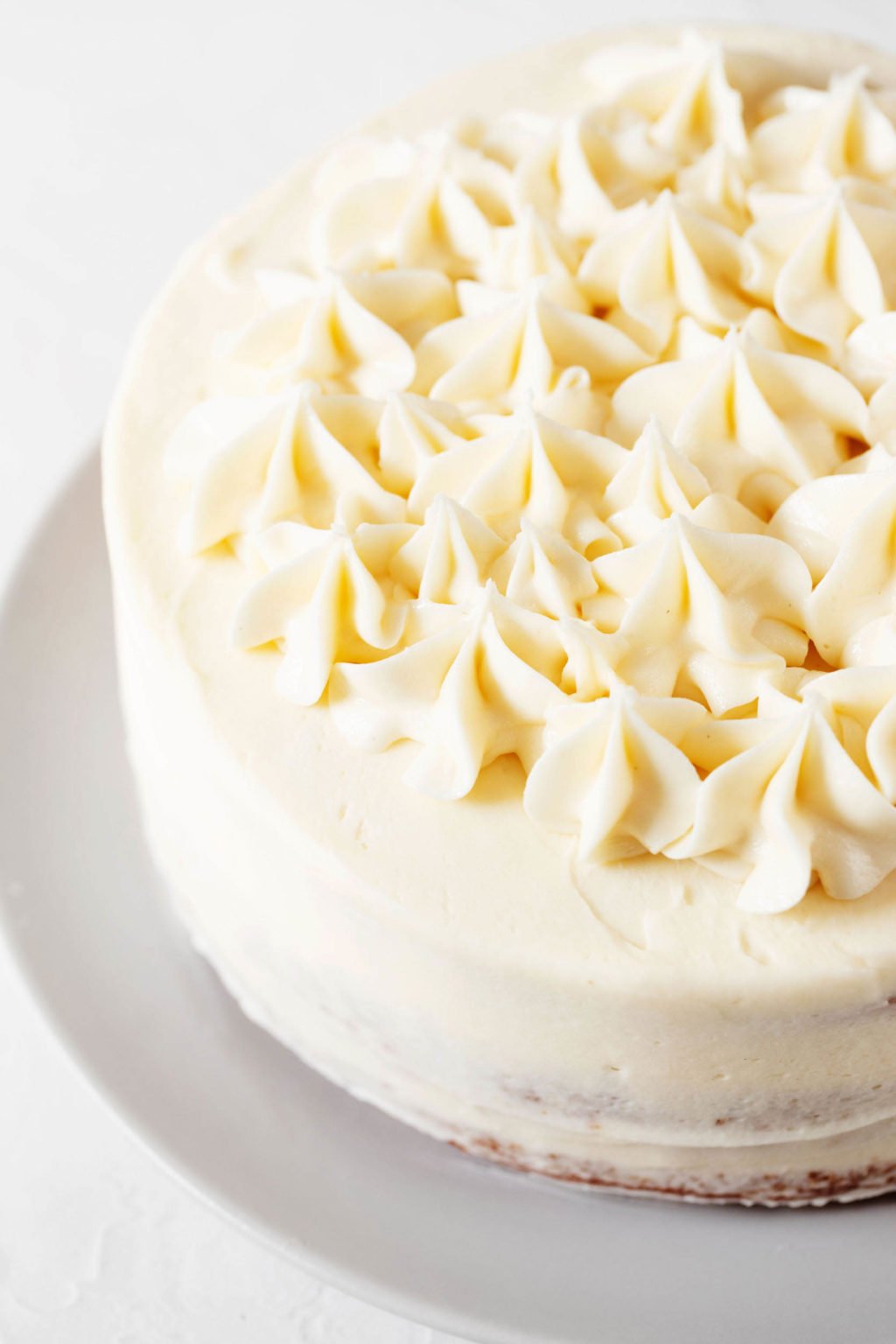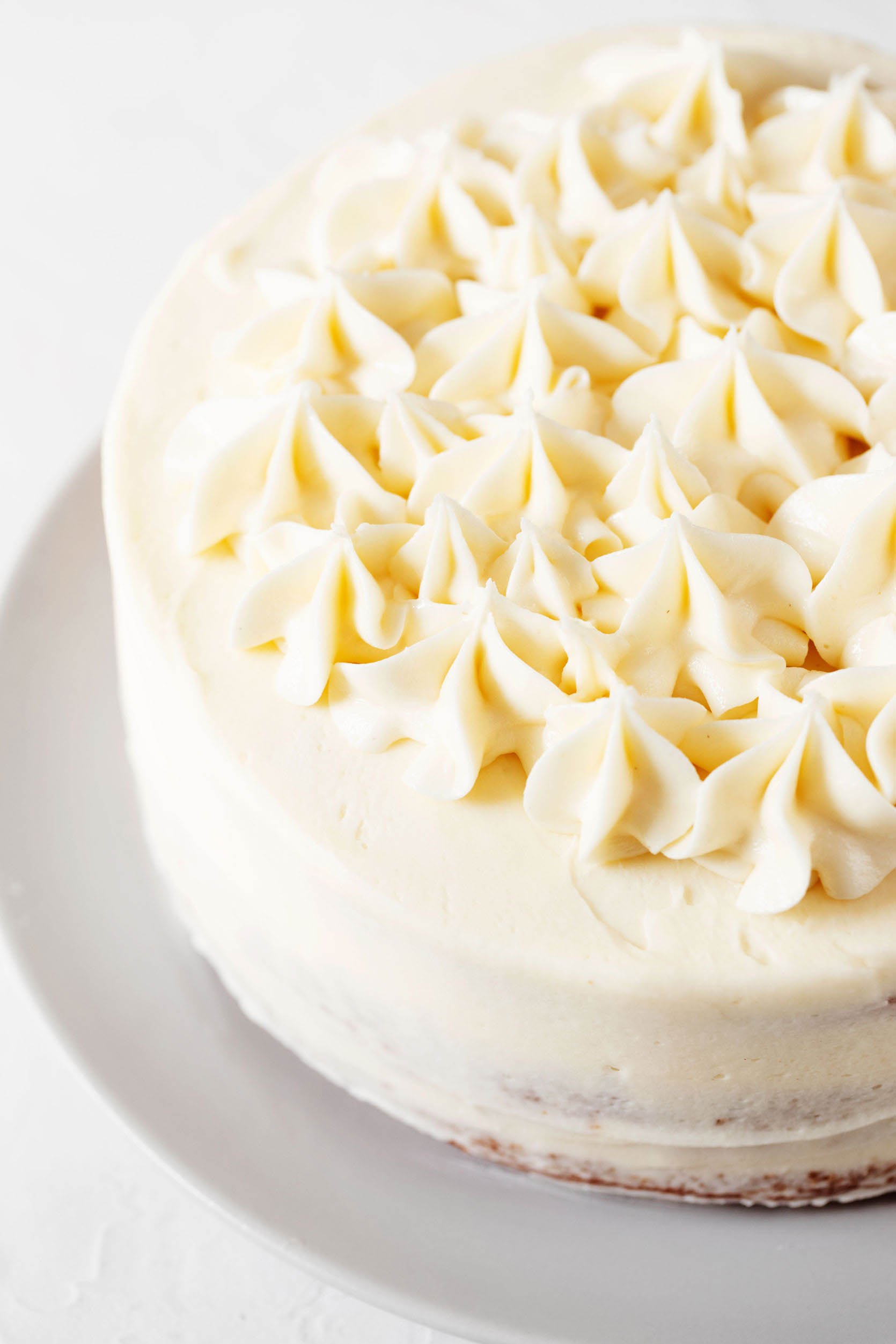 For other cakes, like my vanilla cake with buttercream frosting, I decorate more extensively.
I'm no piping expert, so I tend to Google a lot of online tutorials and guides. This New York Times article is pretty comprehensive, but there's a lot more out there. I'm always reading and learning and trying new techniques.
Cutting and serving cake
I find it easiest to cut cake slices with a serrated knife (like a bread knife) or a very sharp chef's knife. Be sure to clean the knife between cuts, as the knife will get more and more coated with frosting.
Then, I use my pie server to gently remove each slice from the center of the cake. A small spatula or an offset spatula is also good for this job.
Vegan cake storage & freezing
One you have a beautiful vegan cake on your hands, you'll want to store and preserve it in a way that allows you to stretch its goodness for as long as possible.
If your cake is frosted, then the ideal option is to have a cake cover for it. Covered this way, a frosted cake is usually fine at room temperature for up to five days. If you have a warm living space or it's the height of summer, then you can transfer the cake to the fridge. Just keep it covered.
If you have a naked or unfrosted cake, then I recommend storing it in the fridge for up to five days. A whole cake should be wrapped gently in foil or Saran Wrap in order to protect it. Without some protective wrap, the cake might pick up fridge smells or dry out very quickly. Cut pieces of cake can be stored in the fridge for up to five days in airtight containers.
Meanwhile, the freezer is an amazing place to store your leftover cake! In fact, I prefer freezing cake to keeping it in the fridge, as the cake texture remains more moist and tender when it's frozen.
If I know for a fact that I have any cake on my hands that I won't eat for the next three days, I freeze it right away. Individual slices go into Stasher Bags. Whole cakes get wrapped up before they go in the freezer. An entire frozen cake is perfect for holidays and last minute get-togethers with friends.
20 Irresistable Vegan Cake Recipes
I hope that some of the above will help you to feel more confident and empowered in baking vegan cake recipes at home. Cake can be a daunting project for the novice baker, but I don't think that it has to be. It can be fun and light, just as cake itself is fun and light!
Whether you're an experienced baker or a brand new one, I hope that you'll find at least one vegan cake recipe among the following twenty that speaks to your heart.
Vegan Gingerbread Cake
The best vegan gingerbread cake! This cake is light, yet rich in flavor and infused with spices. It's the perfect simple snack cake for the holiday season.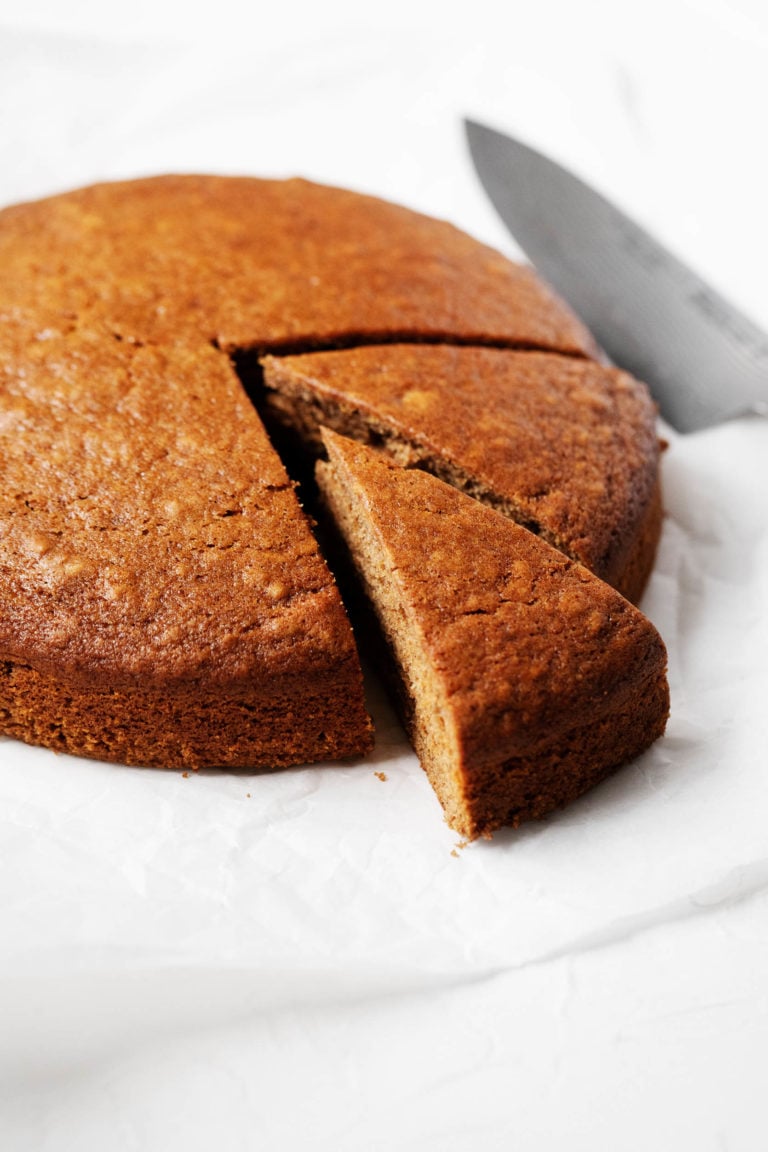 Get the recipe
Foolproof Vegan Applesauce Spice Cake
This vegan applesauce spice cake will make your home smell amazing and is a guaranteed crowd-pleaser! Made with pantry ingredients, the cake is practically foolproof.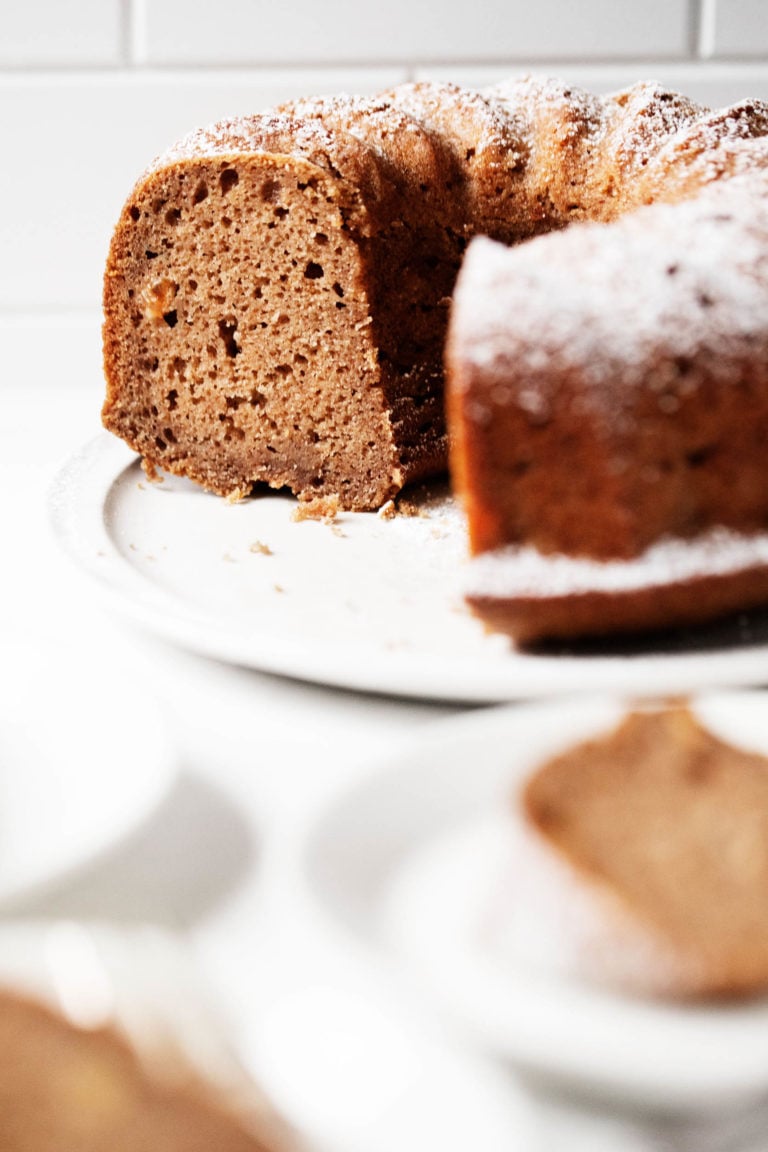 Get the recipe
Vegan Chocolate Beet Cake
This vegan chocolate beet cake is amazing! Puréed beets help to keep the cake sweet and give it a wonderfully moist texture. This is a perfect snack cake, and you can pair it with some vanilla ice cream for a simple dessert.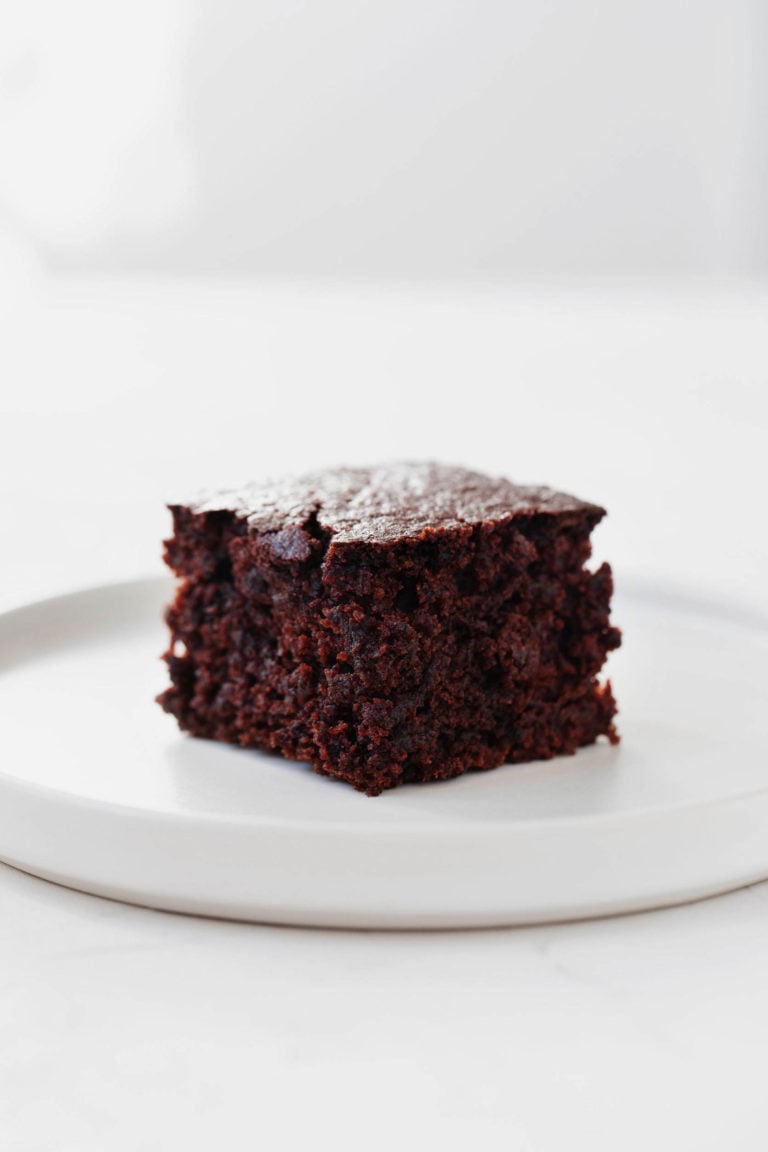 Get the recipe
Cinnamon Spiced Sheet Cake with Cream Cheese Frosting
This vegan cinnamon spiced sheet cake with cream cheese frosting is a perfect holiday treat! It's festive, fragrant, and easy to make. Plus, it serves a whole crowd.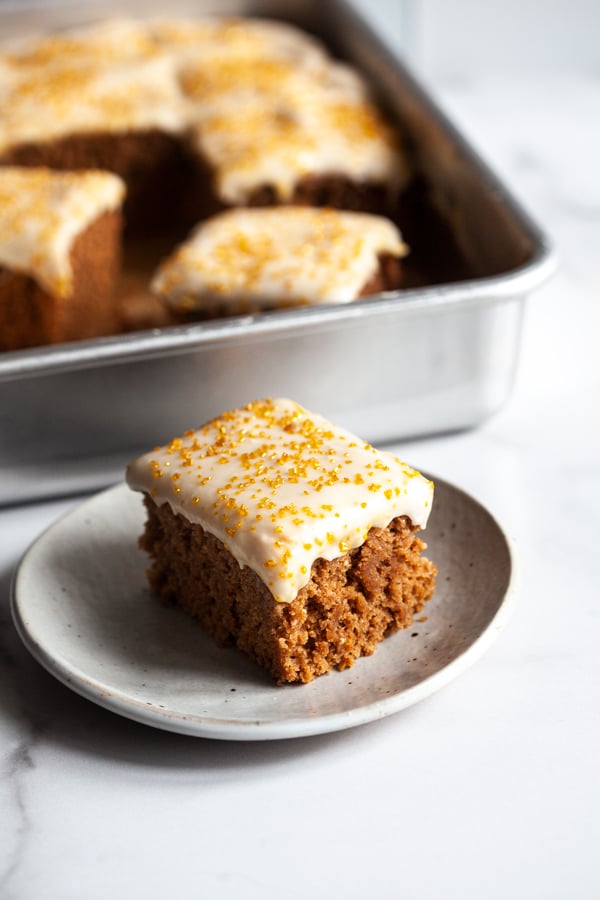 Get the recipe
Vegan Vanilla Cake
This is the best vegan vanilla cake! A simple sponge cake is layered with luxurious vegan buttercream frosting. It's elegant, classic, and unbeatable for birthday celebrations.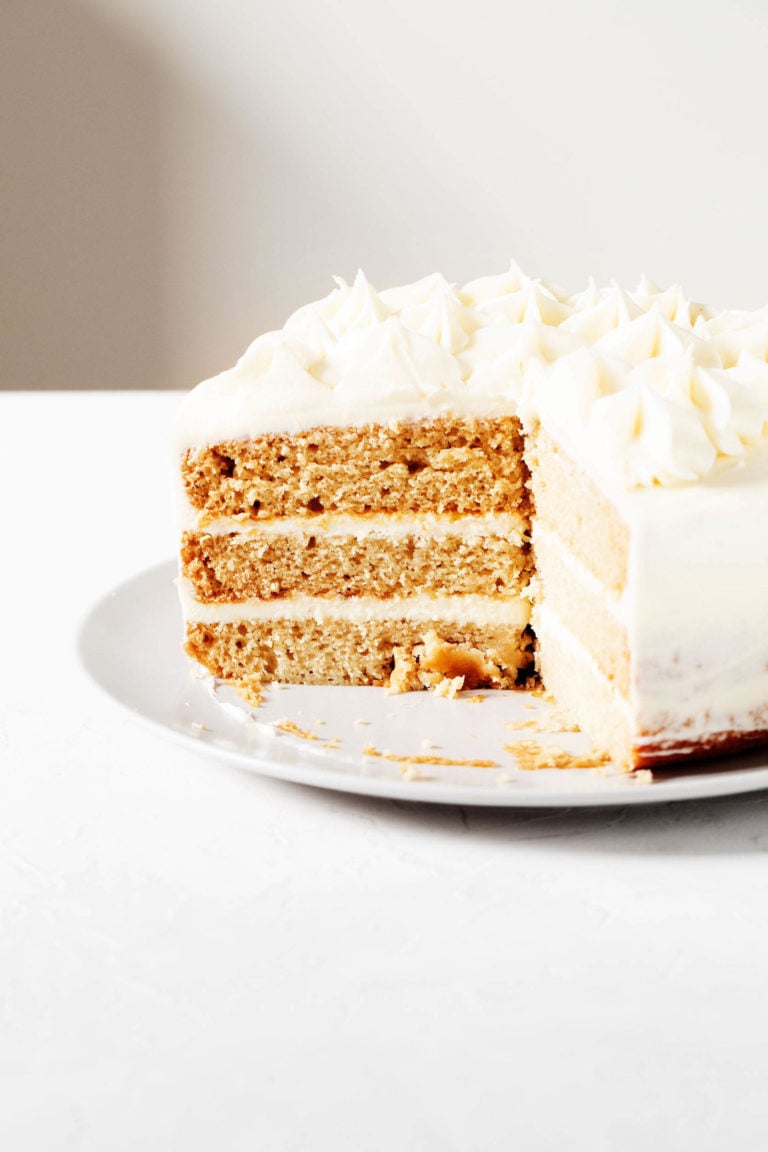 Get the recipe
Easy Vegan Strawberry (Cake) Shortcake
This is my favorite vegan strawberry shortcake recipe. It features tender vanilla cake, lightly sweetened fresh strawberries, and your favorite vegan whipped cream—store-bought or homemade. It's easy to assemble and a guaranteed crowd pleaser!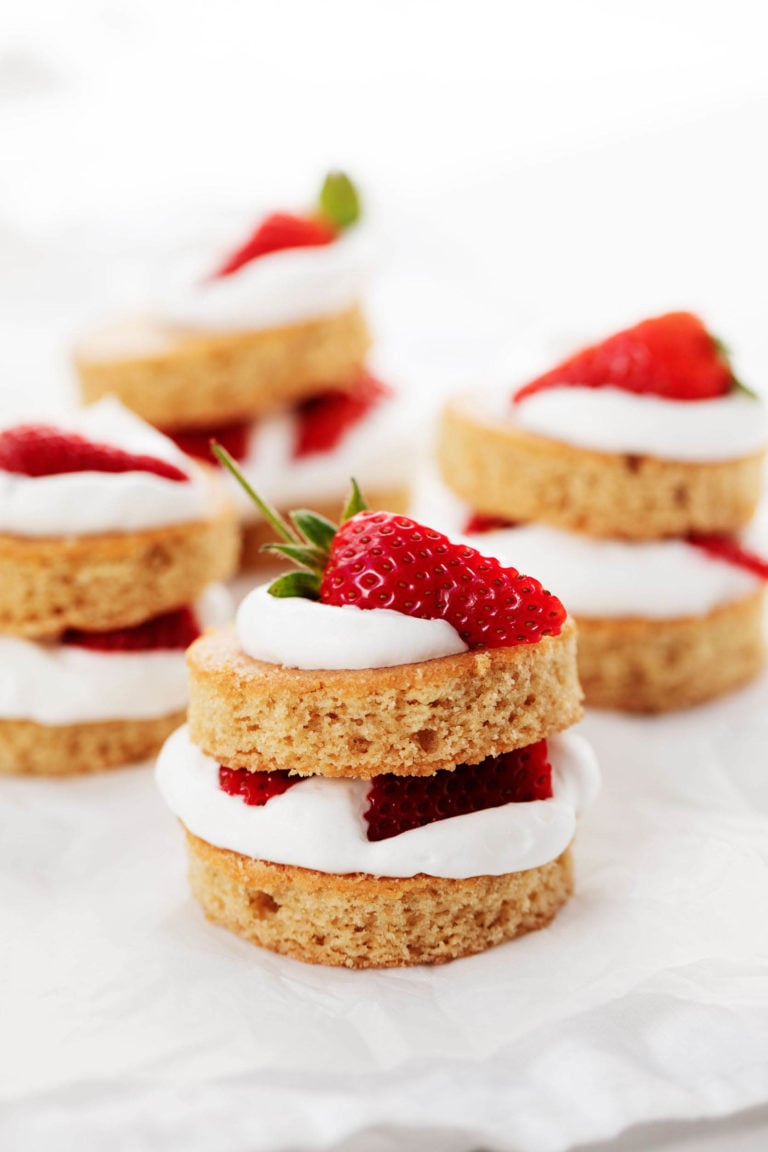 Get the recipe
Vegan Coconut Pistachio Lemon Cake
This vegan pistachio lemon cake is both grain free and gluten free. It's made with coconut flour, almond flour, and finely ground pistachios. It also has a tart, sweet, and festive lemon glaze.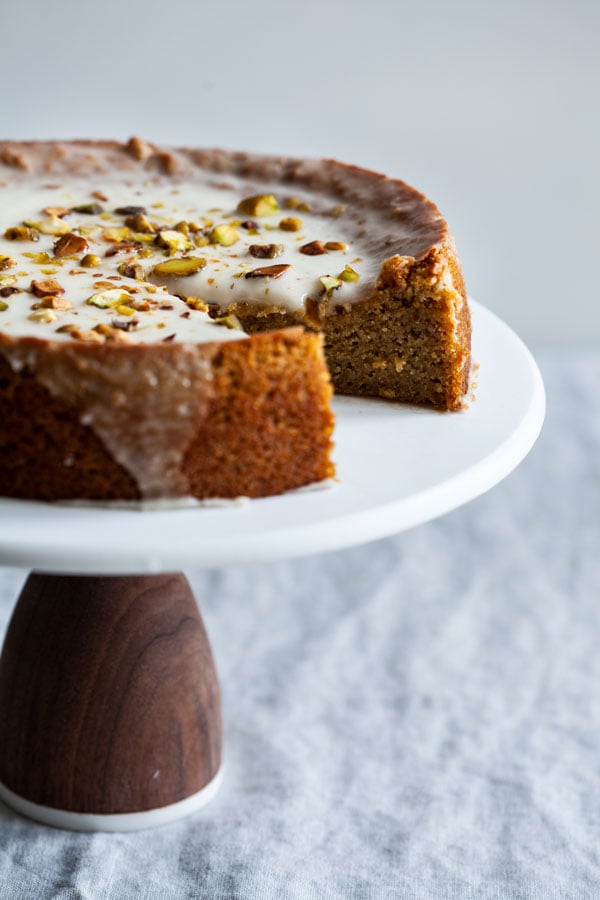 Get the recipe
Vegan Pumpkin Carrot Cake with Cream Cheese Frosting
This vegan pumpkin carrot cake is a mashup of traditional carrot cake and spiced pumpkin bread. It's the ultimate autumn treat!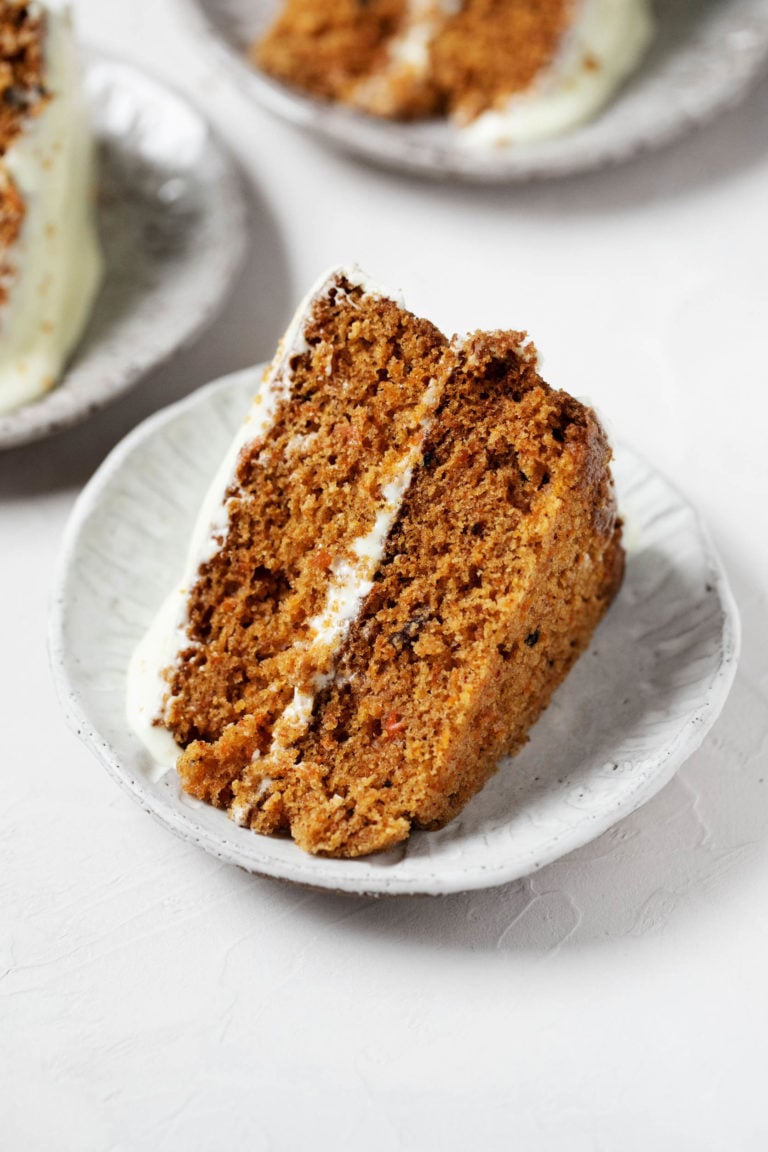 Get the recipe
Vegan Peanut Butter & Jelly Swirl Snack Cake
This vegan peanut butter & jelly swirl snack cake looks beautiful and tastes like the most indulgent PB&J you've ever had! It's easy to make, and kids love it.
Get the recipe
Vegan Chocolate Bundt Cake with Chocolate Ganache Glaze
This vegan chocolate bundt cake is the solution to any and all of your chocolate cravings! A chocolate ganache glaze makes decorating easy and beautiful. It's perfect for Valentine's Day or any special occasion.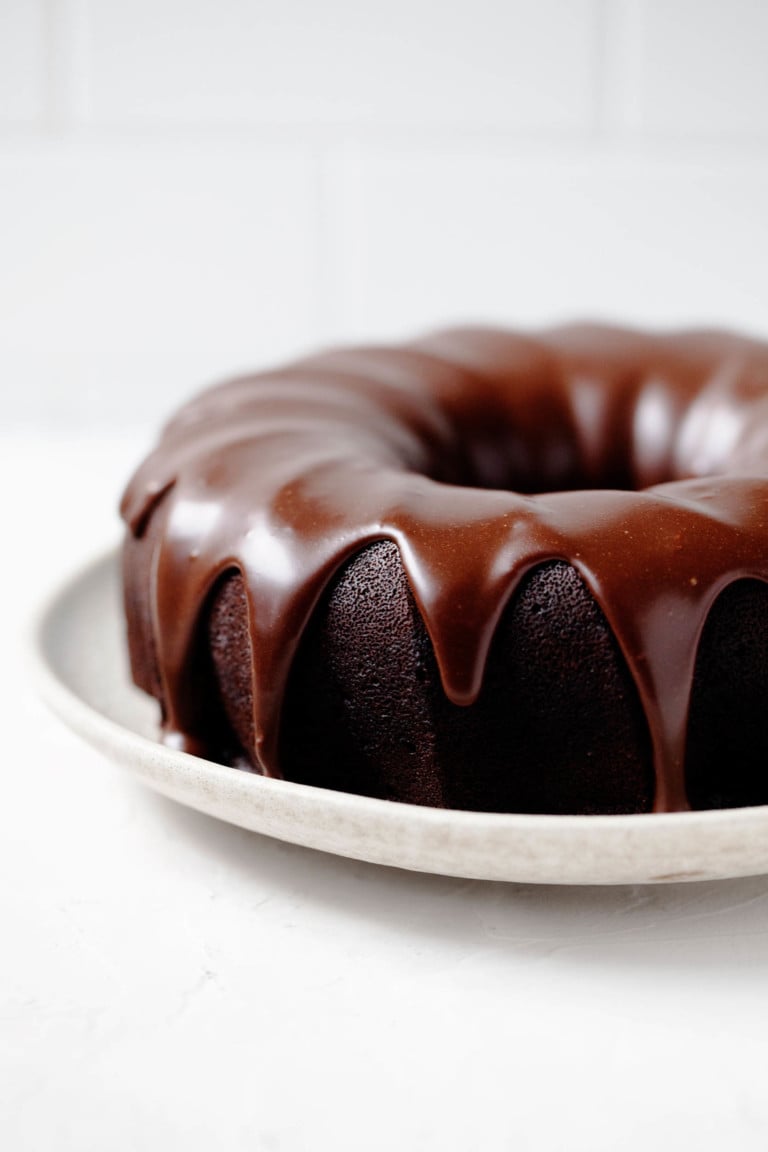 Get the recipe
Vegan Golden Milk Cake with Coconut Frosting
This delicious vegan golden milk cake has a beautiful, deep orange color, a gently spiced interior, and a sweet coconut milk glaze.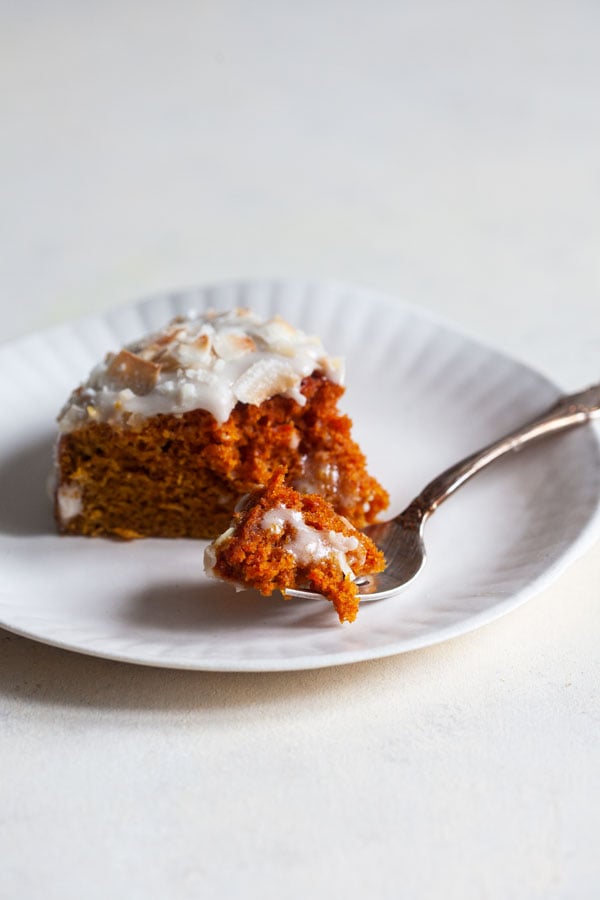 Get the recipe
Cakey Vegan Pumpkin Chocolate Chip Blondies
These cakey vegan pumpkin chocolate chip blondies are a wonderful hybrid of blondie and cake. They're dense and moist in the center, light at the edges, and studded with chocolate. Most of all, they're delicious!
Get the recipe
Wholesome Sweet Cherry Upside Down Cake
This wholesome sweet cherry upside down cake is a festive treat for any time of year. Try it with fresh cherries in the summertime and frozen cherries in winter. No matter what, the cherries will give the cake the most beautiful, deep red top.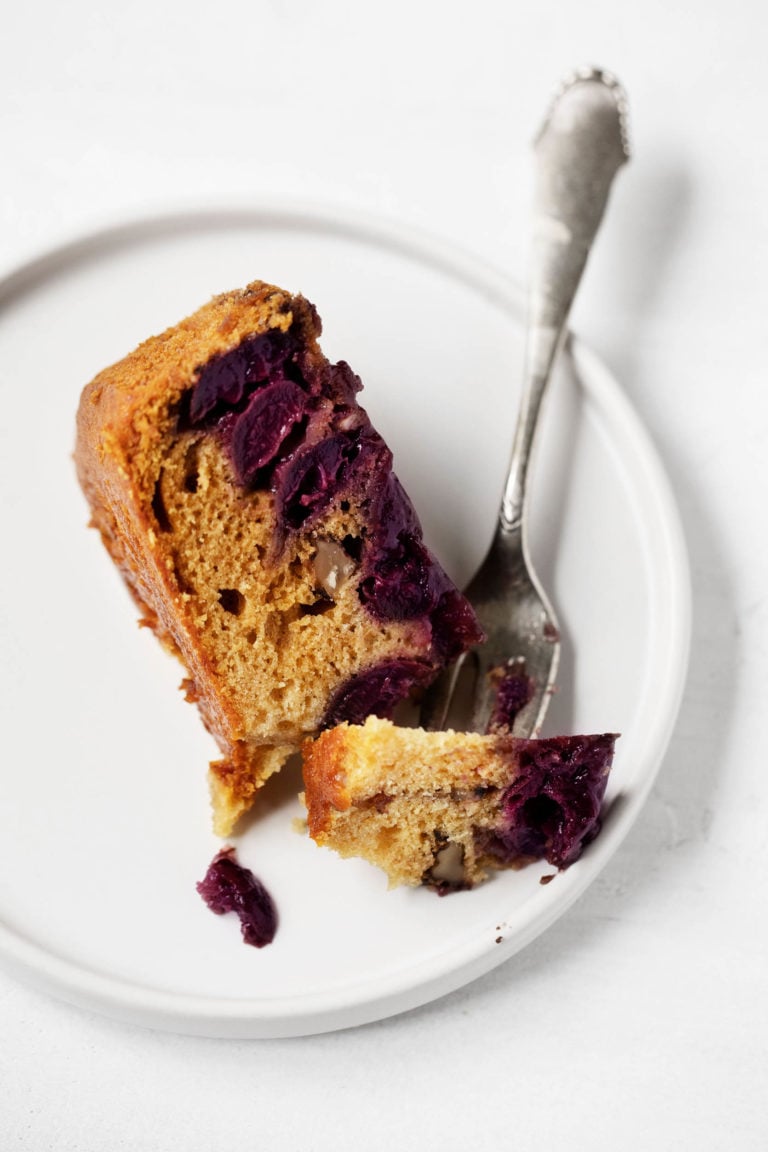 Get the recipe
Old-Fashioned Vegan Banana Bread with Creamy Cashew Frosting
Banana bread meets snack cake in this rustic plant-based treat! Vegan banana bread with cashew frosting is sweet, simple, and nostalgic.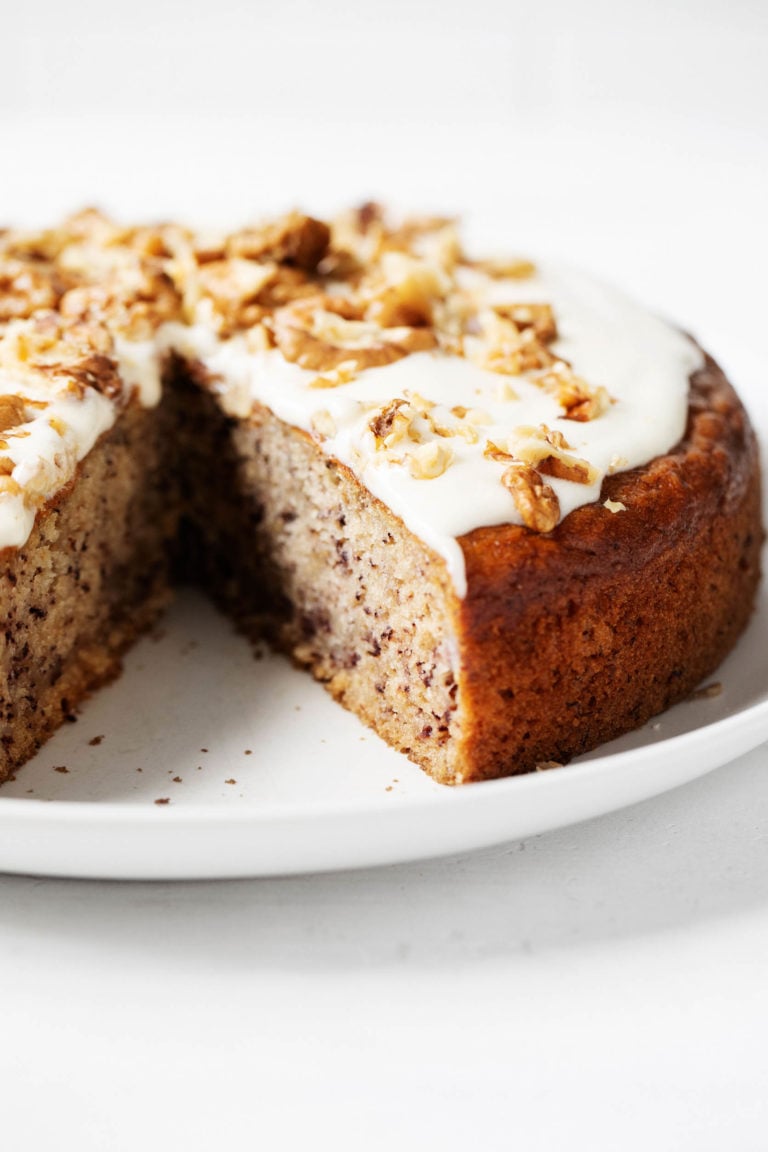 Get the recipe
Vegan, Gluten-Free Gingerbread Cake
This vegan, gluten free gingerbread cake is a gingerbread that everyone can enjoy! A perfect way to celebrate the holiday season and to share it with friends. #vegan #glutenfree
Get the recipe
Vegan Nantucket Cranberry Pie
This is a vegan version of Nantucket cranberry pie, the pie that's really a cake. It's a classic recipe from Laurie Colwin's More Home Cooking, and it is, as Colwin writes, "simple and wonderful."
Get the recipe
Vegan Dark Chocolate Pear Cake
This vegan chocolate pear cake is the BEST vegan Christmas cake. Elegant yet simple, it's studded with dark chocolate pieces and chopped pear. Always a hit with friends and family—vegan and omnivore alike!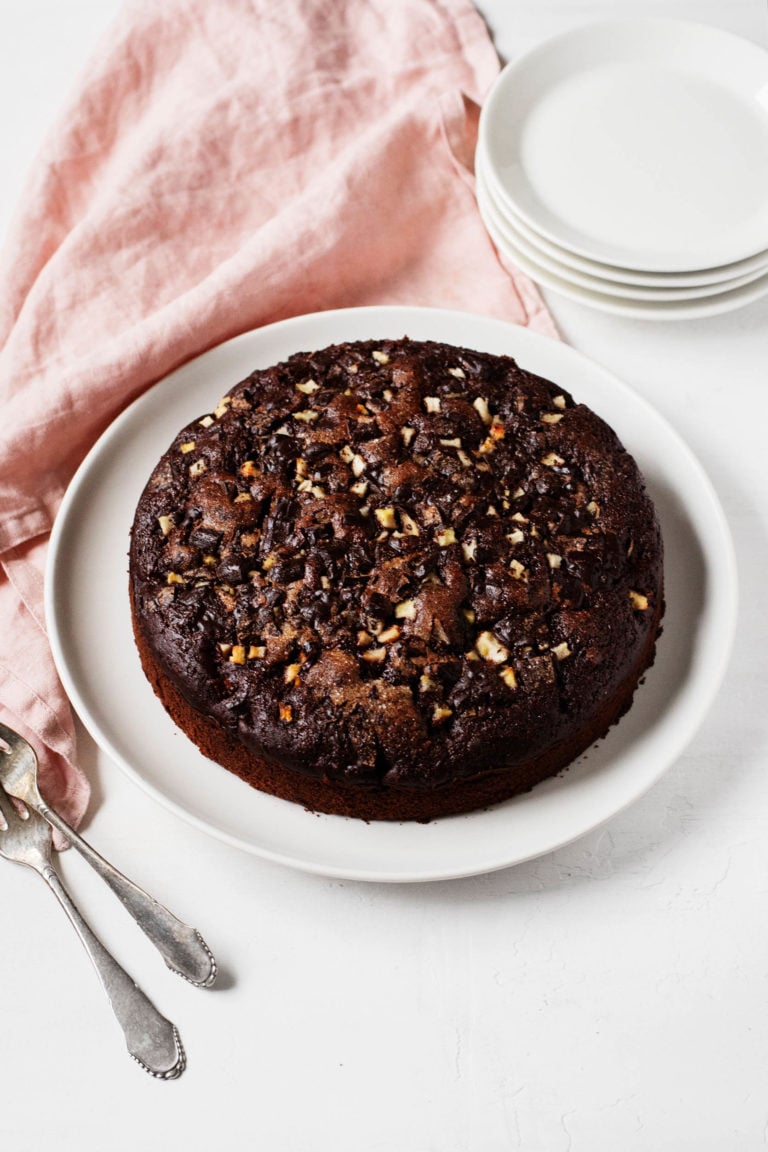 Get the recipe
Peach Blackberry Skillet Cake
This vegan peach blackberry skillet cake is so easy to make! You can prepare it with fresh or frozen fruit. It's a wonderful way to celebrate summer and a perfect, last-minute dessert for entertaining.
Get the recipe
Vegan Apple Cake
This vegan apple cake is inspired by Italian torta di mele. It's so simple and elegant! Pair with espresso for an easy autumn dessert.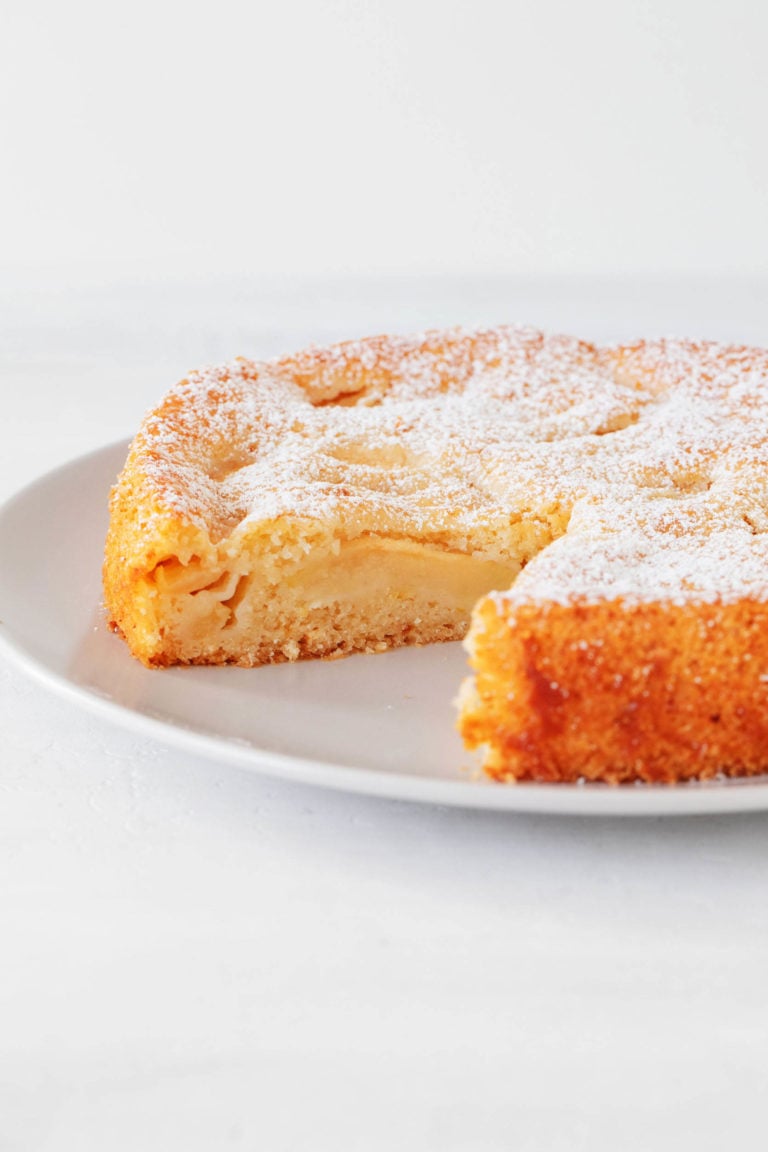 Get the recipe
My Favorite Vegan Carrot Cake with Cream Cheese Frosting
Carrot cake is my favorite cake, and this vegan carrot cake is the best I've ever had. It's moist but not heavy, perfectly sweet, and decorated with an authentic vegan cream cheese frosting. It's a delight at any time of year, but especially in the spring!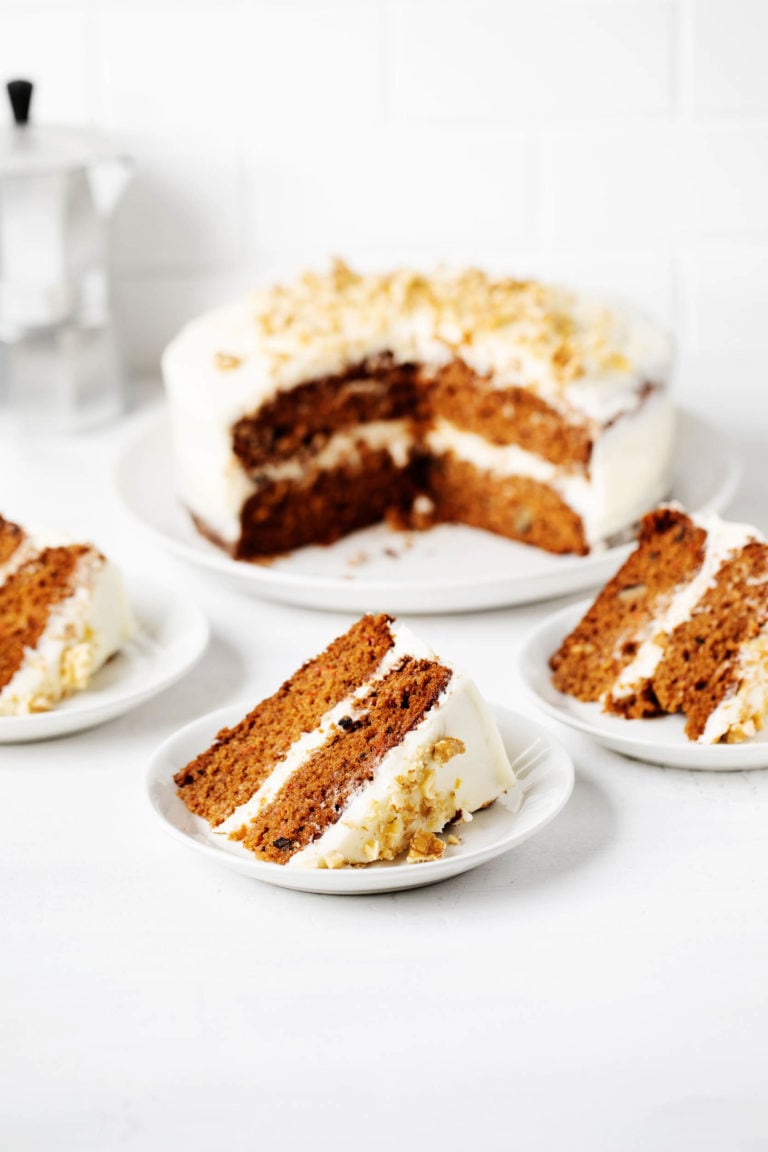 Get the recipe
My favorite vegan carrot cake with cream cheese frosting
That cake above? It's my favorite cake. Given how enthusiastic I am about vegan cake in general, that statement is a big deal.
Carrot cake was my favorite as a kid, and it has remained my favorite to this day. I've found and tried many recipes, but the one that I'm linking to and sharing today is my forever carrot cake.
This cake is somewhat dense, as all carrot cakes are. Yet to quote Coral Lee, the baker who inspired it, this carrot cake isn't salad-y. I grate the carrots with a microplane grater so that they practically melt into the cake. I use walnuts and raisins, but the amounts are small for both.
The result is a carrot cake that's a perfect balance of homey and elegant. It has a lightness that's rare in carrot cake recipes, but it doesn't skimp on any of the classic fillings.
This isn't a quick and easy snack cake. It's a layer cake that takes some time. But if part of the joy of cake is its impracticality and playfulness, then this is a really perfect recipe to show those qualities off.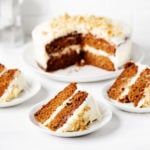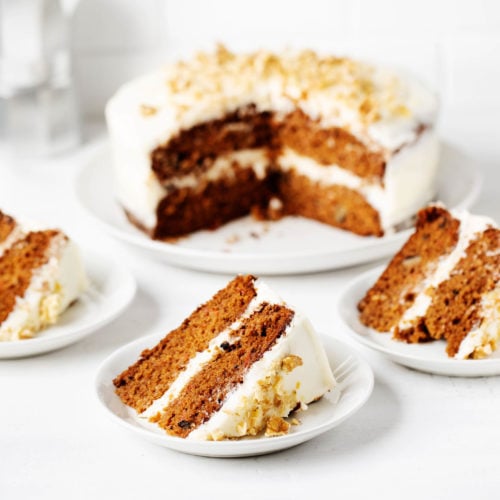 20 Irresistable Vegan Cake Recipes: My Favorite Vegan Carrot Cake
Author – Gena Hamshaw
For the carrot cake
1

tablespoon

ground flax meal

2 2/3

cup

unbleached, all-purpose flour

(320 grams)

2

teaspoons

baking powder

1 1/2

teaspoons

baking soda

1/4

teaspoon

ground nutmeg

1/4

teaspoon

ground cardamom

1/4

teaspoon

ground cloves

1/2

teaspoon

ground cinnamon

1

teaspoon

Kosher salt

3/4

cup

avocado oil

(or another neutral vegetable oil)

1

cup

lightly packed light or dark brown sugar (substitute coconut sugar)

(213 g)

1/2

cup

cane sugar

(100 g)

2

teaspoons

vanilla extract

1

cup

applesauce

(250 grams)

4

medium/large carrots, peeled and finely shredded with a microplane grater or on the fine side of a box grater

(211 grams after preparation)

1/2

cup

finely chopped walnuts or pecans

(optional; 65 g)

1/2

cup

raisins

(optional; 80 g)
For the vegan cream cheese frosting
1/2

cup

vegan cream cheese, at room temperature

(4 ounces/113 grams)

2

sticks

vegan butter, at room temperature

(8 ounces/226 grams)

4

cups

confectioners' sugar

(454 grams)

1

teaspoon

white vinegar

(if you don't have this at home, you can omit)
Preheat your oven to 350F. Lightly grease two 8 or 9 inch round cake pans with removable bottoms. Line the bottoms of the cake pans with a round piece of parchment, then dust the pans lightly with flour.

Combine the ground flax meal with 3 tablespoons of water and set it aside.

Whisk together the flour, baking powder, baking soda, cardamom, cloves, nutmeg, cinnamon, and salt in a large mixing bowl.

In another roomy mixing bowl, combine the oil, brown and cane sugars, vanilla, applesauce, and the flax/water mixture. Whisk these wet ingredients well, then add them to your dry ingredients. Use a spatula to fold the batter together. When the batter is almost mixed (a few streaks of flour are OK at this point), add the grated carrot and nuts/raisins if using to the batter. Continue folding it until it's just entirely combined and the carrots are distributed evenly. Try not to over-mix the batter.

Divide the batter into your two prepared cake pans. Bake for 45-50 minutes, rotating the pans once halfway through baking. When a toothpick inserted into the cakes emerges clean and the tops are firm, they're ready. They'll be a deep golden brown. Remove the cakes from their pans and set them on a cooling rack to cool for at least 2 hours, so that they're completely cool before frosting.

To prepare the frosting, place the butter and cream cheese in a stand mixer fitted with the paddle attachment. Mix on medium speed for 5 minutes, or until the butter and cream cheese are very fluffy. Stop the mixer, then add the sugar. Cover the mixer with a tea towel. Mix the frosting on low speed for 2 minutes. Then, remove the tea towel and beat on medium speed for another 4-5 minutes, or until the frosting is very, very fluffy again. Beat in the white vinegar, then stop the mixer.

Frost your cake! You can trim the tops and sides of the cakes to make them even for frosting if you wish. (If you do this, save the scraps for crumbling onto fruit, vegan yogurt, or ice cream, or just for snacking.) Place one layer of cake onto a cake stand and cover the top with frosting. Place the other layer on top, then proceed to frost the tops and sides with straight and offset spatulas (or a butter knife), maintaining a thin layer of frosting to start with (according to Coral Lee's carrot cake recipe, this is called a "crumb coat"). If you have time, refrigerate the cake after the crumb coat application for 20-30 minutes. Then, use the rest of the frosting to cover the entire cake, making some nice swirls as you go. Make any additional decorations you like, then slice and enjoy your cake.
This recipe may give you slightly more frosting than you need—better not to have too little! Extra frosting can be frozen for future cakes.
Even when things are difficult, there's usually some sweetness to be found. There's an opportunity for play. That, for me, is what cake making is all about: leaning into playfulness and pleasure.
Thank you so much for allowing me to share my favorite vegan cake recipes with you. I hope that a heart-lifting slice will be yours soon!
xo
Credit: Source link