Maria & Christian
Actors Maria Gabriela De Faria and Christian McGaffney's first meeting on the set of a television show led to an instantaneous love affair that never stopped. Their love only grew over time, so to make it official, they hosted a spectacular South American celebration, with guests traveling from near and far to the Chilean countryside. Friends and family indulged in classic Venezuelan dishes made vegan and a cannabis station overflowing with plant-based edibles. After the ceremony, the couple sparked off the night with a sexy salsa dance party, bringing the whole crowd to the floor. Things got so steamy that McGaffney and company decided to throw the bride into the pool. As the newlyweds splashed in the water, revelers jumped in to join them—the perfect cool-down to a very special day.
Their love story:
The couple were inseparable from the moment they met, and moved in together the following week. "We just knew we wanted to be together from the very first night," says De Faria.
The proposal:
De Faria was prepared to propose on Christmas Eve, but McGaffney, without knowing his beloved's intentions, preempted her marriage maneuver by popping the question exactly one day prior, on December 23.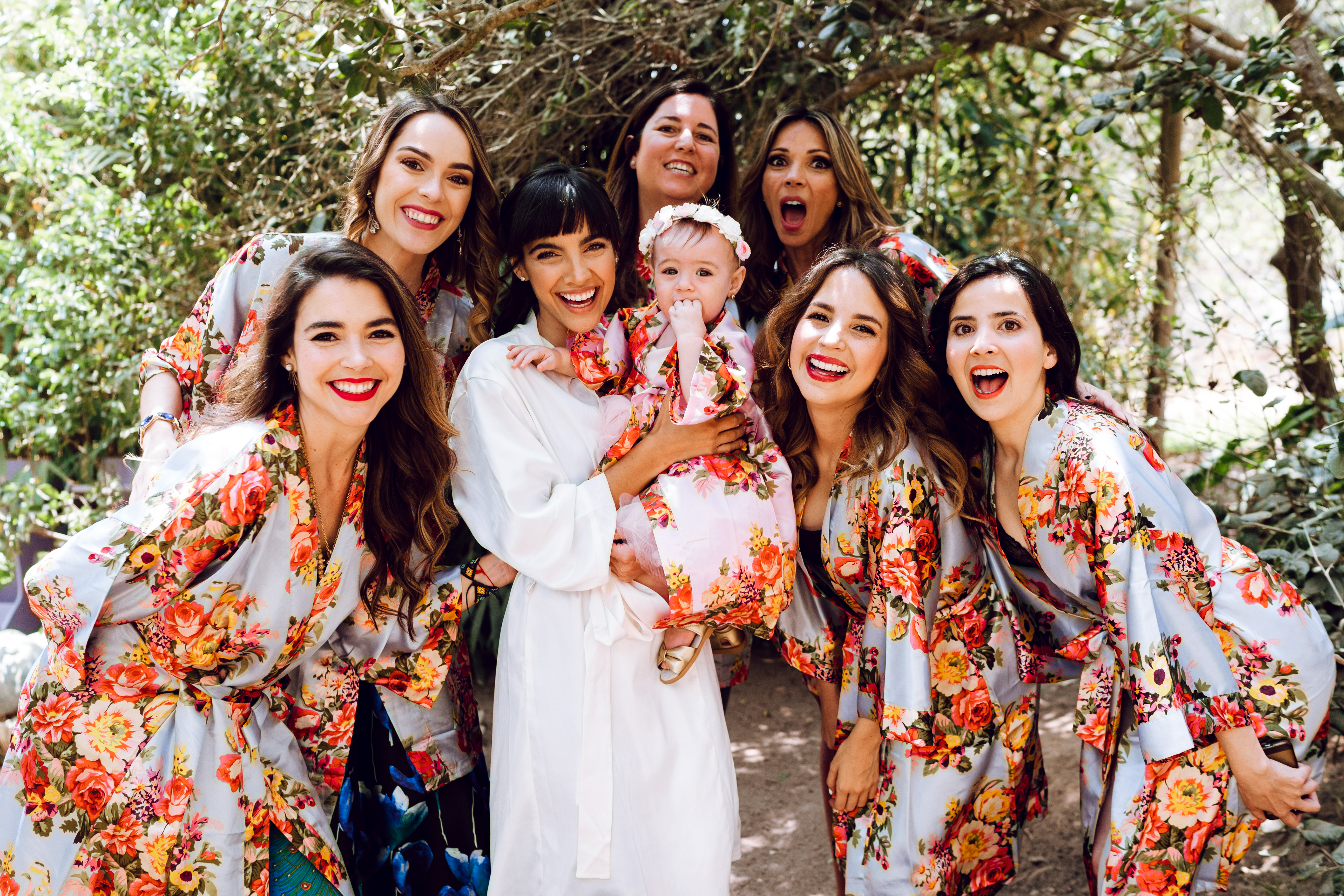 The guest list:
60
The city:
The couple originally planned to marry on the coast of their home country, Venezuela, but because of political unrest, they opted for gorgeous Algarrobo, Valparaíso in Chile instead.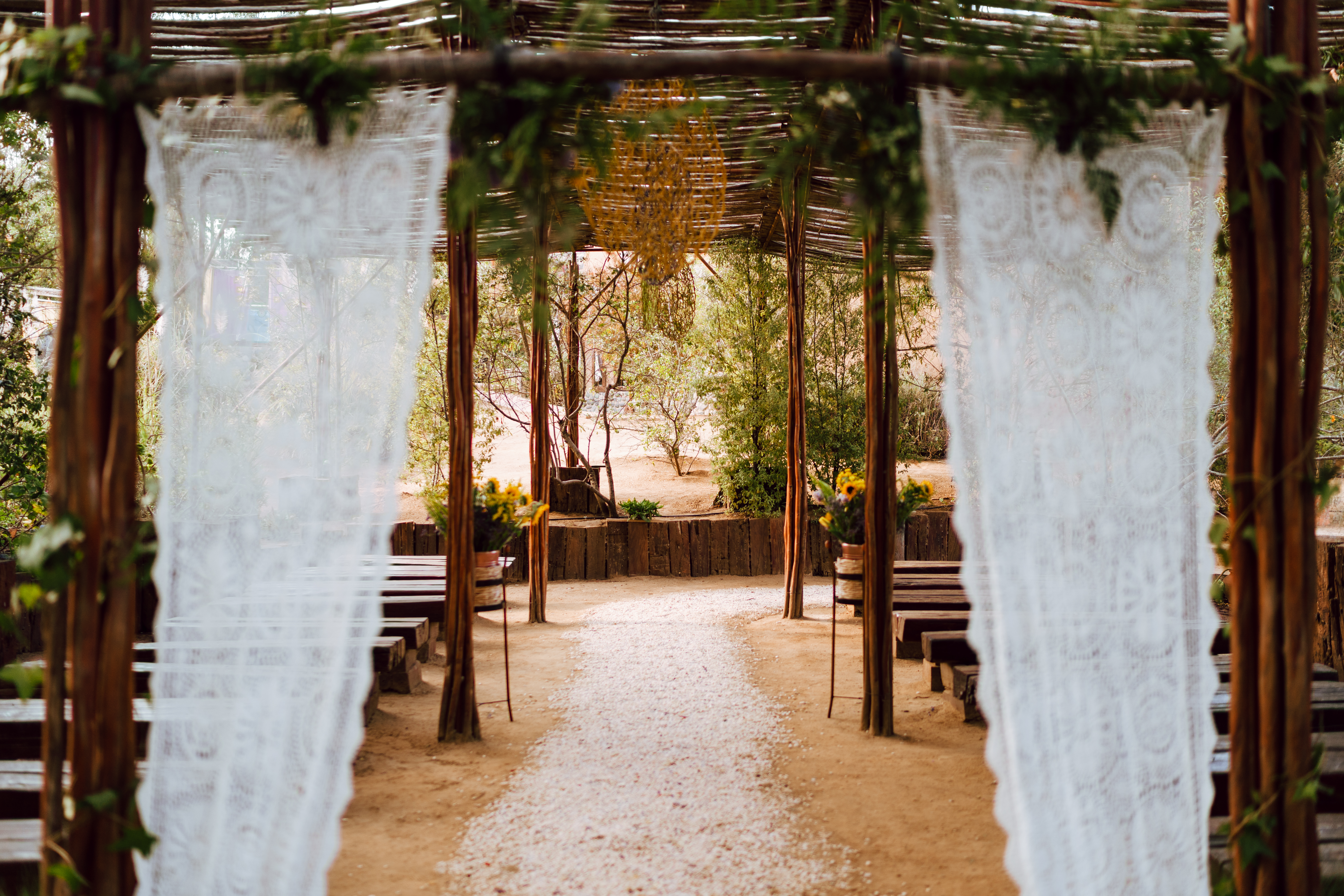 The venue:
La Arbequina, a sprawling estate featuring acres of lush greenery, vineyards, and flower gardens, with a tiled outdoor dance floor to salsa in the sunshine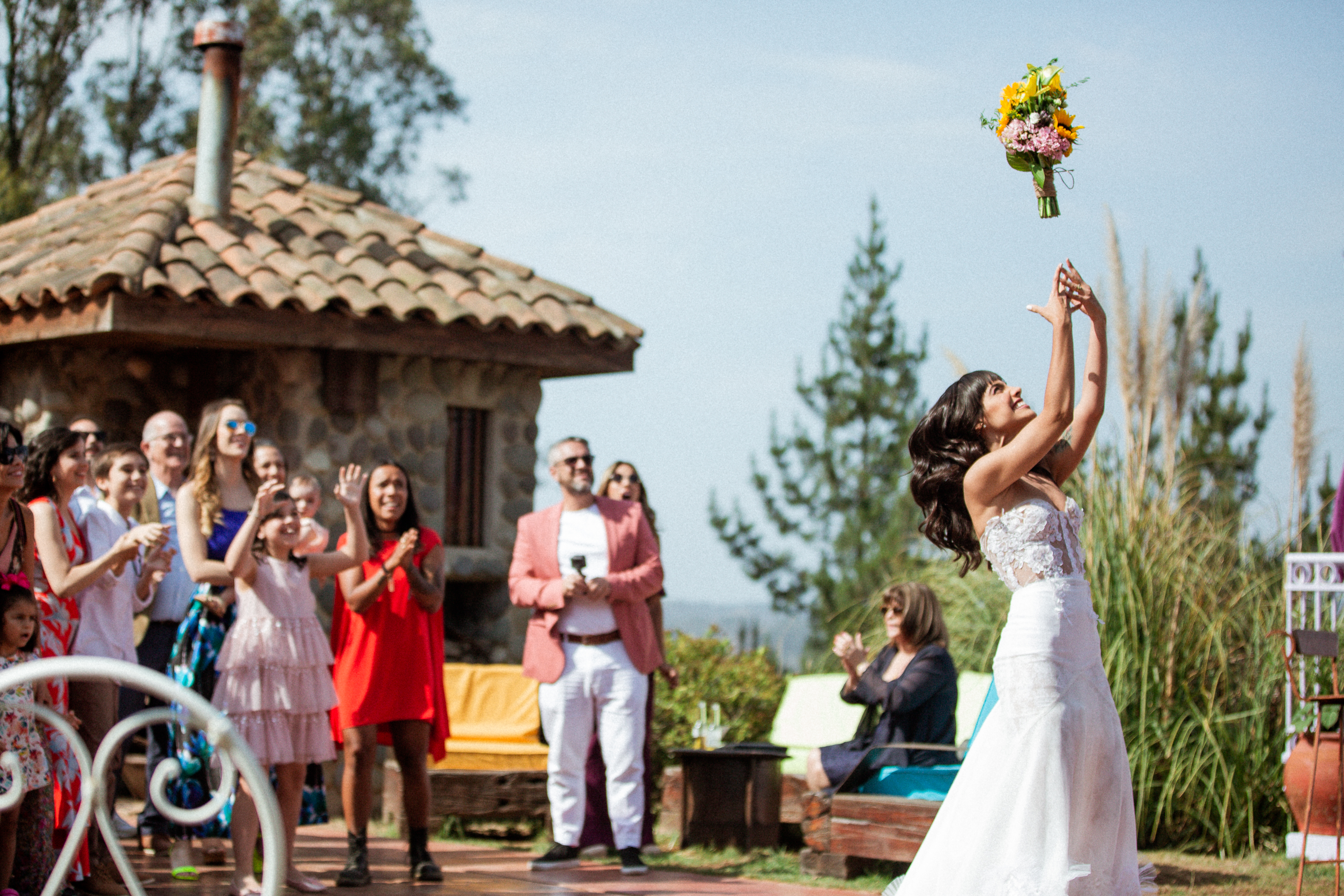 The décor:
Aiming for zero waste, the pair avoided disposable decorations and instead embraced the venue's bright outdoor spaces, complete with colorful canopied lounge areas that offered warm ambiance while keeping the carbon footprint low.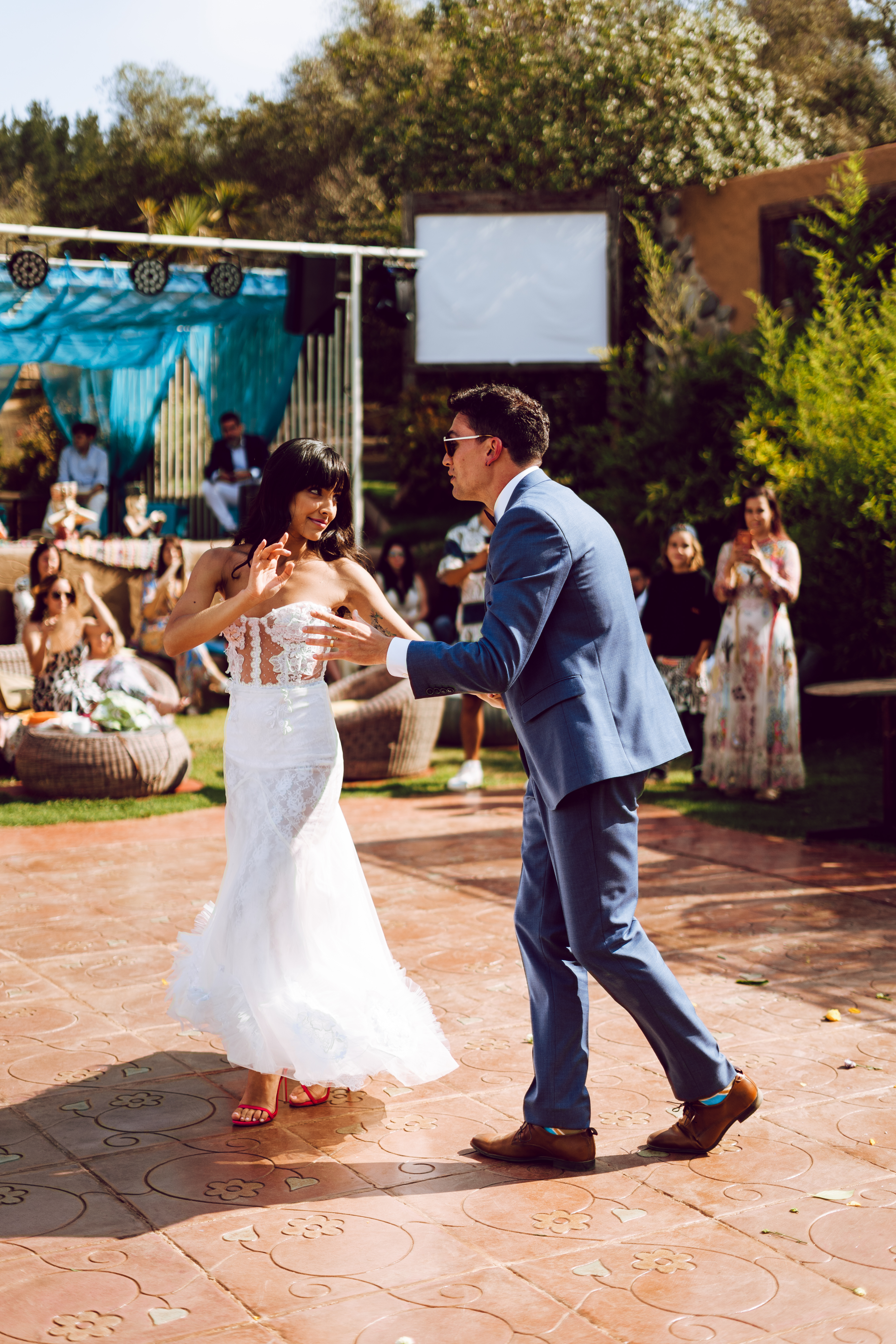 The music:
The DJ played Latin American dance tracks specially curated by the couple, including reggaeton, vallenato, and bachata music.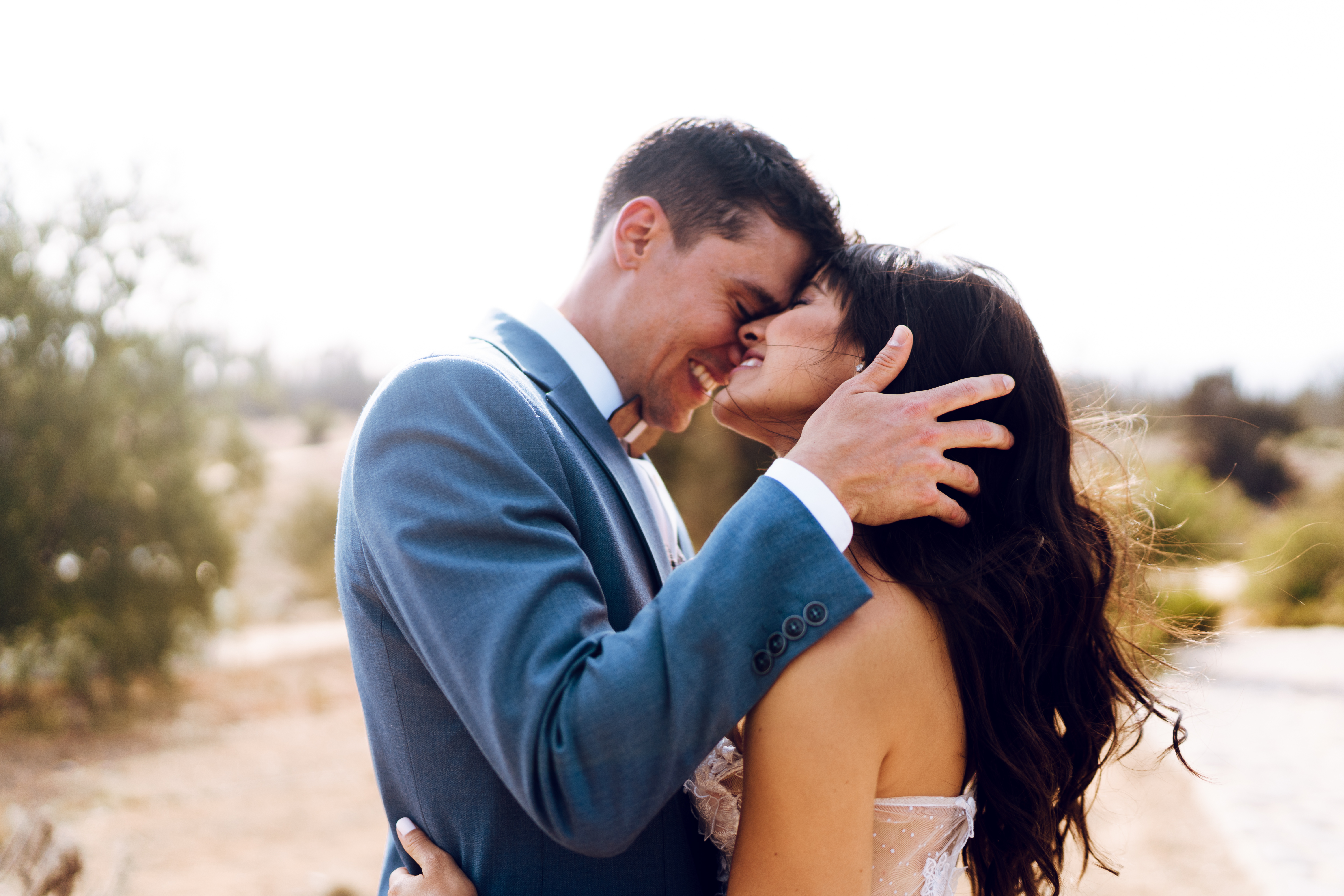 The personal touch:
For the afterparty, De Faria slipped into a specially designed dress made entirely with the fabric of her mother's original wedding gown.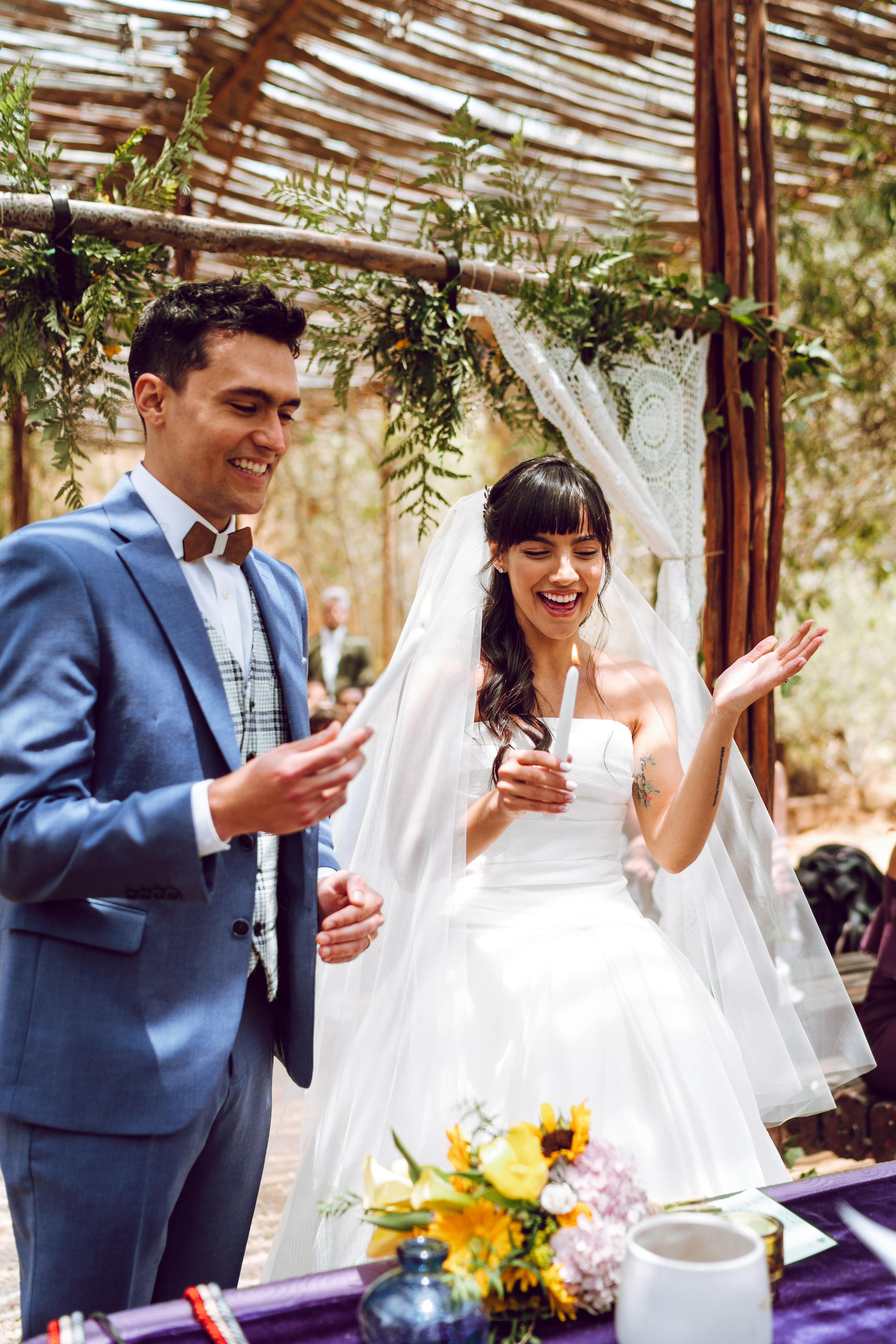 The honeymoon: 
The couple has a getaway to Big Bear Lake planned, a ski resort area in Southern California that features a charming village and expansive lake.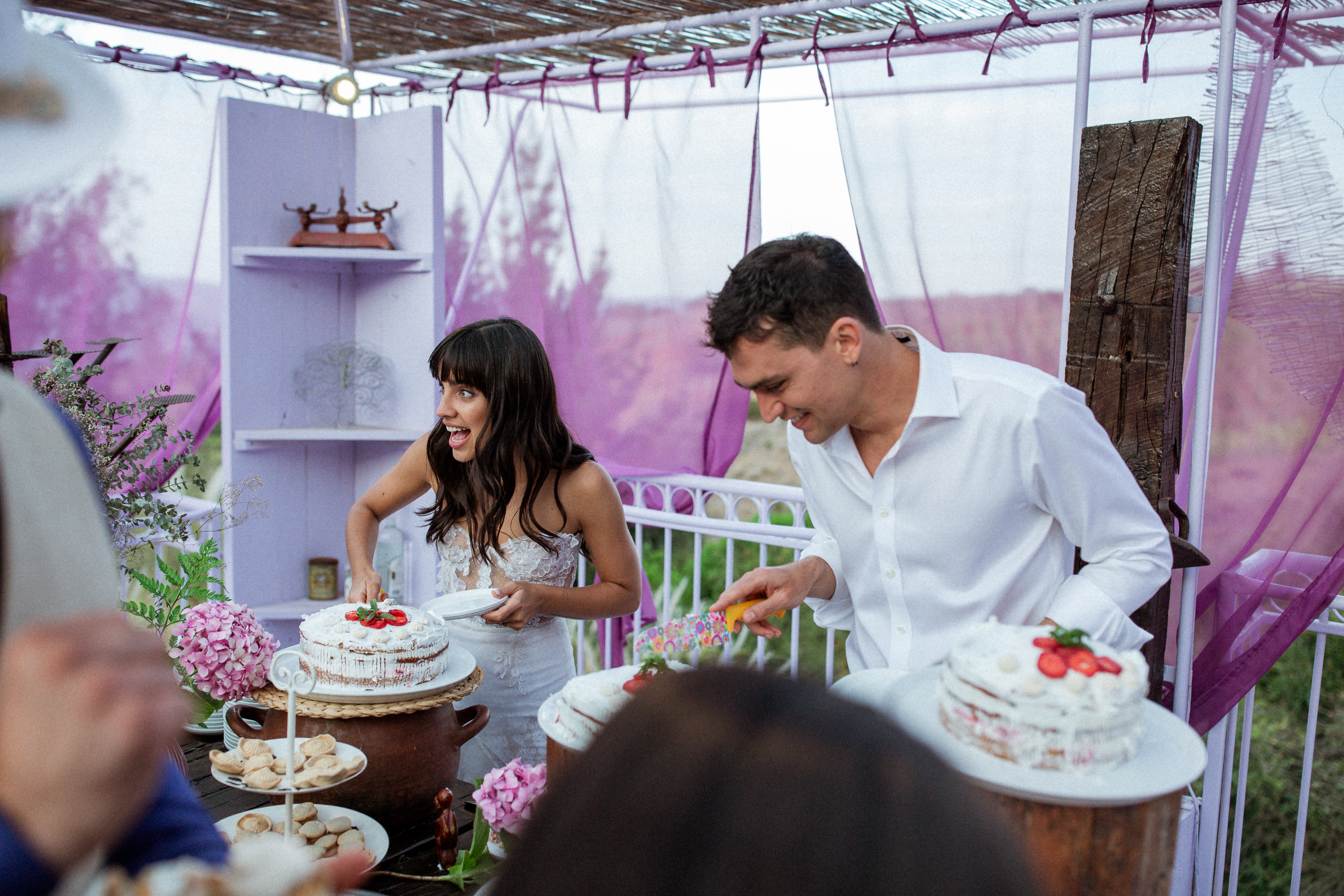 The cake:
The couple sliced and served a trio of almond sponge cakes layered with dulce de leche manjar, meringue, and peach-strawberry fillings.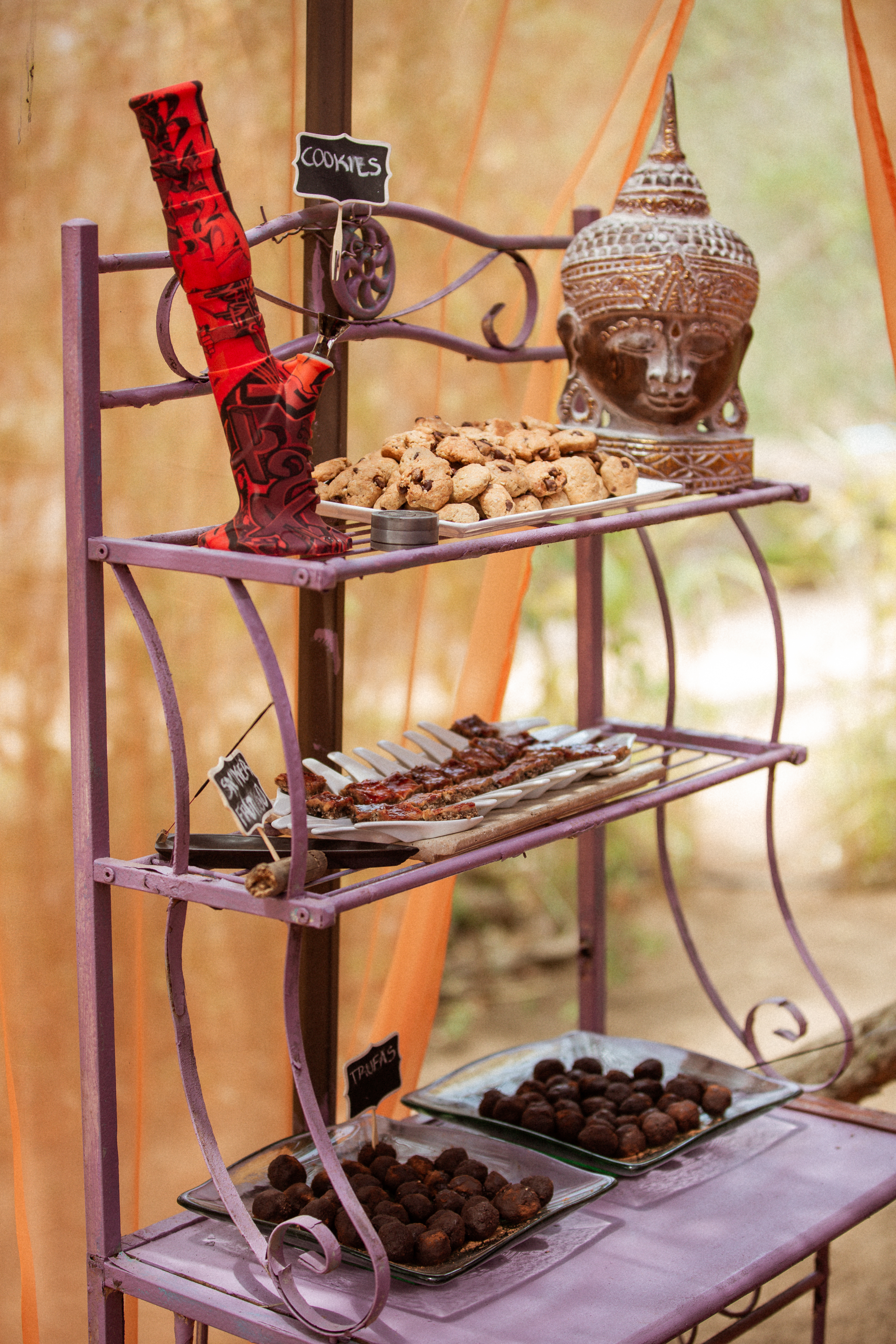 High Fidelity 
The eco-friendly venue La Arbequina uses its vast acres to grow everything from fields of fresh flowers to marijuana. When McGaffney and De Faria's guests stopped lighting up the dance floor, they got groovy at the wedding's weed station. Replete with infused cookies, truffles, and brownies, the station was surrounded with plenty of pillows piled on the floor—providing those who partook a cozy landing spot to enjoy the music and atmosphere. And for those feeling a bit more philosophical, a dedicated hookah-smoking attendant was seated at the center of the station with the sole role of talking to anyone who wanted to gab.

Wedding Menu
Hors d'oeuvres
Stuffed mini bell peppers in a Carménère red wine reduction
Mini potato omelettes with panela-caramelized onions
Tempura eggplant with avocado dipping sauce
Teriyaki tofu sushi with fresh cucumber and roasted peanuts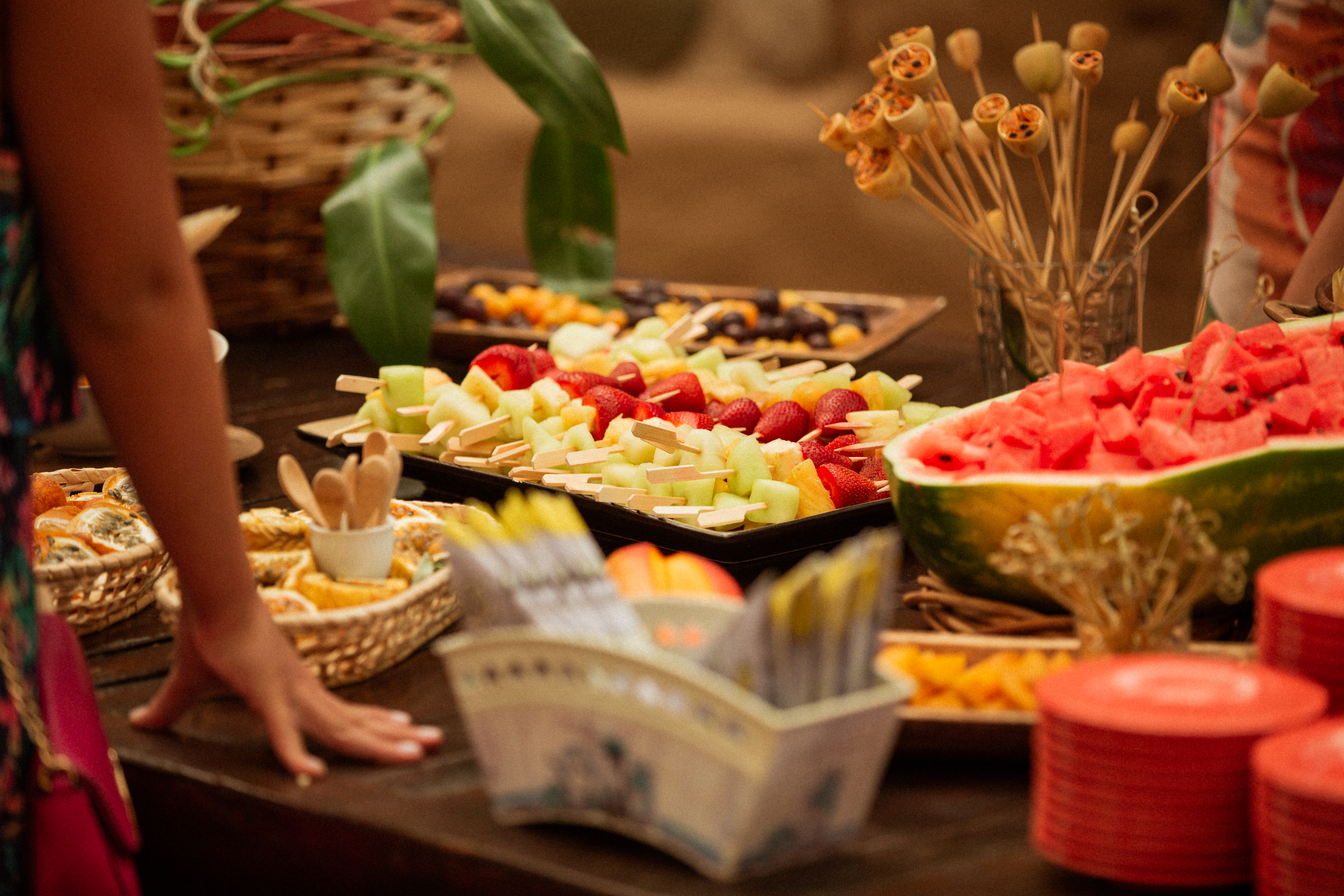 Cheese Station
Almond cheese with sage syrup
Peanut feta with herb oil
Cheese spread with nuts, lavender, and vodka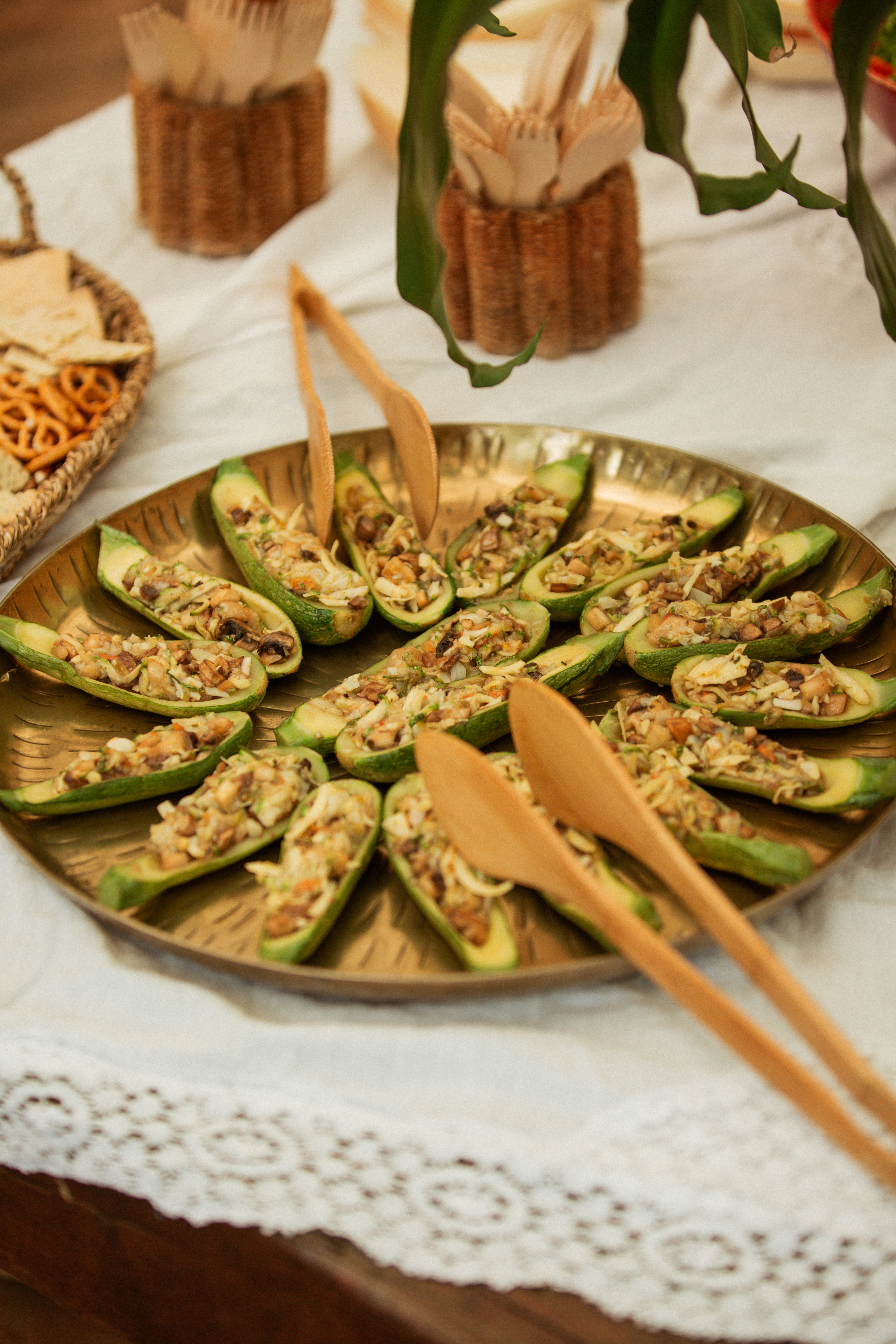 Arepas Station
Arepas with Peruvian corn, avocado, vegan mozzarella, vegan beef, mayonnaise, pesto, and honey mustard dressing
Main Courses
Eggplant moussaka en librillo
Brazilian seafood stew with oyster mushrooms
Vegetable ravioli with garden pesto
Mushroom risotto
Tempeh with red rice and truffles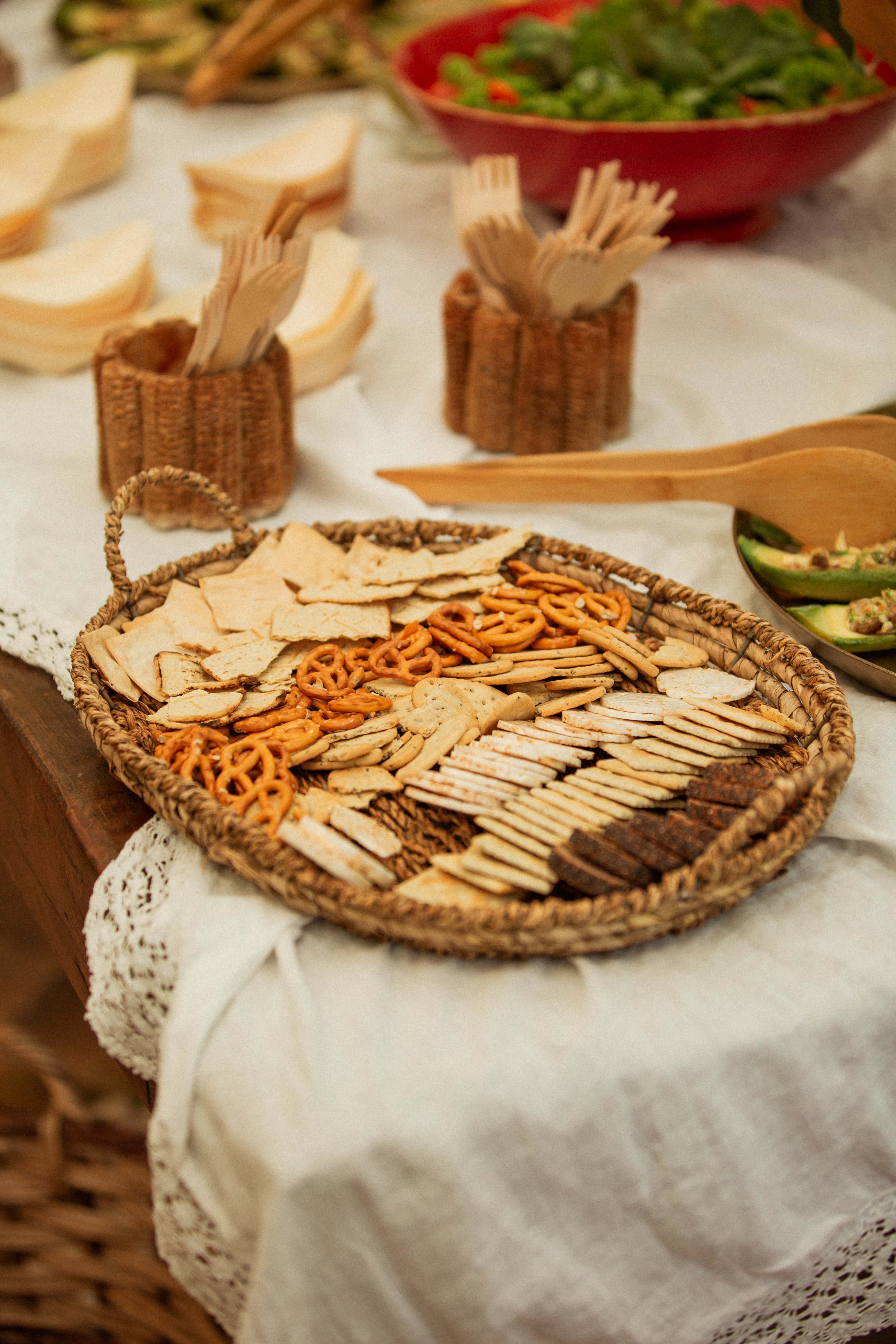 Desserts 
Dulce de leche sweet potatoes 
Arroz con leche with caramelized almonds 
Bittersweet chocolate mousse with lavender sauce
Tofu cheesecake with cinnamon syrup 
Amaretto trifle
Grab-and-Go Dessert Buffet
Lucuma cupcakes, dulce de leche sandwich cookies, and chocolate-sesame popsicles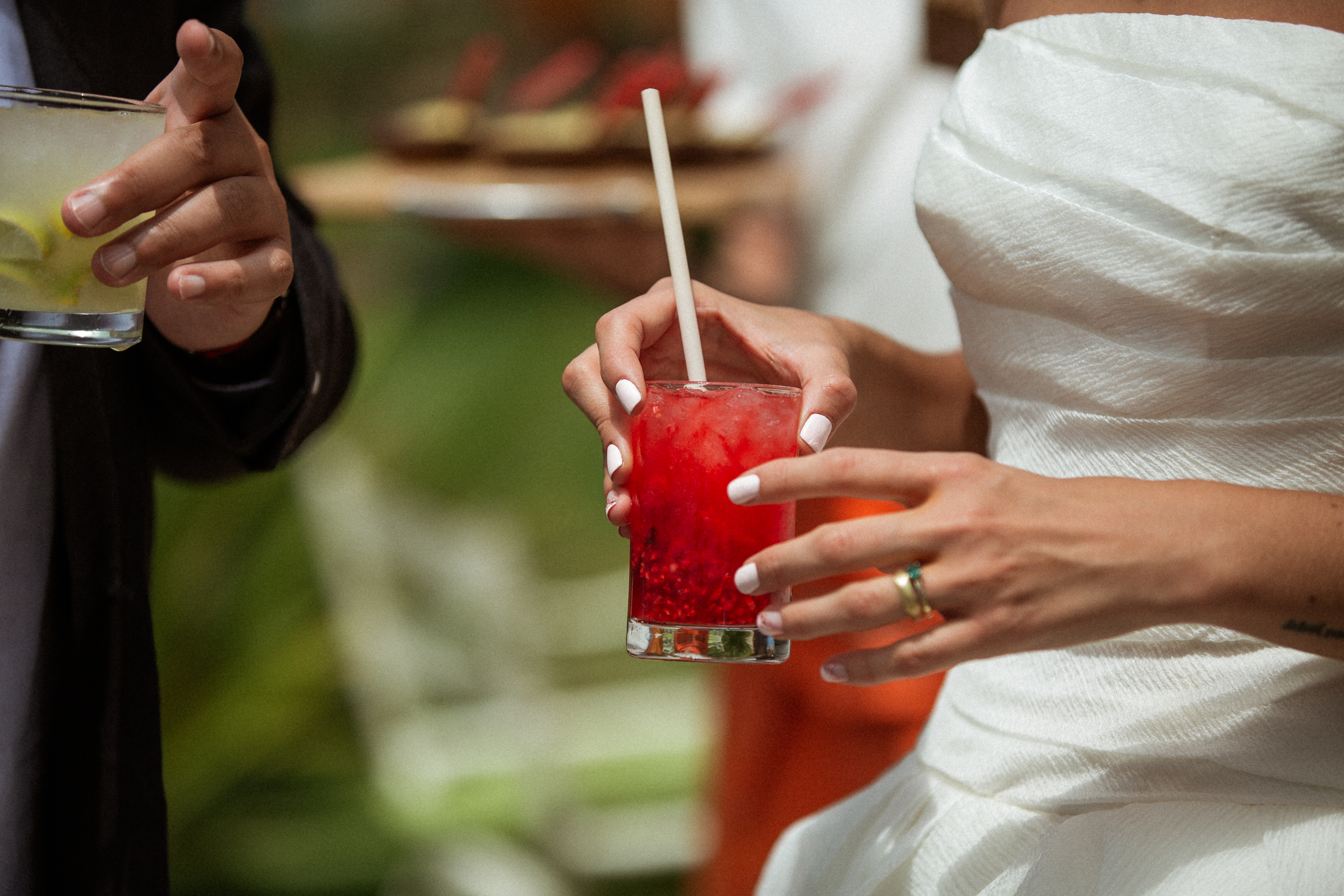 The Drinks 
Champagne, michelada cocktails, wine, beer, and fresh mint tea
Want more vegan weddings? Purchase our special wedding issue featuring Maria and Christian's vegan wedding! Check out all of our 2020 vegan wedding couples here, 2019 couples here, 2018 couples here, 2017 couples here, our 2016 couples here, and our 2014 couples here! 
Maya Gottfried is a relationship expert and the author of Vegan Love: Dating and Partnering for the Cruelty-Free Gal. 
Photo credit: Samuel Hernandez (couple photos) and Inspira Fotografia Chile (food photos)
Please support independent
vegan media and get the very best
in news, recipes, travel, beauty, products,
and more.
Subscribe now to the world's #1 plant-based magazine!
Subscribe

Credit: Source link