"The VegNews Guide to Being a Fabulous Vegan provides a refreshing perspective on how to get animal products out of your diet and embrace a life that is in line with your values. If you're curious about veganism, start right here."
—Joaquin Phoenix
Millions of people worldwide are more interested than ever in trying veganism on for size (whether full-throttle or just on Mondays), and The VegNews Guide to Being a Fabulous Vegan is the perfect place to start. Whether you're looking for recipes, style tips, or fitness advice, this all-in-one, superpractical 256-page book has everything you need to look good, feel good, and do good in 30 days—complete with our favorite recipes. Already vegan? We'll help you be even more fabulous than you already are … as if that's even possible.
With 30 chapters (broken into daily topics) covering everything from that inevitable where-do-you-get-your-protein question (spoiler alert: everywhere) to the best dairy-free cheese on the market, we show you how to be healthy, meat-free, and, yes, fabulous. Plus, every chapter ends with a delectable, tried-and-true recipe from the VegNews team.
Order Fabulous Vegan HERE!
"I only wish I had this book when I started eating plant-based! Whether you're ready to make a change in your life or just leaning into this wonderful, conscientious, ethical, and delicious diet, The VegNews Guide to Being a Fabulous Vegan is a must-read."
—Daisy Fuentes, TV Host and Entrepreneur
Here's a sneak peek of what's inside The VegNews Guide to Being a Fabulous Vegan:
Chapter 2: Ah, The Protein Question (+ BBQ Oyster Mushroom Sliders)
Chapter 4: Big Fat Vegan Breakfast (+ Bacon, Egg & Cheese Breakfast Boats)
Chapter 7: Vegan Food: It's Everywhere! (+ Chinese Vegetable Tofu Fried Rice)
Chapter 9: For All the Salad-Haters (+ Best Ever Mac & Cheese)
Chapter 10: Vegan ≠ Ugly Plastic Shoes (+ Boeuf Bourguignon)
Chapter 24: It's Okay To Be a Terrible Cook (+ Two-Step Vegan Biscuits)
Chapter 26: Vegans Get Laid, Too (+ Chocolate Chile Truffles)
Order Fabulous Vegan HERE!
"The VegNews Guide to Being a Fabulous Vegan is my new vegan bible!"
—Mena Suvari, Actor
And we have some more exciting news! Everyone who purchases a copy of The VegNews Guide to Being a Fabulous Vegan can enter our Fabulous Vegan Mega Prize Giveaway for a chance to win some pretty epic prizes. We're talking an Annual Supply of Follow Your Heart Cheese, a dozen Official Fabulous Vegan Doughnuts, Subscriptions to VegNews, and so much more. Here's where to go …
Enter Our Fabulous Vegan Mega Prize Giveway HERE!

And there's more! Don't miss our Fabulous Vegan Holiday Launch Party on December 15. Hosted by the VegNews team, this two-hour, virtual event will be filled with food, fun, celebrity drop-bys, cooking demos, and giveaways galore. Details coming soon!
"As a dedicated vegan and parent to vegan children, VegNews has long been a staple in my life. VegNews editor Jasmin Singer takes the approachable, fun, delicious, and meaningful experience that is VegNews and folded it into this incredible book—which is the only book you need to own if you are vegan or even just vegan-curious. I can't wait to send this to everyone (vegan and non-vegan) I know."
—Mayim Bialik, Actor and Bestselling Author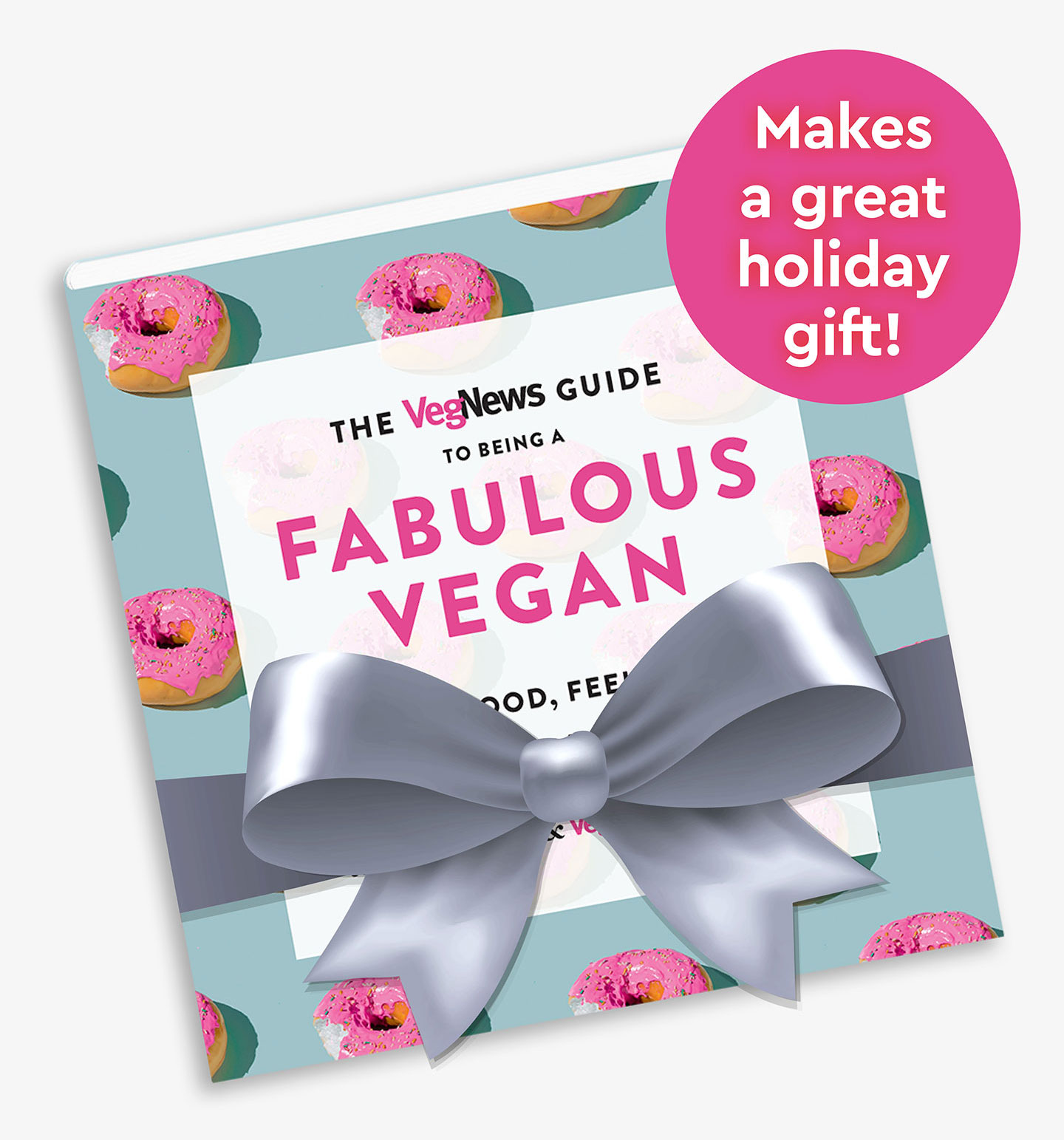 The VegNews Guide to Being a Fabulous Vegan also makes the perfect gift! This holiday season, consider giving a copy to everyone you know who wants to eat healthier, feel great, and do something good for the planet. Okay, that sounds like everyone we know!

"From making sure your mascara wasn't tested on bunnies to figuring out what to eat for breakfast to getting a grasp on the role animal agriculture has on the environment (and what you can do about it), The VegNews Guide to Being a Fabulous Vegan is the book I'll be giving to new and seasoned vegan friends alike!"
—Evanna Lynch, Actor
"After reading The VegNews Guide to Being a Fabulous Vegan, your life will never be the same."
—Daniella Monet, Actress and Influencer
Order Fabulous Vegan HERE!

Let's get FABULOUS! Order your copy of the hot-off-the-pressVegNews Guide to Being a Fabulous Vegan —
filled with everything you need to know to
live a super-fabulous vegan life(including our all-time favorite recipes)!
Order Now

Credit: Source link