Colorful and luscious, this Thai restaurant classic can be made easily at home, using brown rice, pineapple, and veggies like broccoli, bell peppers, and carrots. When fresh pineapple is in season and reasonably priced, try this stir-fried rice recipe with the fresh fruit! Adapted from Vegan Express. Photo by Susan Voisin.

Vegan Thai Pineapple Stir-Fried Rice
Author: Nava
Recipe type: Brown rice main dish
Cuisine: Thai
Prep time: 
Cook time: 
Total time: 
Serves: 6
1½ cups long-grain brown rice (try brown Basmati)
1½ tbsp safflower oil or other neutral high-heat oil
1 medium onion, quartered and sliced
2½ cups small broccoli florets
2 medium carrots, sliced
1 medium red or orange bell pepper, diced
3–4 scallions, sliced
2 medium tomatoes, diced
2 cups fresh pineapple, cut into ¾-inch chunks, or 1 (16–20 oz) can unsweetened pineapple chunks, drained
1 cup light coconut milk
2 tbsp reduced-sodium soy sauce, or to taste
1 tsp curry powder, or to taste
2 tsp fresh ginger, grated, to taste
cashews, for topping, optional
Combine the rice with 3 cups water in a saucepan. Bring to a rapid simmer, then cover and simmer gently until the water is absorbed, 30 to 35 minutes.
Shortly before the rice is done, heat the oil in a stir-fry pan or extra-wide skillet. Add the onion and sauté over medium heat until golden.
Add the broccoli, carrots, and bell pepper. Turn the heat up to medium-high and stir-fry for 3 minutes or so, just until the vegetables are tender-crisp.
Add the scallions, tomatoes, and pineapple chunks and continue to stir-fry for just a minute or two, just until the tomatoes soften slightly.
Stir in the cooked rice, then add the coconut milk, curry powder, soy sauce, and ginger. Stir gently until all the ingredients are completely combined.
Taste and increase any of the flavorings in the dish until it pleases your palate. Serve at once, passing around chopped cashews to top individual servings, if desired.
3.3.3077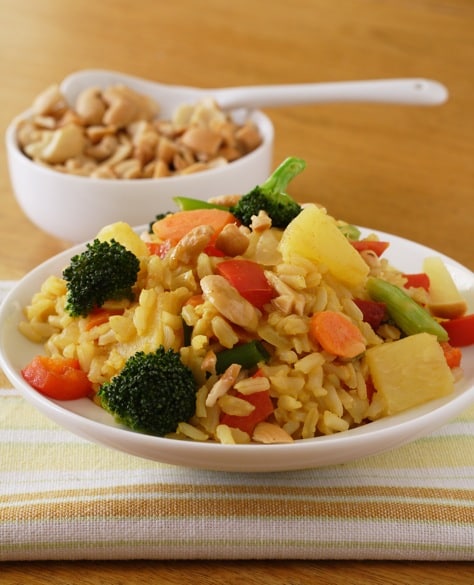 Nutrition Information
Per serving: Calories: 315;  Total fat: 7.5g;  Protein: 6g;  Carbs: 59g;  Fiber: 5g;  Sodium: 205mg


Credit: Source link