Now you can have "the whole enchilada" without having to fill and roll individual tortillas, with this luscious creamy vegan enchilada casserole. While you've got the oven going at 400°F, roast some veggies as a side dish. A crisp green salad rounds the meal out nicely. Photos by Evan Atlas.
Serves: 6
Filling
1 tbsp extra-virgin olive oil
1 medium onion, chopped
2 cloves garlic, minced
1 (15–16 oz) can vegan refried beans (I like Amy's, in the BPA-free can) or 2 cups homemade Refried Beans
3/4 cup salsa, your favorite variety
2 tbsp minced fresh cilantro, or more to taste, optional
1–2 small fresh hot chile peppers, seeded and minced, optional
1 tsp ground cumin
1 tsp dried oregano
Sauce
1 1/4 cups unsweetened rice milk or other nondairy milk
2 tbsp unbleached white flour
1 1/2 cups grated cheddar or jack style nondairy cheese (if you'd like a spicier dish, Daiya pepperjack is great in this)
10–12 corn tortillas (preferably stoneground and organic)
To serve (optional)
A batch of steamed greens of your choice (kale, collards, spinach, etc.)
Preheat the oven to 400°F.
Heat the oil in a medium skillet. Add the onion and sauté over medium heat until translucent. Add the garlic and continue to sauté until the onion is golden. Stir in the remaining filling ingredients and continue to cook until everything is well heated through.
In a small saucepan, heat 1 cup of the rice milk. Dissolve the flour in the remaining rice milk, stirring until smooth. Whisk it into the rice milk in the saucepan, then sprinkle in about half of the cheese. Bring the sauce to a gentle simmer, stirring frequently, and cook until thickened.
Line a lightly oiled, shallow two-quart round or rectangular baking dish with a single layer of tortillas, fitting them for even coverage. Pour in the filling and spread evenly over the tortillas. Cover with the remaining tortilla halves.
Pour the cheese sauce evenly over the tortillas, then sprinkle with the remaining cheese. Sprinkle the scallions over the top. Bake for 15 minutes, or until the cheese is bubbly. Serve at once, passing around some salsa for topping if desired.
Nutrition information
Per serving: Calories: 315;  Total fat: 10g;  Protein: 14g;  Fiber: 7.1g;  Carbs: 43g; Sodium: 648mg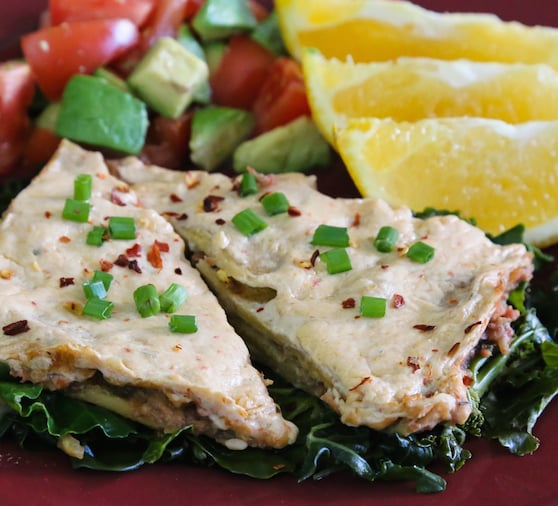 Credit: Source link