Tender asparagus is a welcome sign of spring, and Thai seasonings—including lemongrass, if you can find some—provide a wonderful way to enjoy them. Peel the lower part of the stalks before slicing if the skin is thick and tough. Photos by Evan Atlas.
Serves: 4
1 tbsp peanut or other vegetable oil
4 large scallions, sliced thin
2 tbsp fresh lemongrass, thinly sliced
dried red chiles, minced or ground, to taste
1 lb asparagus, sliced on a diagonal, stalks and tips kept separate
3–4 tbsp vegetable stock or water
1 tbsp fresh lime juice
1 tbsp shoyu or natural soy sauce
2 tbsp fresh mint, minced
1/4 cup fresh cilantro, chopped
salt, to taste
Set a wok or stir-fry pan over high heat. Add the oil and swirl it to coat the inside of the pan.
Add the scallions and stir-fry briefly. Add the ginger, lemongrass, and chiles and continue stir-frying, gradually adding the asparagus, sliced stalks first.
Add stock, a tablespoon at a time, and stir-fry until the asparagus is tender but still bright green. Add the lime juice, shoyu, mint, and fresh cilantro. Toss well. Taste and add salt if needed. Serve immediately.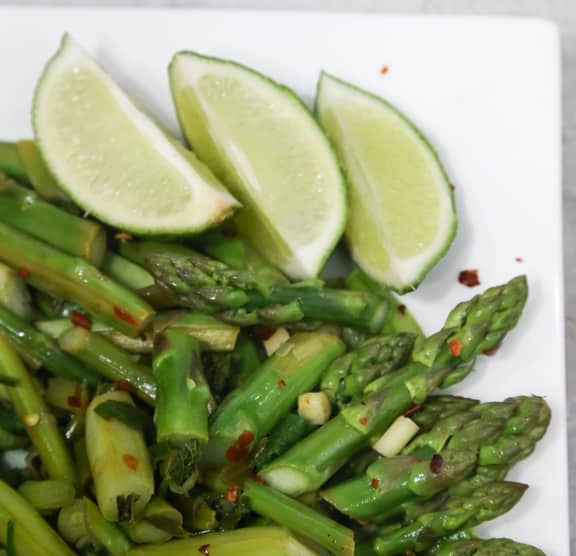 Credit: Source link