This tasty dish, brimming with lively southwestern flavors, is a vegan version of  a traditional southwestern egg dish. It's known as migas, a word that literally means "crumbs" in Spanish, in this case referring to bits of tortilla. In the original recipe, the tortilla pieces are scrambled with eggs; this version replaces eggs with tofu. This can be served for a leisurely weekend brunch, but it's also nice as an easy dinner. Serve with a colorful salad and simple bean dish like Refried Pinto Beans or Garlicky Skillet Black Beans. Photos by Evan Atlas.
Southwestern Tofu Scramble (Migas)
Author: Nava
Recipe type: Southwestern / Tofu Vegan main dish
Cuisine: Vegan / Healthy
Prep time: 
Cook time: 
Total time: 
Serves: 4
1 tbsp olive oil
1 medium onion, finely chopped
1 green bell pepper, diced
1 (14–16 oz) tub firm or extra-firm tofu, well drained and blotted, then cut into ½-inch dice
4 corn tortillas, cut into approximately 1-inch pieces
1½ cups diced ripe tomatoes, or 1 (15–16 oz) can diced tomatoes, lightly drained
1 cup salsa, your favorite variety (mild, medium or hot; try an interesting flavor like chipotle)
1 or 2 small hot fresh chili peppers (such as jalapeño), seeded and minced, optional
2 tsp ground cumin
salt and freshly ground pepper, to taste
¾ cup grated cheddar-style pepperjack vegan cheese, optional
minced fresh cilantro or parsley for garnish, optional
Heat the oil in an wide skillet. Sauté the onion over medium heat until translucent. Add the bell pepper and continue to sauté until lightly golden.
Add the tofu, tortillas, tomatoes, salsa, chilies, and cumin. Stir together gently. Cover and cook over medium heat for 10 minutes, or until everything is piping hot and nicely melded together.
Season with salt and pepper. If using vegan cheese, sprinkle it over the top, then cook, covered for another 2 to 3 minutes, or until it has melted.
Garnish with cilantro or parsley if you'd like, and serve straight from the pan.
3.3.3077

Nutrition Information
Per serving: 255 calories; 11.6g fat; 27.5g carbs; 5.2g fiber; 15.7g protein; 312.6mg sodium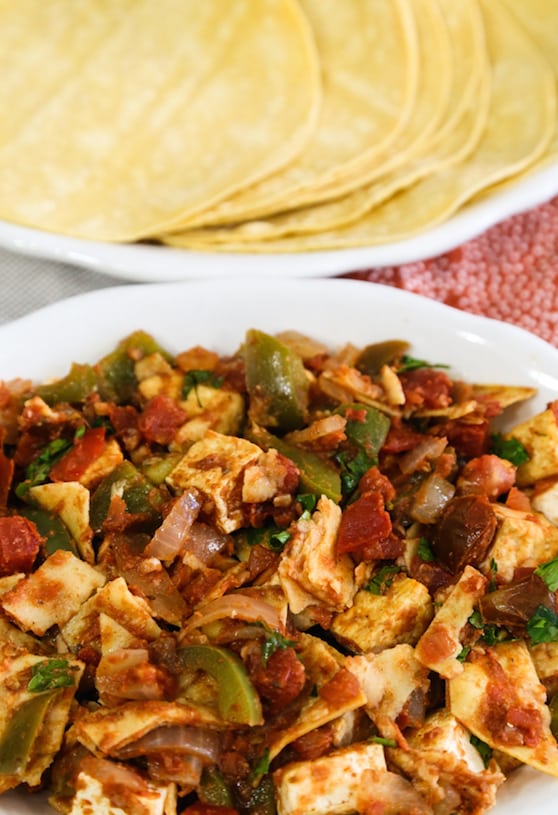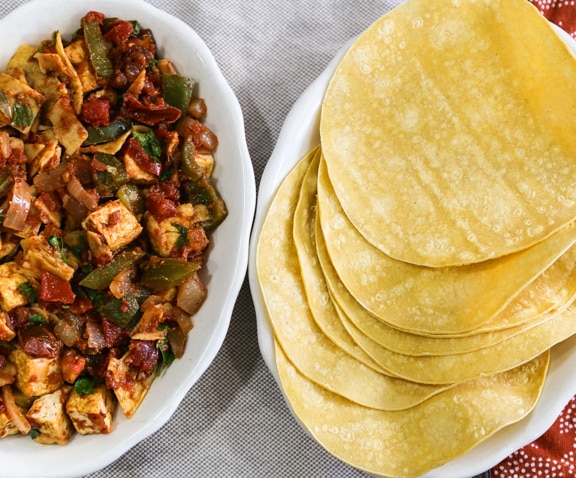 Credit: Source link