Typically in raw circles, expressions like "power food" refer to Himalayan berries and maca powder and deep sea algae. What I mean by it is pretty simple: foods that are nutrient dense, easy to assimilate, and that give a boost of energy and focus. Dark leafy greens, hemp, chia, and fruit add up to a killer morning smoothie. Contributed by Gena Hamshaw, from Choosing Raw. Photos by Hannah Kaminsky.
Power Smoothie (Romaine and Superfood Seeds)
Author: Gena Hamshaw
Recipe type: Smoothie
Cuisine: Raw / healthy
Serves: 1 to 2
1 large frozen banana
1 small head romaine lettuce
½ cup frozen mango (or substitute fresh pears or berries)
1 tbsp chia seeds
1 tbsp hemp seeds
1 cup almond milk (maybe slightly less, if you have a high speed blender)
Place all ingredients in a blender and blend until smooth.
Divide between 1 or 2 glasses and serve.
3.3.3077
Let's step back for a second to analyze the ingredients, and what makes them so powerful:
Our hemp and chia seeds give us Omega 3 and 5 fatty acids, complete protein, fiber, and calcium;

Mango and banana load us up with vitamins B-2 and C, fresh enzymes, potassium, and magnesium;

While the romaine is responsible for vitamins C, A, K, and folate. Rounded out with the almond milk, this is a seriously nutritious breakfast.
Gena Hamshaw is a Certified Clinical Nutritionist with an emphasis on plant-based nutrition. She works with clients in New York and around the country to find simple, affordable, and lasting steps towards a healthier lifestyle. Visit her at Choosing Raw.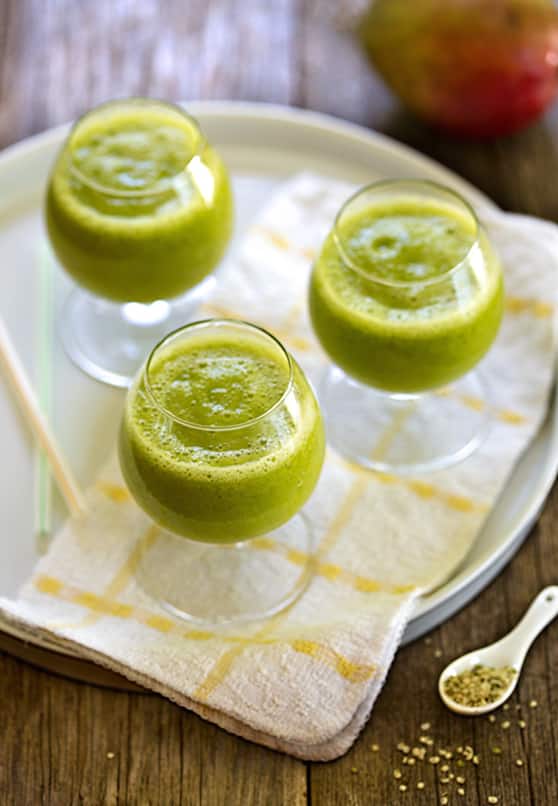 Credit: Source link