Easy to make and deliciously different, this lively pineapple and tomato salsa can be served as an accompaniment to a Southwestern-style meal (to top vegan quesadillas and the like, or as a snack served with stone-ground tortilla chips. Photos by Hannah Kaminsky. Recipe adapted from Vegan Express.
Makes: about 1 1/2 cups
1 cup very finely chopped fresh pineapple or well drained canned crushed pineapple

1 medium tomato, finely chopped

1/4 cup minced red bell pepper

1–2 fresh hot chili peppers, seeded and minced (to taste),

 

or one (4 oz) can chopped mild green chilies

1–2 tbsp lemon or lime juice, or to taste

1/4 cup minced fresh cilantro, or more, to taste

1–2 scallions, very thinly sliced
Combine all the ingredients in a small serving container and stir together.

Alternatively, you can leave the ingredients in larger chunks and prepare in a food processor; simply plus on and off until finely chopped but not pureed.

Let stand for a few minutes or longer to allow the flavors to marry. Serve as suggested in the headnote.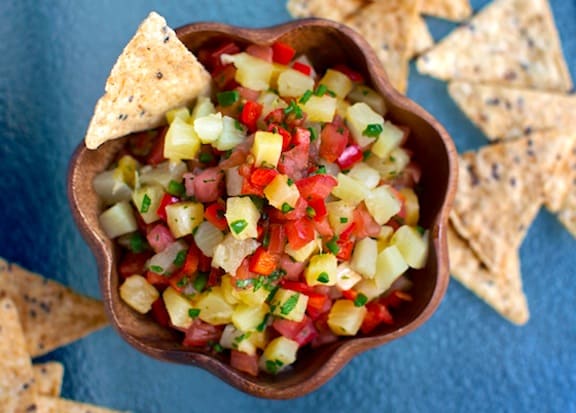 Nutrition Information:
Per 1/4-cup serving: 23 calories; 0g of fat; 0g of protein; 6g of carbs; 1g of fiber; 5mg of sodium


Credit: Source link