Pasta, beans, and greens are a classic trio in Italian cookery. It's easy to see why—the combination is healthful and hearty. Escarole is a sturdy green whose slight bitterness is tempered by cooking. You'll find it near the lettuces in the produce section. If you'd like, you can substitute an equal amount of curly chicory or a medium-sized bunch of chard. Photos by Hannah Kaminsky.
Pasta with Two Beans and Escarole
Author: Nava
Recipe type: Pasta
Cuisine: Italian
Prep time: 
Cook time: 
Total time: 
Serves: 6
8–10 oz fusilli or rotini (whole grain or tri-color)
2 tbsp extra-virgin olive oil
1 medium onion, chopped
3–4 cloves garlic, minced
½ large head escarole, well washed, cut into ½-inch wide strips
1½ cups or 1 (15 oz) can cannellini (large white beans), drained and rinsed
1½ cups or 1 (15 oz) can pink or kidney beans, drained and rinsed
¼ cup sun-dried tomatoes (oil-cured or not, as desired), cut into narrow strips
¼ cup minced fresh parsley
salt and freshly ground pepper, to taste
Cook the pasta in plenty of rapidly simmering water until al dente, then drain.
Heat about half of the oil in a large, wide skillet. Add the onion and garlic and sauté over medium-low heat until golden, then add the escarole and cover. Steam with only the water clinging to the leaves until wilted, about 4 to 5 minutes, stirring once or twice.
Add the beans to the skillet along with the dried tomatoes. Cook for 5 to 7 minutes longer, or until everything is well heated through.
Combine the cooked pasta with the skillet mixture in a large serving bowl. Add the remaining olive oil and toss together. Serve at once.
3.3.3077
 –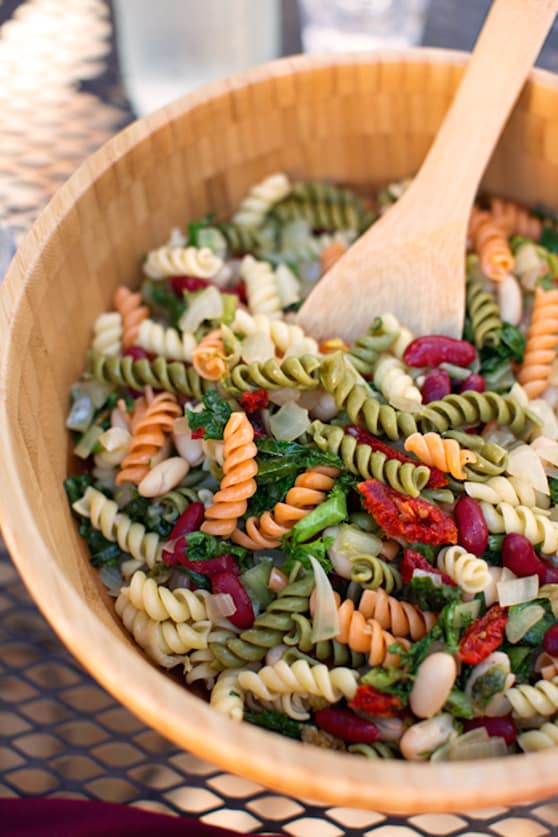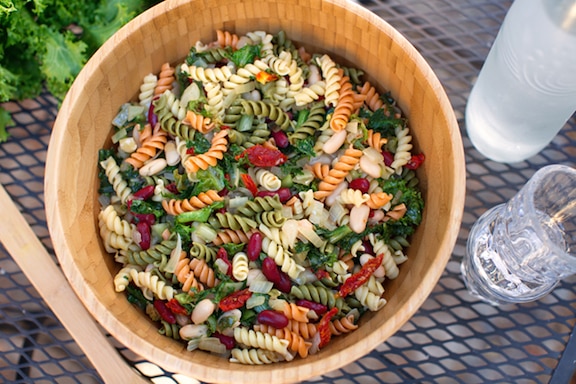 Here are more:


Credit: Source link