Marinated beets are an appetizing addition to this simple salad of mixed greens and carrots. Walnuts add a nice flavor. If time is of the essence, I've included a shortcut of using pickled beets from a jar—but the homemade kind are best! Photos by Evan Atlas.
Serves: 4 to 6
3 to 4 medium beets (or see shortcut)
2 tbsp apple cider vinegar
2 tbsp lemon or lime juice
2 tbsp maple syrup or agave nectar
3 to 4 oz mixed baby greens or 1/2 head red-leaf lettuce, torn
2 medium carrots, peeled and sliced, or shaved with a vegetable peeler
1/3 to 1/2 cup chopped walnuts
several sprigs fresh dill leaves, finely chopped
3 tbsp extra-virgin olive oil
salt and freshly ground pepper, to taste
Cook or microwave the beets whole, in their skins, until they can be pierced with a fork. For specifics, see How to Cook Beets. 
Combine the vinegar, lemon or lime juice, and maple syrup or agave in a shallow container and whisk together.
Once the beets are done, plunge them into a bowl of cold water. And once they're cool enough, cut into small bit-sized chunks; about 3/4-inch is good.
Add the beets to the liquid mixture in the container, and stir together. Let stand for at least 30 minutes, stirring occasionally.
In a serving bowl, combine the greens, carrots, walnuts, and dill, and toss together.
Drain the beets, transferring the liquid used for marinating the beets to a bottle or cruet. Stir in the olive oil. Stir the beets into the greens mixture in the serving bowl.
Season gently with salt and generously with pepper. Pass around the dressing for embellishing individual servings, or dress the entire salad with it before serving.
Shortcut: Use a 12-ounce jar pickled beets — make sure it's not too high in added sugars, and NOT high-fructose corn syrup! Drain off a scant 1/2 cup of the liquid to combine with the olive oil to use as the dressing.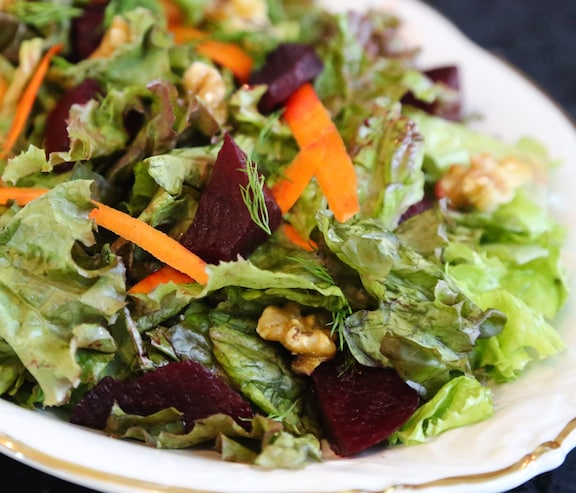 Credit: Source link