This recipe uses pasta in place of the customary lettuce in a Greek salad. Mixed with veggies, this makes a substantial and lively main dish for warm-weather meals, as well as a great vegan potluck dish for summer gatherings. Take along some extra vinaigrette to moisten the salad if it is to stand for a substantial amount of time. Leftovers are great to pack into containers for the next day's lunch. Photos by Evan Atlas.
Greek-Flavored Pasta Salad
Serves: 6 or more
Ingredients
8 to 10 ounces pasta, any short chunky shape—try twists, penne, or farfalle (aka bowties)
2 large firm ripe tomatoes, diced
1 green bell pepper, cut into short, narrow strips
1/2 medium red onion, thinly sliced
1/3 cup Greek black olives, pitted if desired

Tofu "Feta"

, optional
1/4 cup chopped fresh dill
juice of 1/2 lemon, or more, to taste
1/2 cup natural vinaigrette, purchased or

homemade

, or as needed
salt and freshly ground pepper, to taste
Instructions
Cook the pasta in plenty of rapidly simmering water until al dente. Drain and rinse under cool water, then drain well again.
Combine the pasta with the remaining ingredients in a serving bowl. Toss well and serve.
Variation: If not using the tofu "feta." boost the protein content by tossing in 1 to 1 1/2 cups cooked beans or chickpeas.
Nutrition information (without optional "feta")
Per serving: Calories: 245;  Total fat: 11g;  Protein: 8g;  Carbs: 26g;  Sodium: 326mg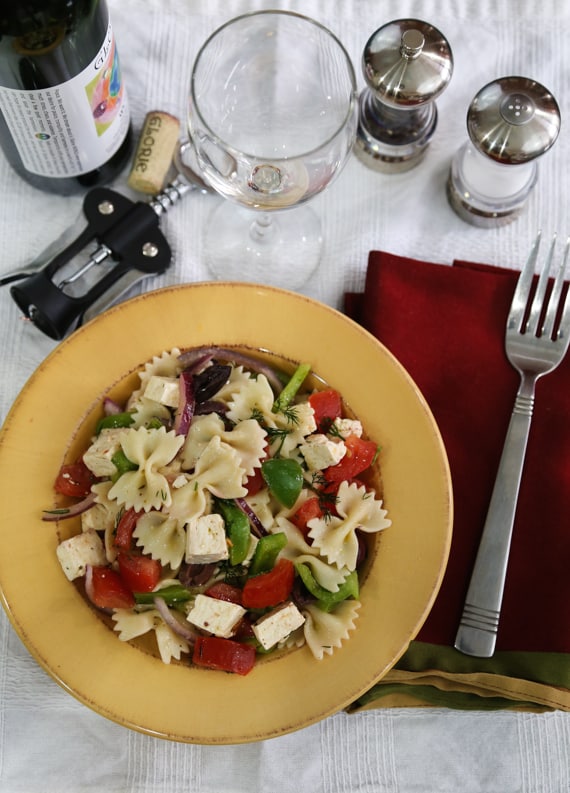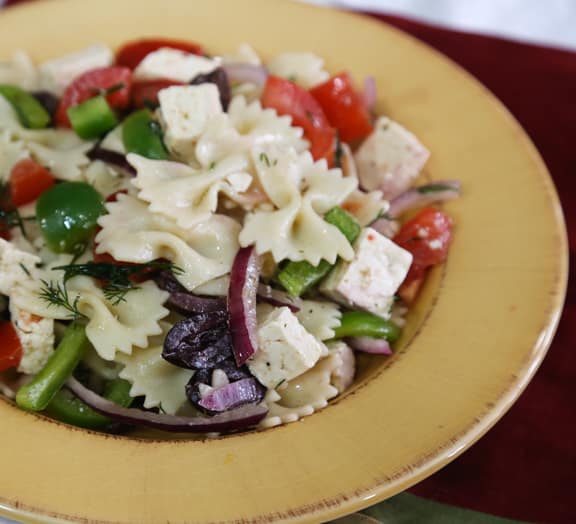 Credit: Source link