This simple dish of black beans served over rice has come to be known as a regional standard in Florida due to the popularization of black beans by the Cuban-American community. Once you have your cooked beans on hand, this recipe requires a minimum of effort. Photos by Evan Atlas.
Cuban-Inspired Black Beans and Rice
Serves: 6
Ingredients
1 large onion, finely chopped 

1 medium green or red bell pepper, finely diced

2 tbsp olive oil

3–4 cloves garlic, minced

3 1/2–4 cups cooked black beans (from about 1 2/3 cups raw),

or 2 (15–16 oz) cans, drained and rinsed

2 tbsp apple cider vinegar

salt and freshly ground black pepper

a few grains of cayenne pepper

1/2 cup water or cooking liquid from beans

hot cooked brown rice

1 small onion, finely chopped, for optional garnish
Instructions
Heat 1 1/2 tablespoons of the oil in a large skillet. Add the onion and sauté until they over medium-low heat until it is translucent. Add the bell pepper and garlic and continue to sauté until the onion is golden.

Add the beans, vinegar, and seasonings (be generous with the black pepper) along with the water or cooking liquid. Simmer over very low heat, covered, for 10 minutes.

With the back of a wooden spoon or a mashing implement, mash about 1/2 cup of the beans in the skillet, or enough to thicken the base. Make sure there is enough liquid to keep everything nice and moist but not soupy. Simmer for 5 minutes longer.    

Serve the black beans over or side by side with a bed of cooked rice, topping each serving with a sprinkling of the chopped raw onion, if desired.
Variation: Other optional garnishes for this dish can include cilantro, thinly sliced radishes, and/or lime wedges.
Nutrition information (with 1/2 cup cooked rice)
Per serving:  Calories: 322;  Total Fat: 6g;  Protein: 12g;  Carbs: 56g;  Sodium: 3 mg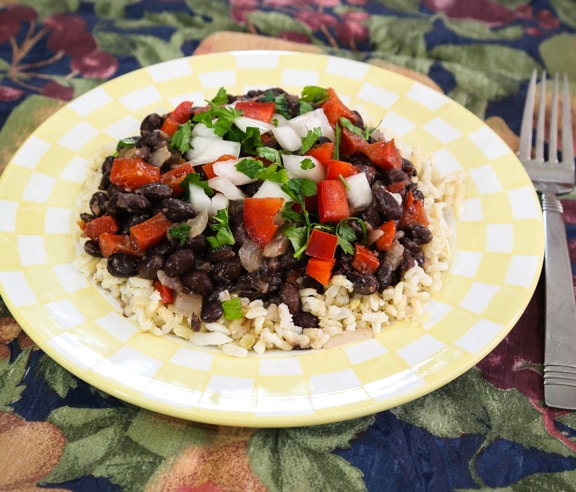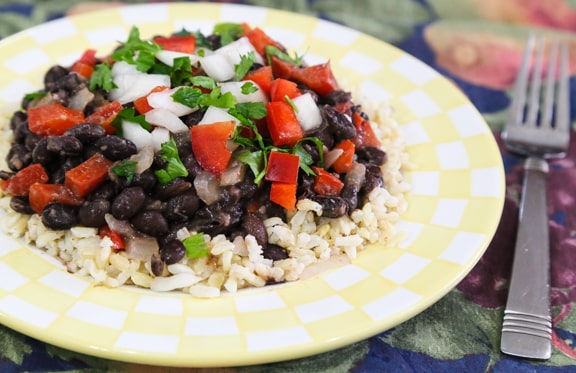 This post was originally published on 30 July 2012.


Credit: Source link