The classic Middle Eastern team of chickpeas and tahini (sesame paste) is combined in this tasty, offbeat soup recipe. Serve with fresh whole wheat pita bread. Middle Eastern tabbouli salad and a steamed green vegetable would round this meal out nicely.
Photos by Evan Atlas. Adapted from Vegan Soups and Hearty Stews for All Seasons.

Chickpea-Mushroom Soup with Tahini
Author: Nava
Recipe type: Soup
Cuisine: Vegan / healthy
Prep time: 
Cook time: 
Total time: 
Serves: 6
1 tbsp olive oil
1 medium onion, chopped
3–4 cloves garlic, minced
4 cups water with 2 vegetable bouillon cubes
2 cups white, baby bella, or crimini mushrooms, sliced
1 cup white cabbage, finely shredded
1 tsp ground cumin
2 tsp salt-free seasoning
3½ cups cooked or two 15- to 16-ounce cans chickpeas, drained and rinsed
¼ cup tahini (sesame paste)
¼ to ½ cup finely chopped fresh parsley, to taste
3–4 scallions, green parts only, thinly sliced
2–3 tbsp minced fresh dill, or more, to taste
juice of ½ to 1 lemon, to taste
salt and freshly ground pepper, to taste
Heat the oil in a soup pot. Add the onion and garlic and sauté over medium-low heat until golden.
Add the water with bouillon cubes, mushrooms, cabbage, and seasonings. Bring to a rapid simmer, then lower the heat. Cover and simmer gently for 15 minutes.
Meanwhile, set aside half of the chickpeas and place the remainder in a food processor or blender with the tahini. Add a little water as needed to thin the consistency. Process until smoothly pureed. Stir the puree back into the soup pot.
Stir in the reserved chickpeas, bring to a simmer, then cover and simmer very gently for 10 minutes.
Stir in the parsley, scallions, dill, and lemon juice. Add water as needed for a medium-thick consistency.
Season with salt and pepper, then simmer for 5 minutes longer. Serve at once, or let stand off the heat for an hour or two. Heat through before serving.
3.3.3077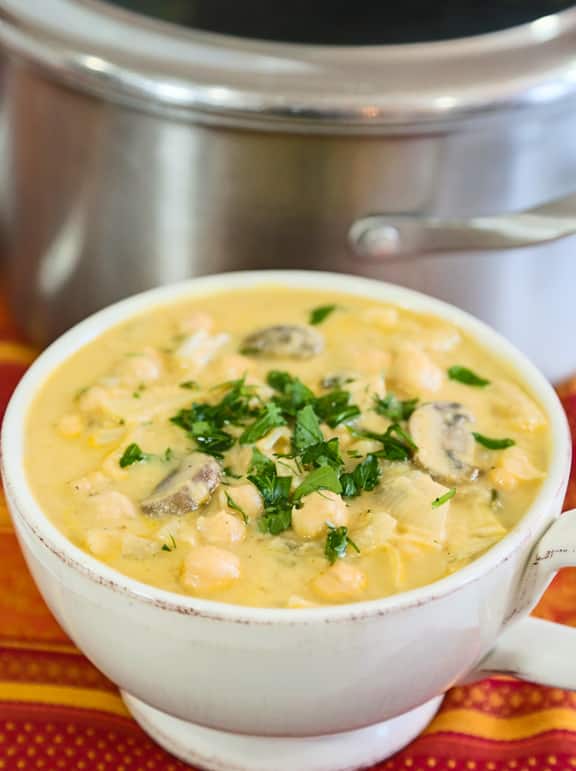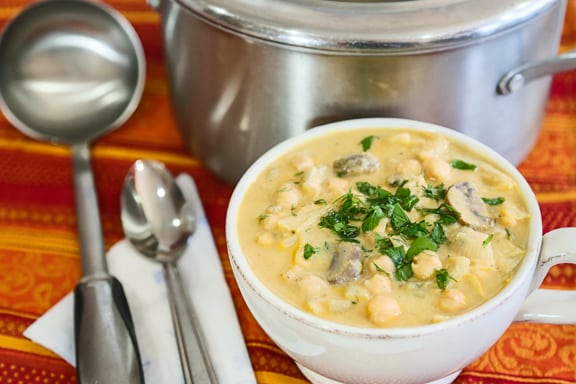 Nutrition Information:
Per serving: Calories: 247; Fat: 11g;  Protein: 10g;  Fiber: 11g; Carbs: 31g; Sodium: 280mg
This post was originally published on 11 Aug 2011.


Credit: Source link