Baba Ghanouj is—like hummus—a classic Middle Eastern spread meant to be scooped up on wedges of pita bread. It's also good as a dip for raw veggies. This recipe is a must-try for eggplant lovers!

Baba Ghanouj (Middle Eastern Eggplant and Tahini Dip)
Author: Nava
Recipe type: Appetizer / Dip
Cuisine: Middle Eastern
Prep time: 
Cook time: 
Total time: 
Serves: 8 to 10
2 medium eggplants, about 2 lbs total
1 tbsp olive oil
1 large onion, chopped
3–4 cloves garlic, minced
3 tbsp tahini (sesame paste), or more, to taste
juice of 1 lemon, or more to taste
½ tsp ground cumin
salt and freshly ground pepper, to taste
Preheat the oven to 450°F.
Arrange the whole eggplants on a foil-lined baking sheet. Set under the broiler until the skin is charred and the eggplants have collapsed, turning the eggplants with tongs once or twice. This will take from about 20 to 40 minutes, depending on how hot your oven runs and the size of the eggplants.
Remove from the oven and let cool. When cool enough to handle, slip off the skins and stems.
Heat the oil in a skillet. Add the onion and sauté over moderate heat until translucent. Add the garlic and continue to sauté until the onion is golden brown.
Combine the eggplant, the onion and garlic mixture, and the remaining ingredients in a food processor. Process until the mixture is a slightly chunky puree. Transfer to a serving container and serve at room temperature.
3.3.3077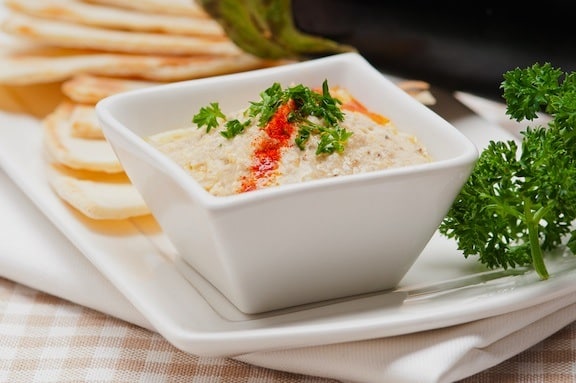 This recipe was originally published on 19 June 2013.


Credit: Source link