We've rounded up our best vegan recipes for summer! From smoothies and muffins for breakfast, refreshing sweet treats like Vegan Strawberry Mango Popsicles and Vegan Banana Pudding to delightful sushi sandwiches and easy one-skillet recipes for meatless lunch or dinners, they're all easy to make and enjoy all through the warm season.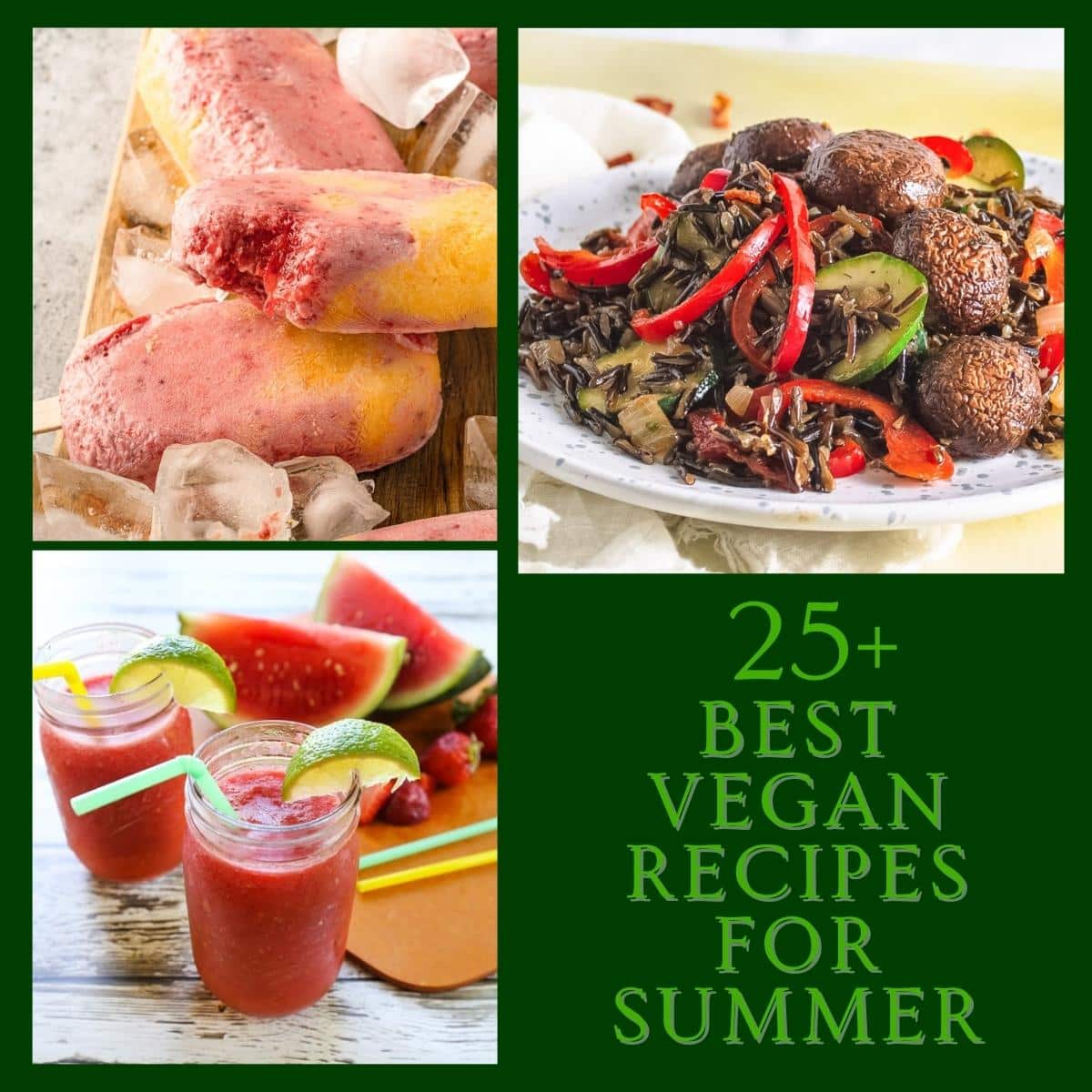 25+ Best Vegan Recipes For Summer
Our strawberry-vanilla maca smoothie is the perfect start to your day! Thanks to the maca powder and delightful fresh fruit, it's packed with incredible health benefits. This smoothie has a soft, creamy, strawberry-vanilla flavor, and it takes only five minutes to make! Our strawberry-vanilla maca smoothie is a filling, nutritious breakfast idea that has a delicious taste.
Vegan blueberry pancakes make the perfect addition to your Saturday brunch. We bet it will be your new favorite pancake recipe, actually! These pancakes are made with simple ingredients and have a satisfying, fluffy texture. They're incredibly fragrant and are a one-bowl recipe. Easy preparation, simple clean-up, and tasty pancakes! These vegan blueberry pancakes are going to be the most requested breakfast.
Muffins are perfect for any time, so we put these lemon blueberry muffins with our breakfast, but we certainly encourage enjoying them at any time of the day. They have a soft, subtle lemon flavor with a perfect muffin texture.
Our vegan potato salad recipe is the best. It makes the ideal summer side dish and delivers a satisfying flavor. It is made with flavor-packed fresh herbs and an abundance of vegetables. Vegan potato salad has a great texture and an earthy flavor to it. It is a great salad for all your summer bbqs' and potlucks.
Massaged kale salad with orange-miso dressing is a comforting, cozy, and satisfying dish. It is gluten and oil-free and prepared with an abundance of rich, healthy greens. This kale salad is hearty and will keep you full for a long time. It also looks quite pretty on a plate.
Marinated mushrooms with wild rice makes a great option for a meatless dinner. It is easy to make and ready to enjoy in less than an hour. Marinated mushrooms with wild rice also looks great on a dish. It's a wonderful meal to serve for guests as well.
Our vegan sushi sandwich takes some effort, we admit, but it's also absolutely DELISH to the max! It's a delightful sandwich for all sushi-lovers and makes a great lunch or dinner.
Vegan white beans and kale skillet is packed with nutrition. It is a hearty meal with white beans, kale, sweet onions, and a handful of other delicious ingredients. This skillet recipe is Italian-inspired and guaranteed to give great taste! Not only is vegan white beans and kale skillet super delicious, but its' also easy to toss together. It's a great hearty dinner for a busy work week.
Vegan zucchini noodles with vegan bolognese is a healthy and well-balanced vegan meal. It is entirely plant-based and low-carb but massively tasty. This vegan noodle dish recipe even has all the secrets you need to make the best-tasting zucchini noodles right at home.
These little fritters are a great meal, apple, or snack. Even your kids will love them! Our zucchini fritter recipe is healthy and has the best texture. They're perfectly crispy on the outside, and you're greeted with soft deliciousness on the inside. These zucchini fritters are low calories and taste great paired with creamy cashew cream cheese. You can't go wrong with fritters, and these zucchini-based ones are the best.
Ginger-grilled tofu is a great recipe. It has a satisfying flavor and can be served alongside nearly anything. Try steamed or grilled veggies, your favorite garden salad, or some rice. Ginger-grilled tofu is a versatile dish that compliments any side dish.
This vegan steak is easy to whip up and tastes fantastic. In addition to this, it is a very versatile meat replacement. You can easily serve this vegan steak to guests at a summer bbq or a potluck. It looks beautiful and can be paired with your favorite steak side.
Perfect for a hearty lunch or refreshing dinner, these portobello mushroom wraps are the perfect balance of creamy and tangy. They're easy to make, low in calories, and healthy. These mushroom wraps are sure to be a hit.
If you're looking for a refreshing sweet treat, you found it with our vegan strawberry-mango popsicles. They are a 3-ingredient, cool treat that is entirely vegan. In addition, these popsicles are made with real, healthy ingredients.
Our vegan strawberry ice cream is a guilt-free treat. There isn't any added sugar to this frosty delight, and it's made with fresh fruit. It's sweet, chilly, and delicious.
This vegan summer dessert is a delicious no-bake treat. It's easy to make and looks beautiful. It's a great dessert for all occasions and is packed with tons of fresh strawberries. This vegan dessert is simple, sweet, and satisfying.
There isn't anything better on a hot summer day than fresh watermelon slush! It's so tasty and quenches your thirst immediately. Well, this watermelon slush adds in fresh strawberries to take the flavor to another level. It is sweet and delicious.
This plant-based strawberry tart is going to be a hit this summer! It's bursting with fresh flavor from the strawberries and has a perfect pie crust texture. This strawberry tart is delicious, but it's also ready to eat in under an hour. It's fast, simple, and guaranteed goodness every time.
Our easy skillet blueberry crumble comes together with just a few ingredients. It looks beautiful in a dish, and it tastes even better. This recipe is simple and perfect for a beginner baker but delivers a professional baker's taste.
This vegan blueberry cheesecake is rich and decadent. It's entirely vegan but has the texture of a traditional cheesecake, thanks to the rich nutty ingredients. Our blueberry cheesecake is easy to make and makes a delightful dessert for summer picnics and barbecues.
These ice pops are sure to be a hit at your next event. They're refreshing, chilly, and healthy, all on a popsicle stick. In addition, they're made with fresh fruit, giving these ice pops a sweet, fresh flavor. These ice pops are delicious!
These dairy-free popsicles require only five ingredients. They're simple to make and taste fantastic. Vegan cookies and cream popsicles are the ultimate sweet treat but are entirely vegan and can easily be gluten-free if needed too.
This rich, creamy, decadent vegan summer dessert will be a hit. It's easy to make and entirely vegan. It's sure to be a crowd-pleaser.
These no-bake vegan lemon bars are a summery treat. They're perfect for all occasions and are easy to make. These lemon bars are a simple, vegan no-bake dessert that everyone will be asking for the recipe for!
This vegan summer dessert is bursting with sweet, juicy fresh fruit. It's the perfect side to any summer BBQ and has a satisfying mint dressing. Our late summer fruit salad will be a winner at your summer gatherings.
Reader Interactions
Credit: Source link